PHILADELPHIA , August 24, 2023 (press release) –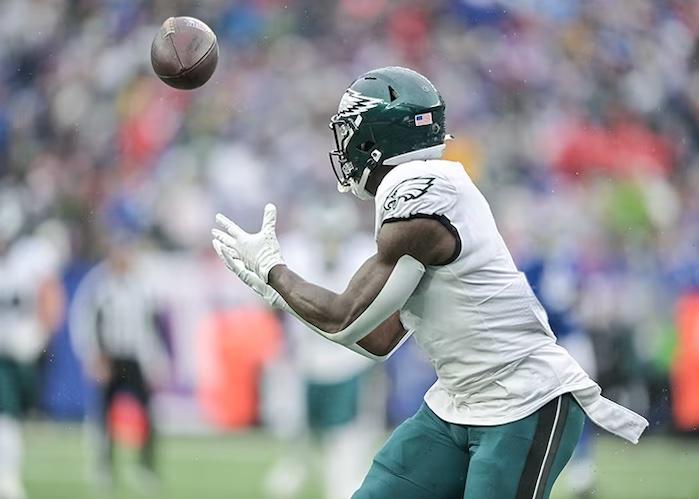 Tork, an Essity brand, and the Philadelphia Eagles are partnering to highlight the important role sustainable hygiene plays in improving the overall health and well-being of fans and the community. Up to $40,000 of Tork hygiene products will be donated to Project HOME and Children's Hospital of Philadelphia this season.
Originally published on Tork News Center
For the third consecutive season, the Philadelphia Eagles are teaming up with Tork, the Essity professional hygiene brand headquartered in Philadelphia , to kick off the 2023 "Tackle Hygiene with Every Catch" campaign. As part of this program, Tork and the Eagles will work to raise awareness and promote the benefits of proper hygiene.
For every catch made by the Eagles throughout the season, Essity will donate Tork essential hygiene products, including hand sanitizer, paper roll towels, and toilet paper, to two incredible Philadelphia organizations:
• Project HOME , which serves to alleviate the underlying causes of poverty and break the cycle of homelessness in Philadelphia and
• Children's Hospital of Philadelphia (CHOP), the oldest hospital in the United States dedicated exclusively to pediatrics which strives to be the world leader in the advancement of healthcare for children by integrating excellent patient care, innovative research and quality professional education.
The total donation will amount up to $40,000 . The partnership with the Eagles demonstrates the commitment of the Tork brand to supporting a healthy, sustainable, and strong community.
"Performing at a high level is important both on and off the field," said Brian Napoli , Senior Vice President of Corporate Partnerships, Philadelphia Eagles . "We are proud of our performance as a leader in sustainability, partnering with Tork for the past 16 years. By using their innovative hygiene solutions, we can offer a superior fan experience at Lincoln Financial Field . We're also looking forward to the annual 'Tackle Hygiene with Every Catch' campaign, making a meaningful impact in our community."
In the last two years, $65,500 worth of innovative and sustainable Tork hygiene solutions have been donated to a local charity.
"Tork is committed to providing innovative, sustainable hygiene solutions – from the 70,000 cheering fans at Lincoln Financial Field to those who benefit every day from the important work of local nonprofits like Project HOME and Children's Hospital of Philadelphia," said Matthew Urmanski , VP Sales & Marketing North America , Essity Professional Hygiene. "We are proud to once again partner with the Philadelphia Eagles for this meaningful community initiative. 'Tackle Hygiene With Every Catch' allows us to bring awareness to the importance of sustainability hygiene to fans and community members alike."
To follow the campaign's donation amounts, visit our Facebook and LinkedIn pages for weekly updates.
About Tork
The Tork brand offers professional hygiene products and services to customers worldwide ranging from restaurants and healthcare facilities to offices, schools and industries. Our products include dispensers, paper towels, toilet tissues, soap, napkins and wipers, but also software solutions for data-driven cleaning. Through expertise in hygiene, functional design and sustainability, Tork has become a market leader that supports customers to think ahead so they're always ready for business. Tork is a global brand of Essity and a committed partner to customers in more than 110 countries. To keep up with the latest Tork news and innovations, please visit Torkusa.com.
About Essity
Essity is a leading global hygiene and health company. We are dedicated to improving well-being through our products and services. Sales are conducted in approximately 150 countries under the leading global brands TENA and Tork, and other strong brands, such as Actimove, JOBST, Knix, Leukoplast, Libero, Libresse, Lotus, Modibodi, Nosotras, Saba, Tempo, TOM Organic, Vinda and Zewa. Essity has about 48,000 employees. Net sales in 2022 amounted to approximately SEK 156bn ( EUR 15bn ). The company's headquarters is located in Stockholm, Sweden , and Essity is listed on Nasdaq Stockholm. Essity breaks barriers to well-being and contributes to a healthy, sustainable and circular society. More information at www.essity.com.
About Project HOME
Since 1989, Project HOME has helped thousands of people break the cycle of homelessness and poverty by providing a continuum of care that includes street outreach, supportive housing and comprehensive services that focus on health care, education and employment through both adult and youth education and enrichment programs at the Honickman Learning Center and Comcast Technology Labs and community-based health care services at the Stephen Klein Wellness Center . Project HOME and its partners have pledged to end chronic street homelessness in Philadelphia . To learn more, visit www.projecthome.org.
About Children's Hospital of Philadelphia
A non-profit, charitable organization, Children's Hospital of Philadelphia was founded in 1855 as the nation's first pediatric hospital. Through its long-standing commitment to providing exceptional patient care, training new generations of pediatric healthcare professionals, and pioneering major research initiatives, the 595-bed hospital has fostered many discoveries that have benefited children worldwide. Its pediatric research program is among the largest in the country. The institution has a well-established history of providing advanced pediatric care close to home through its CHOP Care Network, which includes more than 50 primary care practices, specialty care and surgical centers, urgent care centers, and community hospital alliances throughout Pennsylvania and New Jersey , as well as an inpatient hospital with a dedicated pediatric emergency department in King of Prussia. In addition, its unique family-centered care and public service programs have brought Children's Hospital of Philadelphia recognition as a leading advocate for children and adolescents. For more information, visit www.chop.edu.  
Canonical URL https://www.torkusa.com/press-releases/tackle-hygiene-with-every-catch-2023 Distribution Settings Markup
Date and Time are ET. We may take up to two hours to approve confirmed content. Content is reviewed for publishing: Monday-Wednesday 8 a.m. -8 p.m. ET , Thursday-Friday 8 a.m. -6 p.m. ET
Layout Advanced Publish on CSRWire On Skip Accesswire No
* All content is copyrighted by Industry Intelligence, or the original respective author or source. You may not recirculate, redistrubte or publish the analysis and presentation included in the service without Industry Intelligence's prior written consent. Please review our terms of use.