June 5, 2023 (press release) –
Sofidel America Unveils Nicky Elite Brand With New Mascot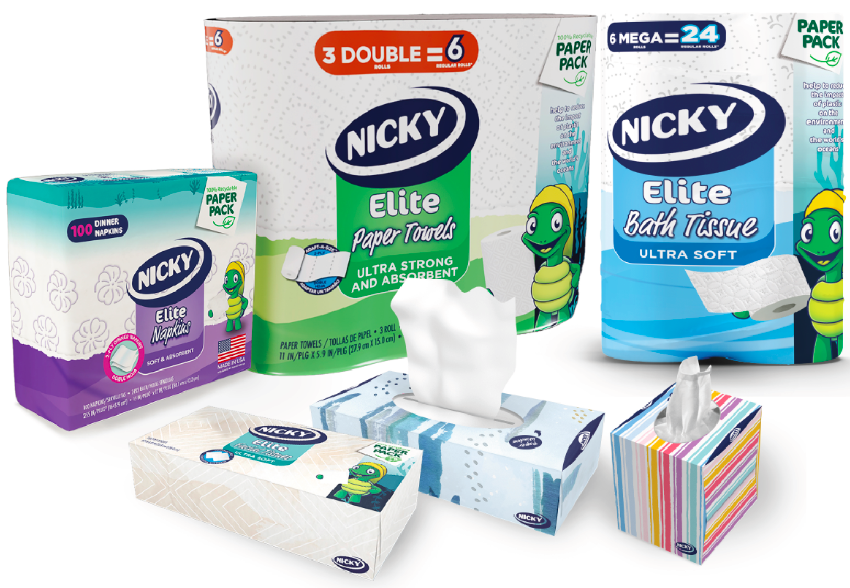 <img loading="lazy" src=" https://www.3blmedia.com/sites/default/files/styles/carousel_2x/public/images/Shelly_sofidel_060223.png" width="614" height="615" alt="A sea turtle, and an animated turtle. "Hi! I'm Shelly the turtle."" typeof="foaf:Image" /><time datetime="2023-06-05T13:15:00Z">Mon, 06/05/2023 - 09:15</time> Subheader Nicky Elite offers sustainable paper products for the consumer market Type of Content Press Release Layout Standard Format Body
HORSHAM, Pa. , June 5, 2023 / 3BL Media / - Sofidel , a leading global provider of paper for hygienic and domestic use, today announced that its Nicky brand, well-known across Europe , is now available to consumers in the United States . Nicky Elite is the first-ever household paper product range produced in the United States to be made with sustainable, paper packaging.
"Nicky Elite is the only household paper brand made in the U.S. that uses packaging that is renewable, recyclable and biodegradable," said Fabio Vitali , Vice President of Marketing, Sofidel America . "The innovative paper packaging enables consumers to conveniently recycle the packaging using their local curbside recycling scheme. This innovative product line further demonstrates our commitment to developing sustainable paper products and reducing consumption of single use plastic."
Nicky Elite's mascot, Shelly, is a turtle that reminds consumers of the importance of reducing plastic waste to help protect marine wildlife and habitats. Shelly is featured on the packaging and will be used to promote the brand on social media and in stores across the U.S.
Sofidel has recently been recognized in the top 1% of companies rated by Ecovadis for sustainability in the tissue industry. It also has an ongoing partnership with Ocean Conservancy to help fund beach cleanups around the United States and was one of the first companies to participate in the "Forests Forward" initiative by WWF to consolidate the timber procurement policy.
"Sustainability is the heart of our mission and products," said Fabio Vitali , Vice President of Marketing, Sofidel . "We're proud to offer our Nicky product line to the U.S. consumers to help them make more sustainable choices. We encourage the public to engage with Shelly the Turtle via our social media channels to learn more about our efforts to help protect marine wildlife and habitats."
Nicky Elite can be purchased online via Amazon or Instacart as well as a growing network of stores throughout the US. For more information, visit www.nicky.us, Facebook or Instagram to follow the adventures of Shelly the Turtle.
Contact us at nickyUSA@sofidel.com for distribution opportunities and to learn more about the Nicky Elite range of products.
About The Sofidel Group  
The Sofidel Group , a privately held company owned by the Stefani and Lazzareschi families, is a world leader in the manufacture of paper for hygienic and domestic use. Founded in 1966, the Group has subsidiaries in 12 countries – Italy , Spain , the UK , France , Belgium , Germany , Sweden , Poland , Hungary , Greece , Romania , and the USA - with more than 6,400 employees. A member of the UN Global Compact and the international WWF Climate Savers program, the Sofidel Group considers sustainability a strategic imperative and is committed to promoting sustainable development. For more information, visit www.sofidel.com.
Media Contact:
Brianna Fitzpatrick
Mulberry Marketing Communications
bfitzpatrick@mulberrymc.com
Distribution Settings Markup
Date and Time are ET. We may take up to two hours to approve confirmed content. Content is reviewed for publishing: Monday-Wednesday 8 a.m. -8 p.m. ET , Thursday-Friday 8 a.m. -6 p.m. ET
Layout Advanced Publish on CSRWire On Skip Accesswire No
* All content is copyrighted by Industry Intelligence, or the original respective author or source. You may not recirculate, redistrubte or publish the analysis and presentation included in the service without Industry Intelligence's prior written consent. Please review our terms of use.