Metsä Board's Excellence Centre provides a functional setting for co-creation workshops, where our Packaging Design team works to improve current packaging or to create new solutions, based on the needs of the customer. As a result of one of these co-creation workshops, Metsä Board has developed a lighter gift package that has strength features close to those of current rigid box solutions.
Innovative micro-flute cardboard solution
The characteristics of the new packaging solution are based on microflute corrugated board. The packaging consists of a separate base and lid. Its surface liner can be either uncoated white kraftliner, or coated white kraftliner, of which the latter gives the package excellent printing properties. The packaging solution is designed to be production efficient and suitable for mass production on current production lines.
According to Metsä Board's Packaging Services Director Ilkka Harju, the new gift packaging solution is especially suitable for cosmetics, chocolate, or beverages and other premium products. "The current rigid box gift packages are largely manufactured in Asia, but with our new micro-flute solution, we can offer locally produced, high-quality packaging to the European market," says Harju.
"Thanks to its lightness, our new packaging solution helps our customers reduce the carbon footprint of their products. Since no harmful adhesives or other plastic laminates are used in the packaging solution, its recycling is even more efficient." Harju adds.
Less material, smaller carbon footprint
Both plastic reduction and lightweighting, which is a term Metsä Board uses for minimising material usage, are the core of the Packaging Design team's work. Metsä Board also has an entire team of sustainability specialists helping customers compare packaging materials and designs, calculate emissions caused by the packaging and find solutions which enable lower environmental impacts.
50% lighter in weight, 59% lower carbon footprint
The Sustainability Services team compared the new micro-flute solution to recycled fibre-based rigid box solutions traditionally used in gift packaging and found it to be up to 50% lighter in weight. They also calculated the carbon footprint (cradle-to-gate) of the new solution and found it to be 59% lower compared to traditional solutions.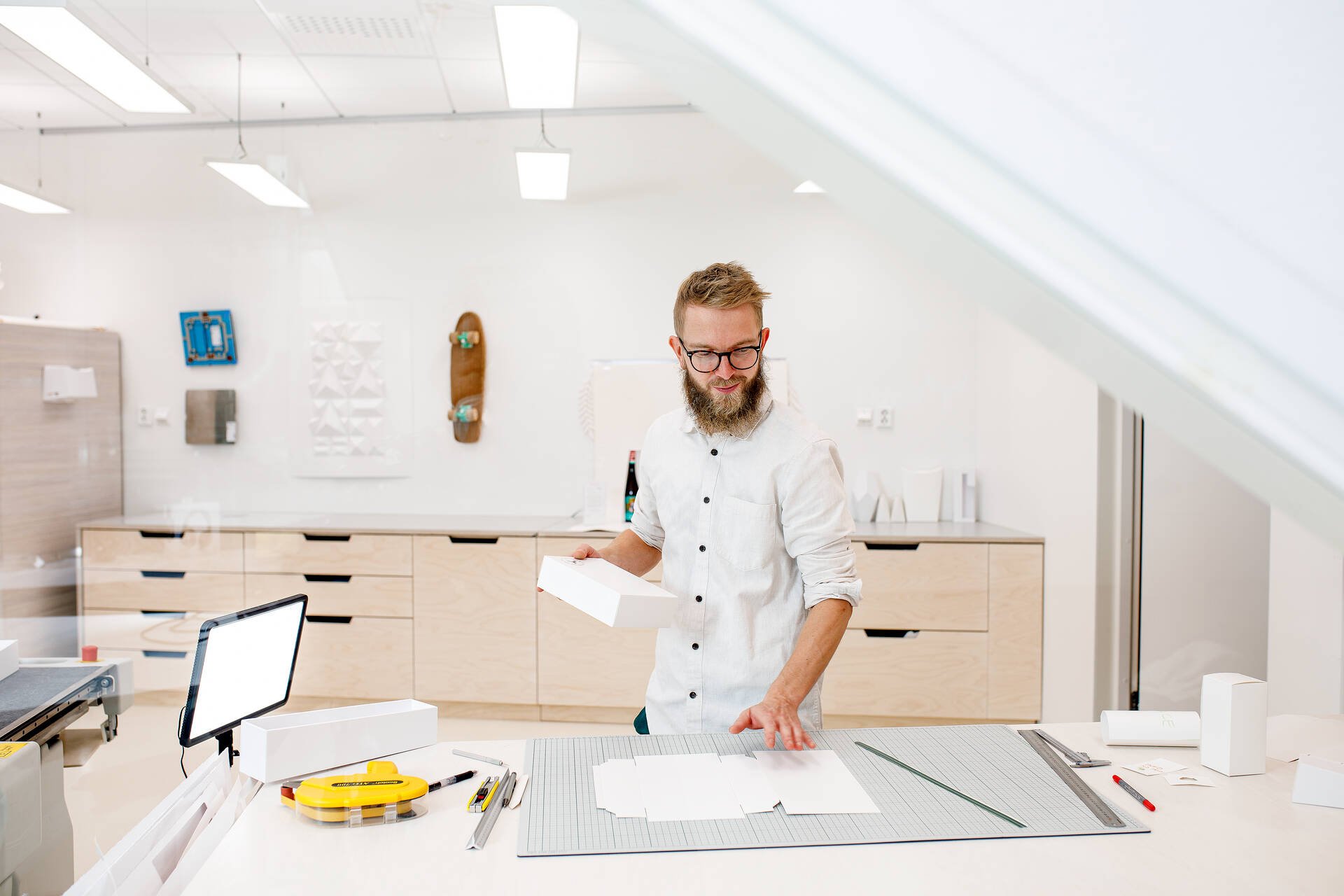 The experts at the Excellence Centre, such as Structural Packaging Designer Iiro Numminen, utilise hi-tech simulation tools to explore various green alternatives, but nothing beats the co-creation workshops with the customers.
"Via the workshops we get an important perspective into the evolution of packaging. When the volumes are big, even a small modification to package design can make a big difference" Numminen concludes.