TOKYO , July 12, 2023 (press release) –
Canon Inc. announced today that the company has developed process for sorting plastic pieces based on material, as a step of recycling plastic. Canon's tracking type Raman spectroscopy technology enables the identification of materials with high accuracy in a streamlined process, even when sorting plastic pieces of black shades, which have thus far been difficult to, and black plastic pieces mixed with those of other colors. The company plans to market a plastic sorting equipment using this method during the first half of 2024.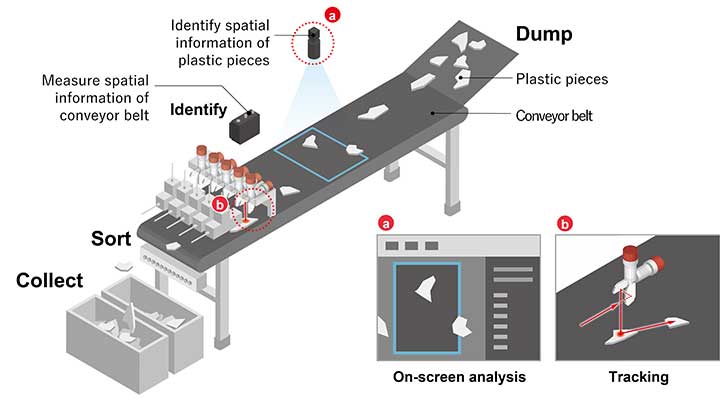 Sorting of plastic pieces through tracking
System overview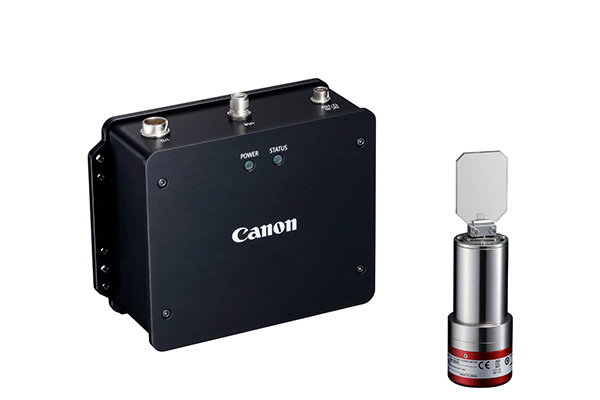 Contactless measuring device (left)
and Galvano scanner
In everyday life, various kinds of materials collectively known as plastics are used in a wide range of applications. To recycle them, used plastic pieces must be sorted, and their composite materials such as ABS1 and polypropylene (PP) must be accurately identified. Nowadays, near-infrared spectroscopy2 is the dominant method used in plastics sorting by material. However, plastic pieces made of black plastics, which are used in many household electronics, automobile upholstery and other items, cannot be sorted using this method because they do not allow visible light to penetrate nor reflect. As a result, such plastics are instead reused as combustible fuel.
Raman spectroscopy3, meanwhile, is a detection method that utilizes laser light to illuminate plastic pieces to obtain molecular information of the substance, thus making possible the material detection of black plastic pieces. However, due to the small amount of scattered light emitted by the black plastic pieces, the measurement time is too long relative to the speed and throughput required for practical use. Therefore, practical application of Raman spectroscopy to sorting black plastic has thus far proven difficult.
Therefore, by combining Raman spectroscopy with Canon's measurement and control equipment, the company has developed a process using tracking type Raman spectroscopy technology. This process ensures there is enough measurement time required for each piece of plastic according to its color, and allows the plastic pieces that contain black portions to be sorted in a single process at high speed and with high accuracy. With this efficient sorting system, Canon hopes to contribute to the maximization of plastic recycling.
A key advantage of tracking type Raman spectroscopy technology4 is that, with Canon's measurement and control devices, the exact position of plastic pieces on high-speed conveyor belts can be detected, and by scanning laser light accordingly towards the pieces5, that laser light can be continuously emitted for the required duration of time to determine the material of the plastic pieces.
Canon's PD-704 contactless measurement device (released in May 2021) enables accurate and fast measurement of objects on rapidly moving conveyor belts. In addition, Canon's GM-2020 Galvano Scanner Motor (released in January 2022) allows laser beams to accurately track the objects transported on the conveyor belt, thus securing the necessary exposure times based on the color of the plastic pieces.
Thanks to these technologies, even when conveying plastic pieces at high speeds, by controlling the scanning time of the laser beam, the effect of the different amounts of scattered light emitted by plastic pieces depending on their colors can be negated. This enables the application of Raman spectroscopy to that process, achieving both high-productivity and high-accuracy sorting.
In keeping with U.N. SDGs No. 12, "Ensure sustainable consumption and production patterns," Canon established its "Action for Green" environmental vision in 2008. Striving to realize a "society that provides affluent and eco-friendly lifestyles", Canon is working to promote richer lives for people by providing products and services while also reducing the company's environmental impact.
1Acrylonitrile Butadiene Styrene. A type of plastic that is highly resistant to heat and impact.
2A method of measurement in which an object is illuminated with near-infrared light. Based on such factors as reflection and penetration of light, the object's light absorption is measured and the type of resin the object comprises can be determined.
3For more information, refer to About Raman Spectroscopy.
4For more information on the measuring method, refer to Process of Plastic Sorting Using Tracking Type Raman Spectroscopy Technology.
5By continuously moving the position of the laser, the target object is continuously illuminated by the laser, allowing for light to be reflected.
Process of Plastic Sorting Using Tracking Type Raman Spectroscopy Technology
Plastic pieces are delivered
Before measuring begins, an image recognition system determines position, color, brightness, size and other characteristics of plastic pieces
PD-704 contactless measuring device measures speed of conveyor belt
A dedicated mirror attached to Galvano scanner (GM-2020 Galvano Scanner Motor) control the direction of laser light to track and illuminate each plastic piece
Proprietary Canon receiving system receives the returned light
Proprietary Canon light spectrum unit performs Raman spectroscopy
Proprietary Canon recognition software performs analysis. Configurations are adjusted to enable sorting of a wide variety of plastics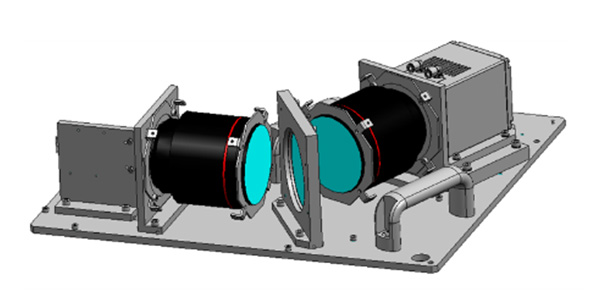 Diagram of light spectrum unit
Sorting of plastic pieces through tracking
About Raman Spectroscopy
When illuminated with laser light, a substance emits "Raman scattered light," which contains a great deal of information regarding its chemical makeup. By analyzing Raman scattered light, the components that comprise a substance can be identified. This method is known as "Raman spectroscopy," and is ideal for measuring organic matter, and therefore suitable for use in the sorting of plastics.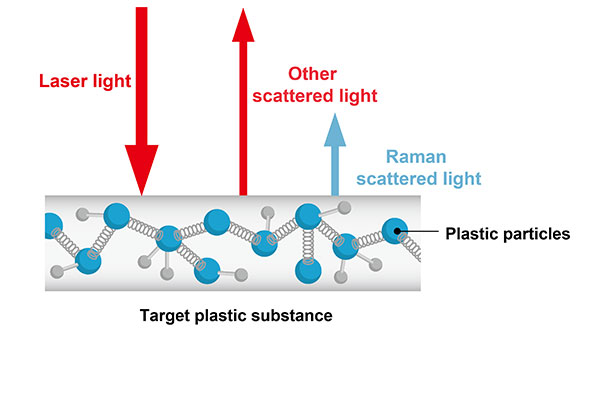 * All content is copyrighted by Industry Intelligence, or the original respective author or source. You may not recirculate, redistrubte or publish the analysis and presentation included in the service without Industry Intelligence's prior written consent. Please review our terms of use.