September 1, 2023 (press release) –

Schumacher Packaging launches webshop for gift packaging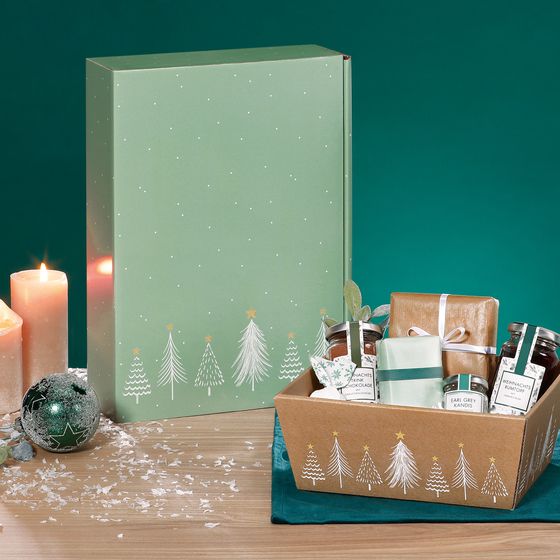 Novelty collection 2023/2024 now also available online

Ebersdorf bei Coburg, 1 September 2023 +++ The Schumacher Packaging Group, one of Europe's largest manufacturers of corrugated and solid board packaging solutions (www.schumacher-packaging.com), is offering its latest gift packaging collection for the first time in its own online shop (www.schumacher-geschenkverpackungen.de). The internet-based process is a further step towards Schumacher Packaging's goal of climate-neutral production by 2035. In the new webshop, potential buyers can find the diverse and complete range of environmentally friendly gift packaging. The 2023/2024 range has been expanded to include novelties with modernly interpreted Christmas motifs and neutral designs. The current collection can be ordered right now - prior to the official sales launch in September.

The gift packaging shop is one of three e-shops that Schumacher Packaging has opened within the last three years - to set new digital standards and adapt to the changing demands of its customers. "As a dynamic company, it is our aspiration to keep up with the pulse of the times," says Anna Schumacher, member of the Executive Board and main person responsible for the gift packaging division at Schumacher Packaging. "Digitalisation has changed consumption, including in our sector. The internet has become a powerful sales tool." Online shoppers should use the web shop as an inspiration platform providing an appealing overview of the wide range of environmentally friendly gift packaging. Furthermore, the virtual shop scores with user-friendliness in design and structure: prospective customers receive all the information they need, such as item availability or delivery time, with just a few clicks and go through an uncomplicated ordering process. "This makes it even faster and easier for our customers to reach their destination," Anna Schumacher continues. "And should any questions arise, we are, as usual, personally available for help and advice."

As an integrated group of companies, the packaging specialist manufactures its own raw materials for the production of packaging. In this way, Schumacher Packaging proves itself to be a solid, reliable partner and guarantees a seamless supply. Another advantage of the producer is its high flexibility. Major customers also benefit from this, as they are supplied directly - first-hand and at unbeatable prices. This also applies to the new products: The current gift packages will be available online from September, but can be pre-ordered already and produced at any time and in any quantities required.

Modern talking: contemporary packaging designs overtake the word
Keeping up with the times - this is not only reflected in the establishment of a web shop at Schumacher Gift Packaging, but also in the current collection: the new gift packaging offers a variety of interesting and attractive motifs, including modern Christmas designs as well as natural looks that are suitable for different occasions. "The aim is to set accents with the new products and thus also appeal to a younger audience," explains Anna Schumacher. "And they are the ones who mainly shop online."

Christmas interpreted in many ways
Schumacher Packaging is making a real statement in terms of contemporary packaging design, for example, with the new "Modern Christmas" gift box. Instead of Christmas pine green, it surprises with its delicate mint green pastel colour and a modern interpretation of the Christmas motif. "Modern Christmas", also available as a gift basket in the colour Natura, is already proving popular and proves that young and fresh packaging looks can also be an excellent choice for traditional occasions.

In addition to the two "Modern Christmas" variants, Schumacher Packaging also offers three other Christmas designs, each in several sizes and designs: While the two motifs "Christmas Ball" and "Golden Wishes" are quite classic with a golden print image on a dark background, the natural colour novelty "Christmas Joy" with red lettering awakens anticipation for the Christmas season.

"Ecoline": sustainable and stylish simplicity
The plain-coloured "Ecoline" gift baskets in natural and black are even purer, ideally complementing the gift boxes of the same name from the previous collection. Both versions serve as a neutral basis for mixed gifts of any kind.

Creativity without limits
With seven new designs in several sizes and versions and a total of 20 new gift boxes, Schumacher Packaging is launching a highly diverse collection for 2023/2024 that has something suitable for every taste and occasion. "The team at Schumacher Gift Packaging takes great pleasure in creating and developing innovative packaging designs in order to constantly impress its customers with something new and unique ", says Anna Schumacher. "We never run out of ideas."
* All content is copyrighted by Industry Intelligence, or the original respective author or source. You may not recirculate, redistrubte or publish the analysis and presentation included in the service without Industry Intelligence's prior written consent. Please review our terms of use.