July 19, 2022 (press release) –
The relaunch of our bestselling NIVEA female and universal shower gels marks an important step on the journey towards climate-friendlier products at Beiersdorf. In 2022, the range will be rolled out with a significant reduction in CO2 emissions at production sites and throughout the value chain, as well as the neutralization of the remaining CO2 emissions of the sustainably improved products.
In this interview, members of the core project team Sabine Schulz (Formula Development, Body Cleansing), Orkun Kaymakci (Packaging Development, Plastics Technology) and Adrian Przybill (Packaging & Formula Science) were asked about the development of this range, how the products contribute towards our sustainability targets and what's next for world of sustainable packaging.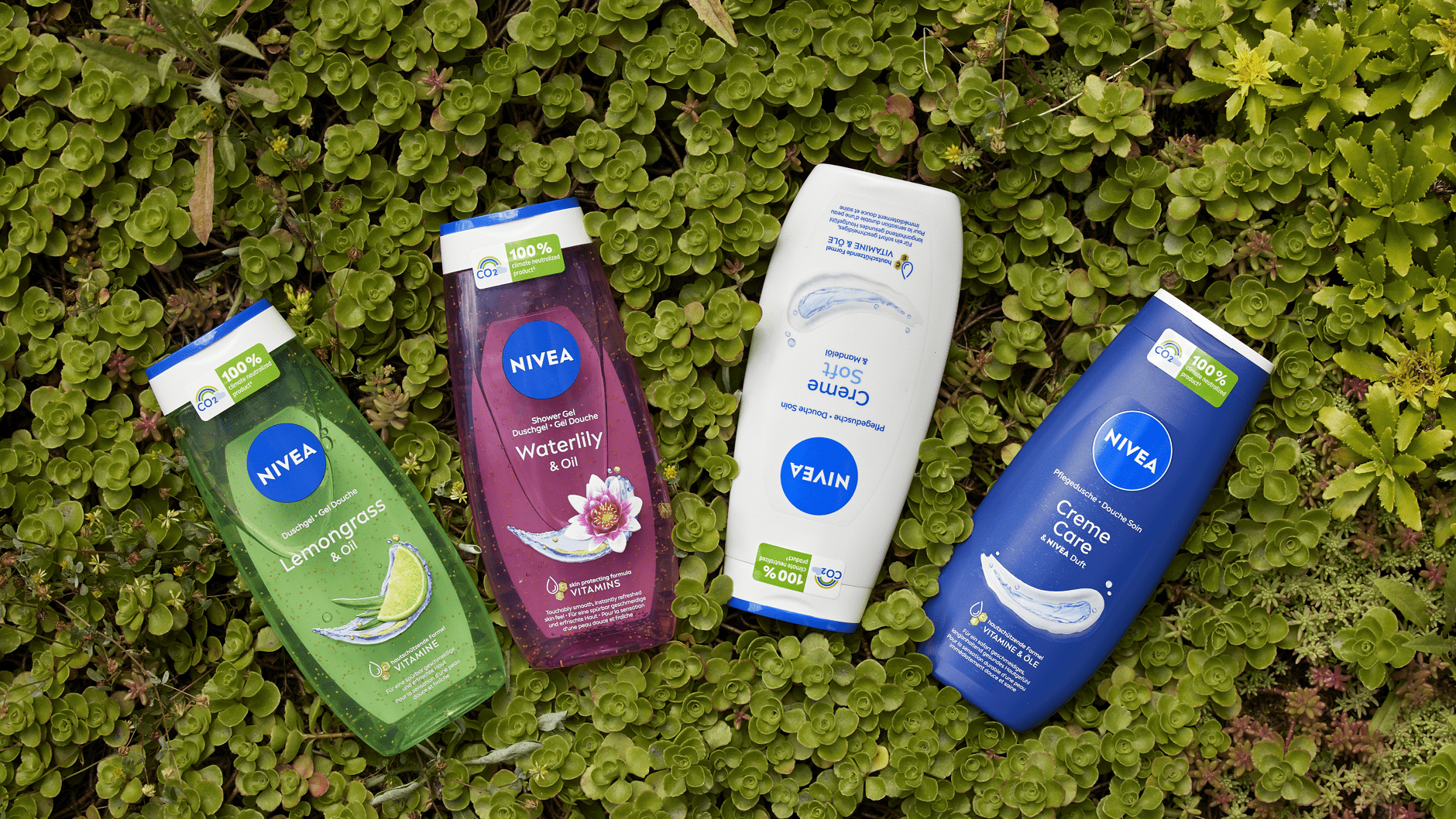 The new NIVEA shower range is considered one of the front runners in terms of sustainability at Beiersdorf. What makes this range so sustainable?
Sabine Schulz: The new NIVEA shower bottle is not only made from at least 96% recycled plastic but is also 26% lighter than before allowing for the reduction of packaging-related CO2 emissions by 32%. All formulas are microplastic-free1 and up to 99% biodegradable. Additionally, the new pH skin neutral formulas contain skin essential vitamins C & E and precious oil. Our shower formulas protect the skin from drying out to provide an instantly smooth and lasting healthy skin feel. As a last step, after having taken measures to significantly reduce emissions by improving the formula and packaging as far as possible, the range is also 100% "climate-neutralized". This means that we will balance the remaining emissions through certified climate projects. We are proud that the relaunched range is positively contributing to our "Climate Care" mission as part of our CARE BEYOND SKIN Sustainability Agenda.
Beiersdorf's Plastic Pledge states that all packaging will be refillable, reusable or recyclable by 2025. How has this range contributed towards this target and what's next?
Adrian: The packaging for this range has been designed for circularity and has been improved in several ways. For both the cap and bottle, the target was to reduce the use of material as much as possible while keeping a similar look and feel (height and front shape). The new cap now makes it possible for the product to stand upside down allowing for optimized rest-emptying. As of now, the cap has a recycling material usage of 30% recycled PP, but we are already testing 100% rPP caps, a more sustainable pump system (weight reduced, mono-material, recyclable) and refill pouches for the near future. This range is one of the lighthouse projects since a lot of learning could be generated by testing some of the first generations of recycled materials.
Orkun: We definitely have some exciting developments in the works! For example, we are working hard to implement post-consumer recycled plastic (PCR) material usage in the packaging of all product categories in every region globally. We are expanding our supplier portfolio and collaborating with different external partners to realize our plastic pledge. By 2025, we will use at least 30% recycled plastic in our packaging globally and we will reduce the petroleum-based virgin plastics consumption by 50% through recycled content and the reduction of packaging weight by lightweight.
Can you share a bit about the development process and the collaboration that took place?
Adrian: The old shower bottle has been in the market now since around 2007 and it has grown massively over its lifespan into one of the biggest packaging families (with a lot of sizes, material options and pumps solutions). Replacing it with a completely new 3D shape has therefore not been an easy task. A lot of sizes and material options for the bottles had to be considered, as well as a new option for a pump. During the construction of the 3D shape there was a great collaboration between the cap and bottle supplier as well as support from Jürgen Rechlitz from the packaging technology side at Beiersdorf.
Orkun: The development of the recycled PCR material for the bottle and the cap required huge internal and external collaboration. Managing the availability and the procurement of the materials was a challenging task that we successfully overcame. Additionally, as quality is of the utmost importance to us, we went through many testing rounds and collaborated with our external partners for the development of the PCR materials, resulting in a very high quality we are proud of.
It sounds like a huge team effort – congrats! When can consumers find this climate-friendlier range on shelves, and do you think this is a sustainability step that others in the industry will take?
Sabine Schulz: Firstly, we would like to wholeheartedly thank everyone who has been involved in this exciting and successful project! After a lot of hard work and collaboration across many departments, the project team is delighted to see the products on the market in Germany. The launch of the 250 ml sizes started in Q2 2022, first in Germany, other countries and sizes will follow. We know that consumers rank sustainability as one of the main motivations for purchasing products these days and are therefore overjoyed that we can support them in making a climate-friendlier purchase.
Orkun: We have demonstrated a truly circular application of PCR by following the packaging in its end-of-life phase. Our hope is that this sets an example for the packaging industry and others will follow the same circularity approach.
1According to UNEP definition. The United Nations Environment Programme (UNEP) describes microplastic particles as solid plastic particles less than 5 mm in diameter that are not biodegradable as well as not soluble in water.
Closing remarks
Thanks very much to the project team for this engaging and inspiring interview!
* All content is copyrighted by Industry Intelligence, or the original respective author or source. You may not recirculate, redistrubte or publish the analysis and presentation included in the service without Industry Intelligence's prior written consent. Please review our terms of use.