September 2, 2022 (press release) –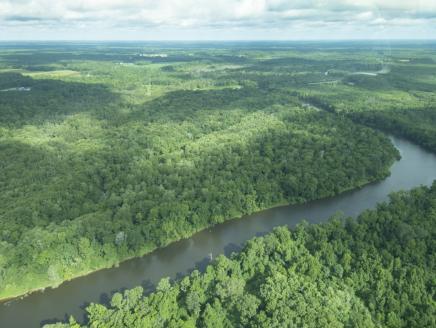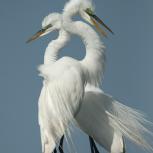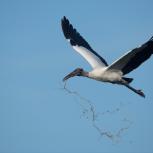 International Paper, along with seven other generous donors, partnered with the N.C. Coastal Land Trust to fund the purchase of 265 acres along 1.1 miles of the Cape Fear River in Bladen County. The property is located in the small town of East Arcadia, which is just north of IP's Global Cellulose Fibers Riegelwood Mill, and hosts mature floodplain forest and upland hardwood ravines. It is an area rich in wildlife providing nesting habitat for wading birds like the Great Egret and federally threatened Wood Stork; waterfowl like Wood Duck and Hooded Merganser; as well as bottomland hardwood dependent songbirds such as Prothonotary Warbler and Swainson's Warbler.
This forest includes a portion of Steep Run Swamp, a site identified as "ecologically significant" by the North Carolina Natural Heritage Program. This designation is due to the age and near pristine bottomland hardwood and cypress-gum forest as well as the known nesting colony of Wood Storks there. The Wood Stork, North America's only native stork, is a relative newcomer to North Carolina with its primary range being Florida, Georgia, and South Carolina. N.C. Wildlife Resources Commission biologists discovered the first Wood Stork colony in the Tar Heel State in 2005 while conducting aerial surveys for Bald Eagle nests. According to Wildlife Commission biologist, Carmen Johnson, Wood Stork numbers are on the rise in coastal North Carolina with more than 350 nests tallied in 2019 and more than 690 nests in 2021.
The other exciting bird to be discovered in Steep Run Swamp is the Swallow-tailed Kite, a slender and elegant bird of prey. Wildlife Commission biologist, John Carpenter, who first spotted the nest in 2011 from a plane flying low along the Cape Fear, stated, "This was an exciting find as it is the first documented Swallow-tailed Kite nest in the state. While these beautiful raptors are now nesting in other places along the Cape Fear, Black, and Waccamaw Rivers, the nests are difficult to spot."
International Paper has worked with American Bird Conservancy (ABC) to develop bird-focused management recommendations that private forest landowners can use to ensure habitat is maintained for at-risk species such as the Swallow-tailed Kite (STKI). In collaboration with ABC and the Avian Research Conservation Institute, IP participated in the successful capture, tagging, and release of three Swallow-tailed Kites near IP's Global Cellulose Fibers Mill in Georgetown, S.C.
Each bird was fitted with GPS transmitters so their movements could be tracked throughout the year. The information collected from this project directly influences harvest plans on tracts associated with kite activity centers, and confirms what we know: sustainably managed working forests not only provide society with a renewable source of fiber for their forest products, but also provides critical wildlife habitat for thousands of species of plants and animals.
"This project aligns well with our Vision 2030 water stewardship and forest stewardship goals," said Kevin Driscoll, mill manager at International Paper's Riegelwood, N.C. Mill. "This land will continue to enhance water quality by buffering more than a mile of waterfront, provide habitat for several rare species and conserve a significant natural heritage area and mature wetlands."
This partnership supports International Paper's Vision 2030, which includes goals and targets for building a better future for people and the planet. Vision 2030 has an increased focus on water stewardship, with plans to reduce operational water use by 25% as well as to support watershed health in partnership with local water users and stakeholders, and has a focus on forest stewardship, with a goal to conserve and restore 1 million acres of ecologically significant forestland by 2030.
About International Paper
International Paper (NYSE: IP) is a leading global supplier of renewable fiber-based products. We produce corrugated packaging products that protect and promote goods, and enable worldwide commerce, and pulp for diapers, tissue and other personal care products that promote health and wellness. Headquartered in Memphis, Tenn., we employ approximately 38,000 colleagues globally. We serve customers worldwide, with manufacturing operations in North America, Latin America, North Africa and Europe. Net sales for 2021 were $19.4 billion. See how we're building a better future for people, the planet, and our company at internationalpaper.com/Vision-2030.
About North Carolina Coastal Land Trust
The North Carolina Coastal Land Trust enriches coastal communities of North Carolina through conservation of natural areas and working lands, education, and the promotion of good land stewardship. Founded in 1992, the Coastal Land Trust has saved more than 80,000 acres of places with scenic, recreational, historic and/or ecological value, and has offices in Wilmington, New Bern and Elizabeth City. www.CoastalLandTrust.org.
National Fish and Wildlife Foundation Disclaimer:
The views and conclusions contained in this document are those of the authors and should not be interpreted as representing the opinions or policies of the U.S. Government or National Fish and Wildlife Foundation or its funding sources.
For more information contact:
Heather Smeltser
Global Citizenship and Corporate Communications Manager
901-267-3673
Heather.Smeltser@ipaper.com
* All content is copyrighted by Industry Intelligence, or the original respective author or source. You may not recirculate, redistrubte or publish the analysis and presentation included in the service without Industry Intelligence's prior written consent. Please review our terms of use.