June 10, 2022 (Industry Intelligence Inc.) –
A roundup of recent trends pitting technology against the printed word:
Trees: Popeyes print ad mimics crunch of crispy chicken
While stunning visuals might be the domain of glossy print ads, Popeyes opted to play on a different sensory experience for its recent paper-based advertisement. Ad agency Gut Miami developed a print ad that sounds like the crunch of biting into Popeye's fried chicken when consumers crumple the flyer in their hands, Muse by Clio reported May 23. To create that distinctive sound, the agency selected Glama Natural Vellum paper after working with paper vendors and sound engineers to match "the soundwaves of paper being crumpled with that of chicken being bitten," said Danny Alvarez, executive director at Gut. He added that the print format "best served to communicate [the brand message]."
Trees: Paper alternative to plastic takeout container is both recyclable and water-resistant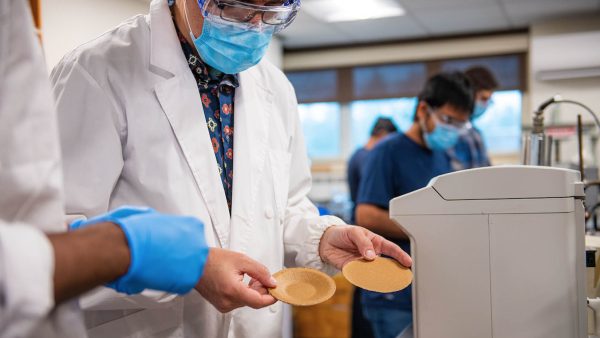 Just as consumers found paper straws lacking when it came to functionality, they could face similar issues with paper-based alternatives to plastic takeout containers. That's because paper-based containers are typically less resistant to water, oil and grease, but researchers at the University of Maine aim to solve that problem by developing a grease-proof and water-resistant paper container. According to a June 7 university release, the team created such a container from recyclable wood composites and a coating made of lignin-containing cellulose nanofibrils. This combination allows the container to be fully recyclable, unlike paper-based containers that are coated with plastic to improve their strength. The team is working with the university's Process Development Center, which hosts a fiber thermoforming machine, to evaluate if its material system can be processed using this automated system to produce food containers. "This will be a huge step to showcase the feasibility and industrial relevance of the work we have done so far," said Mehdi Tajvidi, co-author of the study and University of Maine associate professor.
Trees: Developer of biodegradable wood-based textile aims for 10% global market share
Just as researchers developed a paper-based alternative to address plastic waste created by takeout containers (see above story), another team is working to solve another widespread plastic pollution problem—synthetic oil-based textiles. Finnish company Ioncell Oy is developing and commercializing a technology that enables the production of textile fibers from wood and cellulosic textile waste. The fabric is recyclable and biodegradable, and doesn't release microplastics into the environment like oil-based fibers, according to a May 17 release from Aalto University, a founding shareholder of Ioncell. Over the next 10 years, the company aims to capture a 5%-10% share of the international textile fiber market, which produces more than 100 million tonnes each year and is worth over €200 million (US$214.23 million). To reach that goal, Ioncell will develop the manufacturing process toward the industrial scale and aims to build its own demonstration plant within two years.
* All content is copyrighted by Industry Intelligence, or the original respective author or source. You may not recirculate, redistrubte or publish the analysis and presentation included in the service without Industry Intelligence's prior written consent. Please review our terms of use.