LOS ANGELES , July 29, 2022 (Industry Intelligence Inc.) –
A roundup of recent trends pitting technology against the printed word:
Trees: Stora Enso partners with Northvolt on wood-based batteries
Last summer, Stora Enso started operating a pilot facility to ramp up the production of lignin-based carbon materials for batteries. A year later, it is partnering with Swedish battery maker Northvolt to scale up production, with the aim of developing the world's first industrialized battery featuring anode sourced entirely from European raw materials, according to a joint release on July 22. Typically, the anode of a lithium-ion battery used in electric vehicles is made of synthetic graphite, but Stora Enso's anode is made from lignin-based hard carbon sourced from wood in Nordic forests, Autoweek reported July 25. In the partnership, Stora Enso will provide its lignin-based anode called Lignode, while Northvolt will drive cell design, production process development and scale-up of the technology. The company release did not mention whether these batteries will be made for electric vehicles, but Northvolt has secured previous contracts with customers such as BMW, Volkswagen and Volvo Cars.
Trees: London-based startup upcycles sawdust into biochemicals
Wood-based materials providing an alternative to petroleum-based products is nothing new, but a London-based startup is doing it in an unexpected way. Bio-Sep has developed a low-energy solution that upcycles sawdust into biochemicals, which can replace petrochemicals and contribute to the decarbonization of the chemicals industry, according to a company release on June 28. The patented technology works by using ultrasound to break down woody biomass into high-value biochemical products, which amounts to each £1 (US$1.22) of sawdust transforming into £6 of biochemicals. These sustainable biochemicals include microcrystalline cellulose, natural lignin and hemicellulose hydrolysate, which can be used across a broad range of sectors such as pharmaceuticals, cosmetics and food and beverage. Bio-Sep has secured US$1.7 million in funding, and plans to open a commercial plant in Scotland next year that will process about 13,000 tonnes of wood per year.
Trees: Michelle Obama's new book to get first printing of 2.75 million copies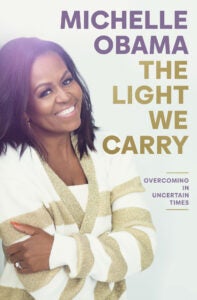 Book sales could get a big boost this year thanks to Michelle Obama's new title coming out on Nov. 15, with a first printing of 2.75 million copies for the US and Canada. The book will be 336 pages long and mark the follow-up to the former First Lady's memoir "Becoming," which sold more than 17 million copies globally, The Associated Press reported July 21. The new book will be titled "The Light We Carry," and will be published by Crown, an imprint of Random House Publishing Group. According to the publisher's press release, Obama shares practical wisdom and powerful strategies for staying hopeful and balanced. The suggested list price for the print edition will be US$32.50 in the US and C$42 in Canada.
* All content is copyrighted by Industry Intelligence, or the original respective author or source. You may not recirculate, redistrubte or publish the analysis and presentation included in the service without Industry Intelligence's prior written consent. Please review our terms of use.