May 22, 2023 (press release) –

The goal: producing more, better, and at a lower cost. The answer: Volpak's digital solutions, a portfolio of scalable products and services aligned to every use case that enables businesses to stay competitive, while improving their performance. All are designed for maximum ease of use.

The Fourth Industrial Revolution is currently unfolding, and the leading manufacturing technologies are the Industrial Internet of Things (devices connected with each other and within a network), Artificial Intelligence, Big Data management and protection, and generally everything that aims at making processes smarter and more automated. Technological acceleration is exponential and requires the manufacturing industry to keep pace to stay competitive.
A World of Digital Solutions
The good news is that our company and Coesia Group, which we are part of, have exclusive expertise in all of these areas. This is a major advantage, as it allows us to operate as a single point of contact for the customer, who can access a wide range of unique solutions and services through a single company. Just like when you go to one tailor to get a fully bespoke suit instead of having to look for the different pieces and accessories separately.

Volpak's offer is scalable in line with the customer's needs and centers around five specific tools: OptiMate, the human-machine interface based on Coesia proprietary technology, PerforMate, an IoT platform that monitors machines in real-time, UltiMate a software platform for analytics, artificial intelligence, and machine learning, Hypermate, an end-to-end Manufacturing Operations Management solution, and Advanced Remote Assistance, a remote support service.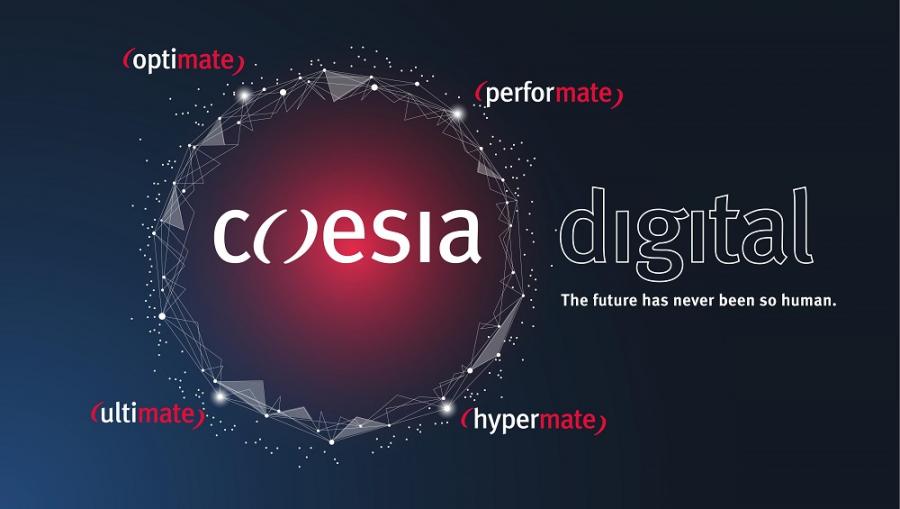 OptiMate: every feature literally at your fingertip
Available as standard on all Volpak's machines, OptiMate is Coesia's answer to an increasingly widespread need: having a machine control tool that combines ease of use and advanced control features. OptiMate accompanies and guides the operator in tasks such as format change or machine maintenance while letting them take complete control of the different functions. The smart interface eases the navigation of the different menus and simplifies procedures such as visualizing spare parts, accessing technical documentation, and generating production reports.
PerforMate: power is nothing without control
PerforMate raises the performance bar even higher, setting a new standard for the Industrial Internet of Things. It's a built-in IoT platform for the real-time monitoring of the status and performance of connected machines. A true gateway to a world of digital services that support functions such as real-time production monitoring, energy consumption assessment, and bottleneck analysis. The HMI thus becomes a powerful management tool for the entire production line, while ensuring data security. Optimizing performance doesn't just lead to better and faster production, it also enables savings on the cost of energy and materials.
UltiMate: the brain behind the muscles
Coesia UltiMate is a self-learning software platform directly connected to the other services offered by Coesia Digital. It's been designed to easily enhance productivity and quality while ensuring appropriate maintenance and cost reduction. Using a series of sensors, critical parameters are constantly monitored in real-time and, thanks to the correlation with specific algorithms, operators can forecast downtimes and avoid potential failures. This allows customers to switch from time-based maintenance to maintenance based on the real conditions of the machines, replacing parts and planning activities when necessary. Also, thanks to the self-adjustment capabilities of this tool, machines can automatically adapt to a change in process or material.
HyperMate: improved efficiency and flexibility for production processes
HyperMate is a complete production operations management solution, developed for the full digitalization of production processes. Capable of adapting to the customer's needs, HyperMate improves the quality of operations by extending the automation model from the individual machine to the entire production site. HyperMate collects all the data from each production site origin and offers a view of all the information in real-time thanks to its 3D interface, which enables production order management and, at the same time, supports the optimization of production resource usage to maximize efficiency.
Advanced Remote Assistance: out of sight, front of mind
Coesia has been a pioneer in the development of remote support technologies. As demonstrated during the Covid pandemic, these are essential for the maintenance of single machines and entire production lines, as they allow skilled technicians to work on the machines without being on-site. The latest version of our system is called ARA (Advanced Remote Assistance) and is perfectly integrated into the machine, without wires or external electronic components. This allows for a secure and fast connection, avoiding the need for complex infrastructures. ARA is standard on Volpak's entire portfolio of current machines, but it is also easily deployable on previous-generation solutions.
* All content is copyrighted by Industry Intelligence, or the original respective author or source. You may not recirculate, redistrubte or publish the analysis and presentation included in the service without Industry Intelligence's prior written consent. Please review our terms of use.