WALTHAM, Massachusetts , August 15, 2023 (press release) –
The Agreement for 6 Manufacturing Robotics Additive Solutions Goes to a Leading Western Highly Advanced Industrial Leader
Nano Dimension Ltd. (Nasdaq: NNDM, "Nano Dimension" or the "Company"), a leading supplier of Additively Manufactured Electronics ("AME") and multi-dimensional polymer, metal & ceramic Additive Manufacturing ("AM") 3D printers, announced today that it has received its largest single purchase order in the history of the Company – both in terms of the dollar value and number of systems. The order for digital manufacturing additive robotics solutions was from a leading Western Highly Advanced Industrial Leader
The sale includes multiple robotics systems designed and made by integrated technologies from Nano Dimension' divisions. The advanced Additive Robotics manufacturing equipment are critical in modern digital-industrial production.
For reasons of security and confidentiality, Nano Dimension cannot reveal the name of the customer or the specific details, but this is clearly a continuation of the Company's success in providing leading technology to those who need it most. The nature of the customer's work requires sophisticated innovation and a supply chain with advanced electronics securely available in reliable, short order. This customer, and others like it, which include national aerospace agencies, navies, air forces, and industrial high-tech leaders, rely on Nano Dimension's unique technologies to advance innovation in a way that traditional manufacturing technologies of electronics manufacturing cannot achieve.
Dale Baker, President of Americas and Head of Worldwide Sales and Marketing for Nano Dimension, stated: "We are excited that another Western leading high-tech industrial manufacturing player is investing in the design and production, to shorten its fabrication cycles and bring to life innovative ideas which could not have been done before."
Yoav Stern, Chairman and Chief Executive Officer of Nano Dimension, added: "Very importantly, this customer is buying multiple advanced manufacturing systems. This is evidence that Nano Dimension's technologies and materials are irreplaceable and essential. Customers with forward looking visions, who are at the forefront of technological fabrication innovation, continue to express demand for our systems. We are proud to be chosen as the supplier of such a unique organization."
About Nano Dimension
Nano Dimension's (Nasdaq: NNDM) vision is to transform existing electronics and mechanical manufacturing into Industry 4.0 environmentally friendly & economically efficient precision additive electronics and manufacturing – by delivering solutions that convert digital designs to electronic or mechanical devices - on demand, anytime, anywhere.
Nano Dimension's strategy is driven by the application of deep learning-based AI to drive improvements in manufacturing capabilities by using self-learning & self-improving systems, along with the management of a distributed manufacturing network via the cloud.
Nano Dimension serves over 2,000 customers across vertical target markets such as aerospace & defense, advanced automotive, high-tech industrial, specialty medical technology, R&D and academia. The company designs and makes Additive Electronics and Additive Manufacturing 3D printing machines and consumable materials. Additive Electronics manufacturing machines enable the design and development of High-Performance-Electronic-Devices (Hi-PED®s). Additive Manufacturing includes manufacturing solutions for production of metal, ceramic, and specialty polymers-based applications - from millimeters to several centimeters in size with micron precision.
Through the integration of its portfolio of products, Nano Dimension is offering the advantages of rapid prototyping, high-mix-low-volume production, IP security, minimal environmental footprint, and design-for-manufacturing capabilities, which is all unleashed with the limitless possibilities of additive manufacturing. For more information, please visit www.nano-di.com .
Forward-Looking Statements
This press release contains forward-looking statements within the meaning of the "safe harbor" provisions of the Private Securities Litigation Reform Act of 1995 and other Federal securities laws. Words such as "expects," "anticipates," "intends," "plans," "believes," "seeks," "estimates" and similar expressions or variations of such words are intended to identify forward-looking statements. For example, Nano Dimension is using forward looking statements when it discuss the benefits and advantages of its robotics systems and its unique technologies and demand for Nano's systems. Because such statements deal with future events and are based on Nano Dimension's current expectations, they are subject to various risks and uncertainties. Actual results, performance or achievements of Nano Dimension could differ materially from those described in or implied by the statements in this press release. The forward-looking statements contained or implied in this press release are subject to other risks and uncertainties, including those discussed under the heading "Risk Factors" in Nano Dimension's Annual Report on Form 20-F filed with the Securities and Exchange Commission ("SEC") on March 30, 2023, and in any subsequent filings with the SEC. Except as otherwise required by law, Nano Dimension undertakes no obligation to publicly release any revisions to these forward-looking statements to reflect events or circumstances after the date hereof or to reflect the occurrence of unanticipated events. References and links to websites have been provided as a convenience, and the information contained on such websites is not incorporated by reference into this press release. Nano Dimension is not responsible for the contents of third-party websites.
NANO DIMENSION INVESTOR RELATIONS CONTACT
Investor Relations |ir@nano-di.com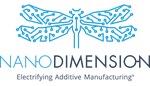 Source: Nano Dimension Ltd.
* All content is copyrighted by Industry Intelligence, or the original respective author or source. You may not recirculate, redistrubte or publish the analysis and presentation included in the service without Industry Intelligence's prior written consent. Please review our terms of use.