MESSE STUTTGART, Germany , March 31, 2023 (press release) –
Press release from the issuing company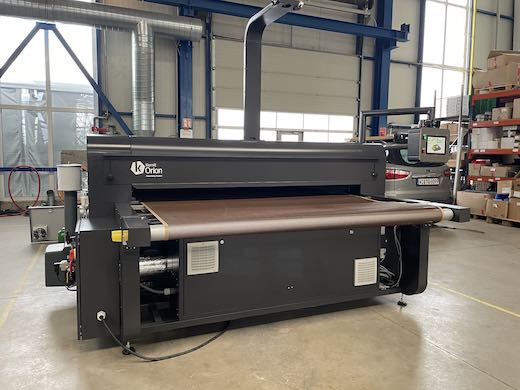 Smart curing technology streamlines production while delivering consistent high-quality results – reducing energy consumption and total cost of ownership
Rapid SizeShifter eliminates requirements for multiple pallet changes, effortlessly adapting sizing to reduce downtime, accelerate productivity, streamline time-to-market
Solutions support Kornit's visions of a "Smart Manufacturing" alternative by integrating automation and connectivity capabilities across the comprehensive production experience
See the first live demonstrations at TecStyle Visions 2023 Hall 6, Booth 5B61
Kornit Digital LTD.("Kornit" or the "Company"), a worldwide market leader in sustainable, on-demand digital fashionx and textile production technologies, announced today the Company is set to unveil its new Smart Curing and Rapid SizeShifter solutions at TecStyle Visions 2023 – designed to help customers accelerate textile production processes, streamline time-to-market, and grow their business faster with state-of-the-art "Smart manufacturing" capabilities. Kornit Smart Curing is an intelligent and adaptive solution significantly streamlining curing processes while delivering consistent high-quality results. Additionally, the introduction of Rapid SizeShifter eliminates time-consuming direct-to-garment pallet changes typically required to address disparate applications. Be the first to see these innovations live at Booth 5B61 in Hall 6 from March 30 – April 1 at Messe Stuttgart.
Kornit's new energy-efficient Smart Curing solutions include Orion for mid-level production, and Titan for higher-capacity volumes – both optimized for compatibility with Kornit Atlas MAX systems and based on field-proven solutions from the acquisition of Tesoma. These highly efficient curing systems sync production and finishing for an end-to-end process that reduces both energy consumption and total cost of ownership (TCO). Kornit's Rapid SizeShifter for Atlas MAX is an adjustable pallet that quickly adapts to disparate application requirements – reducing costly downtime associated with pallet changes and streamlining production for accelerated time-to-market.
"These new solutions come at a critical time for the EMEA market and are designed to specifically address emerging customer requirements across the region – streamlining production processes, improving time-to-market, and offering more diverse applications while answering environmental imperatives," said Chris Govier, President EMEA at Kornit Digital. "With Smart Curing, we're rounding out our end-to-end solutions, while enabling customers to globally mitigate energy waste and reduce operating costs. Rapid SizeShifter further advances ease-of-use and productivity for Atlas MAX users by enabling print size changeover in seconds while increasing application versatility. We're very excited to showcase these new automation and connectivity benefits based on accelerated customer demand across the region – enabling them to experience how end-to-end, intelligent digital production can transform and grow their business."
Powered in part by Tesoma technology alongside Kornit's proven digital production capabilities, Smart Curing puts production and finishing in perfect sync with an end-to-end process that scales to meet customer demand. Key attributes include:
Optimal production flexibility by curing dark and light fabrics, T-shirts, hoodies, and sweatshirts.
Significant reductions in power consumption and waste.
Multiple configurations to match specific business requirements, supporting either one (Orion) or up to three (Titan) Atlas MAX systems.
Rapid SizeShifter unlocks the speed and productivity of on-demand direct-to-garment production with a single pallet platform that addresses a wide range of applications – from t-shirts with or without neck tags and hoodies to children's apparel. Making the production experience more seamless, Rapid SizeShifter delivers:
Increased utilization by eliminating pallet replacements.
A cost-effective solution that easily implements new sizes, products, and applications.
On-the-fly adjustments, addressing demand changes in seconds.
Simplified ergonomics, expanding ease-of-use for versatile garment production on-demand.
Fully streamlined production processes with Smart workflow software.
To learn how your business can benefit from Kornit's end-to-end on-demand production portfolio and meet our experts, visit us at TecStyle Visions 2023 (Hall 5, Booth 5B61) from March 30 – April 1, 2023.
To learn more about how Kornit Digital is boldly transforming the world of fashion and textiles, visit www.kornit.com.
* All content is copyrighted by Industry Intelligence, or the original respective author or source. You may not recirculate, redistrubte or publish the analysis and presentation included in the service without Industry Intelligence's prior written consent. Please review our terms of use.