TOKYO , February 17, 2023 (press release) –
Seiko Epson Corporation (TSE: 6724, "Epson") has been listed among the Clarivate Top 100 Global Innovators 2023 announced by global information services firm Clarivate Plc. This represents the 10th time that Epson has been named to the list since its inception in 2012.
Epson's intellectual property
Epson emphasizes a proactive, forward-looking intellectual property strategy and considers its unique, advanced core technologies to be its most important asset.
Piezo printheads are a core device in the printing sector. We own more patents related to these printheads than anyone else in the industry1, and this IP differentiates Epson from our competitors and is being actively developed or used in new inkjet printer products.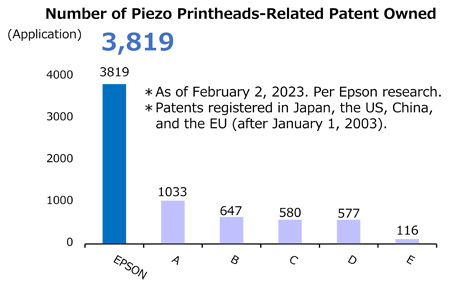 1 As of February 2, 2023. Per Epson research. Patents registered in Japan, the US, China, and the EU (after January 1, 2003).
Comments from Toshihiko Kobayashi, General Administrative Manager of the Intellectual Property Division
"It's an honor to be selected as one of the Top 100 Global Innovators. Last September, we publicly announced our aspirations in a corporate purpose statement that reads, "Our philosophy of efficient, compact and precise innovation enriches lives and helps create a better world." Epson's inkjet multifunction printers are equipped with Epson's unique heat-free printhead technology. This technology has several key advantages, including reduced CO2 emissions2 and less frequent replacement of consumables and limited lifetime parts. Our technology helps to solve societal issues like these and is protected by intellectual property rights. It underpins Epson's sustainability efforts. The top priority of our IP activities is, and will continue to be, finding ways to use Epson's strengths to help solve societal issues."
2 For details, please see the following link: corporate.epson/en/sustainability/environment/products/customers.html
The Clarivate Top 100 Global Innovators
Clarivate compares and analyzes invention data from around the world, assesses the quality of patent ideas using indicators directly linked to innovativeness, and annually selects companies and organizations that are at the top of the global innovation ecosystem and continuously demonstrate outstanding innovation performance.
A twin track approach is used in evaluations. The first track focuses on identifying innovating companies and organizations based on the number of patent applications filed and patents held. An "international factor" is then calculated based on the rate and scale of international inventions. The second track scores them on four factors-influence, success, globalization, and rarity-and a comparison against all other patent ideas is made.
For details, please see the Clarivate Analytics press release.
https://clarivate.com/newsroom/
For more details about Epson's intellectual property, click on the link below.
corporate.epson/en/technology/intellectual-property/
About Epson
Epson is a global technology leader whose philosophy of efficient, compact and precise innovation enriches lives and helps create a better world. The company is focused on solving societal issues through innovations in home and office printing, commercial and industrial printing, manufacturing, visual and lifestyle. Epson's goal is to become carbon negative and eliminate use of exhaustible underground resources such as oil and metal by 2050.
Led by the Japan-based Seiko Epson Corporation, the worldwide Epson Group generates annual sales of more than JPY 1 trillion.
corporate.epson/en/
---
* All content is copyrighted by Industry Intelligence, or the original respective author or source. You may not recirculate, redistrubte or publish the analysis and presentation included in the service without Industry Intelligence's prior written consent. Please review our terms of use.