June 7, 2023 (press release) –
Unicharm Corporation (CEO and President: Mr. Takahisa Takahara) believe that preserving the natural environment and contributing to sustainability is an extremely important aspect of our business development, and we have announced our mid- to long-term environmental targets "Environmental Target 2030" and "Kyo-sei Life Vision 2030" in 2020. All members of the Group are committed to these initiatives.
We would like to introduce some of our efforts on the occasion of the World Environment Day on June 5.
What is "World Environment Day"?
This day was established by the United Nations in 1972 to raise awareness and promote the conservation of the natural environment. It is a day to encourage individual efforts with governments, individuals, and community groups to organize environmental conservation activities.
Initiatives of reducing environmental impact by Unicharm Group
【LG Unicharm Co., Ltd.】 (Korea)
Released "SOFY Unbleached Napkin" in paper packaging
・Launch Date: March 2022
・Product Summary: "SOFY Unbleached Napkin" is a product that contributes to the reduction of plastic usage by adopting paper packaging.   Compared to conventional packaging, the amount of plastic usage reduced by more than 80%.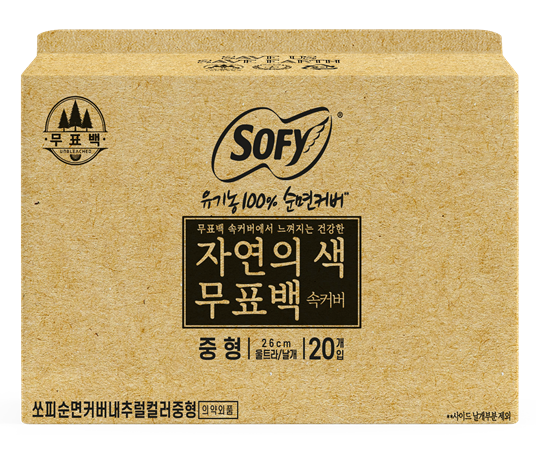 【Unicharm India Private Ltd.】 (India)
Environmental conservation activities such as tree planting, cleanups, etc.
・ Activity period: June 2022
・ Activity Summary: Employees of the Nimrana and Sri City plants planted trees after the cleanup activities. In addition, a model of a rich   natural environment was made by reusing garbage collected from the cleanup activities, contributing to the effective use of resources.
【Uni-Charm Corporation Sdn. Bhd.とDSG Malaysia】 (Malaysia)
ESG activities for the community
・Activity Period: June 2022
・Activity Summary: Employees cleaned up the floors and drains of a community center in the city of Klang, as well as a futsal field and
soccer field. This activity helped employees cultivate a sense of caring for the local community and promoted environmental awareness.

【PT Uni-Charm Indonesia Tbk】 (Indonesia)
Educating Elementary and High School Students on Separation of Garbage
・Activity Period: September and December 2022
・Activity Summary: With the cooperation of the Ministry of Education, Culture, Research and Technology of Indonesia and the Japan
Foundation, we conducted classes on the theme of "garbage separation" for 30 elementary school students in the Jakarta Special Region.
Classes were also held for 40 high school students.

【Unicharm Corporation】 (Japan)
Special class on "Horizontal Recycling of Used Paper Diapers"
・Activity Period: December 2022
  Activity Summary: With the cooperation of Shibushi City, Kagoshima Prefecture, we gave a special class on the "horizontal recycling of used   paper diapers" technology at Shibushi Elementary School in Shibushi City. In addition, classes were held using "paper clay" made from   recycled pulp extracted and refined from used paper diapers, providing an opportunity to deepen understanding of the quality, safety, and   environmental friendliness of recycled pulp.

Promoting the "GHG Emissions Visualization Project
・Activity Period: Started from May 2022
・Activity Summary: We are promoting the "GHG Emissions Visualization Project" with Deloitte Tohmatsu Consulting LLC, aiming to disclose   GHG emissions by each product. Specifically, we have formulated calculation rules in accordance with the GHG Protocol, an international
  standard for calculating GHG emissions, and completed the construction of a system based on these rules. In addition, we were able to   obtain primary data on GHG emissions by material from about 90% of our material suppliers (on a purchase amount basis). In May of this   year, we exchanged information and opinions on carbon footprints in the daily necessities industry with related ministries and agencies,   other companies in the industry, and environment-related companies.
Launch of "Deo Toilet" using biomass resources (plant-derived raw materials)
・Launch date: June 2023
・Product Summary: System toilet for cats* "Deo Toilet for kittens to adult cats of 5 kg" uses plant-derived materials for about 10% of the   plastic, thereby contributing to the reduction of CO₂ emissions. In addition, the amount of garbage generated when replacing the litter has   been reduced by approximately 50% compared to conventional hardening type paper litter.
*A toilet with a two-layer structure in which the sand does not harden and the sheet and mat absorb urine.
Our vision of a "cohesive society" is a society in which all people of the world can coexist, supporting each other with equality and respect for each other's individuality, without anyone being left behind. However, in many countries and regions, people still lack access to adequate education, and the knowledge gap regarding environmental conservation remains a major issue. In order to solve such social problems, we are developing products and services, as well as educational activities for local communities. Through these activities, we will continue to create new value and contribute to the realization of a "cohesive society.
Contributing to the 17 SDGs through "Initiatives to Reduce Environmental Impact"
Unicharm believes that the activity of "Initiatives to Reduce Environmental Impact" will contribute to the following goals of the 17 Sustainable Development Goals (SDGs) adopted by the United Nations in 2015.
1.No Poverty    3.Good Health and Well-being   4.Quality Education
5.Gender Equality 12.Responsible Consumption and Production
We will continue to contribute to the achievement of the SDGs by solving environmental and social issues through our business activities, including the provision of products and services.
<<For Inquiries>>
Unicharm Corporation, ESG Division, Public Relations Office
Email: brand-pr@unicharm.com
* All content is copyrighted by Industry Intelligence, or the original respective author or source. You may not recirculate, redistrubte or publish the analysis and presentation included in the service without Industry Intelligence's prior written consent. Please review our terms of use.