February 22, 2022 (press release) –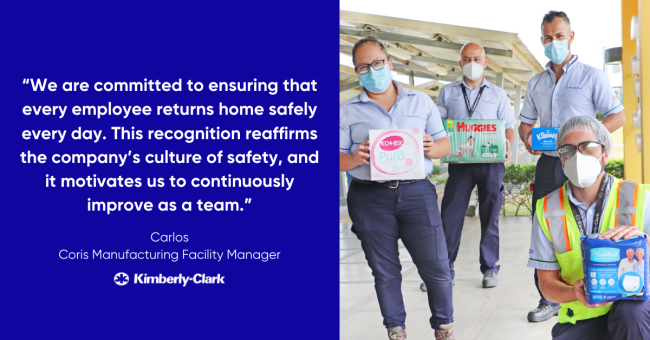 Employees at Kimberly-Clark's Coris manufacturing facility in Costa Rica
Two Kimberly-Clark manufacturing facilities in northern Latin America were recently recognized with occupational health and safety awards bestowed by governing agencies in their respective countries, demonstrating how the company's culture of caring, owning and acting results in tangible benefits to employee health and well-being.
Coris Facility Receives 2021 Global Preventico Award
Kimberly-Clark's Coris manufacturing facility in Costa Rica received its first 2021 Global Preventico Award from Grupo INS, which recognizes companies with successful occupational health programs in the country. The Coris facility received gold awards in the areas of health promotion, occupational safety and health, and human and property safety, as well as a bronze award for safe mobility.
Grupo INS is a governmental entity that manages business insurance and promotes safe corporate practices to reduce risks to employees and infrastructure. Every two years, it holds a national "Preventico" contest to recognize companies' efforts and success in occupational safety. Companies from both the public and private sectors opt to enter the contest, where they undergo rigorous evaluation in the above four categories. Of all the entrants in last year's competition, Kimberly-Clark was one of only three to receive awards in more than one category.
According to Kattya Nuñez, the Coris manufacturing facility's environmental health and safety manager, and Carlos Vargas, Coris' plant manager, the facility's warehouse has been accident-free for the past 12 years, demonstrating the team's commitment to actively owning safety every day.
"We are committed to ensuring that every employee returns home safely every day," said Vargas. "This recognition reaffirms the company's culture of safety and its values of caring, owning and acting, and it motivates us to continuously improve as a team."
Sitio del Niño Facility Receives Safety Recognition from the Labor Ministry of El Salvador
In another affirmation of its caring value, Kimberly-Clark's Sitio del Niño manufacturing facility received the "National Award for Decent Work" from the El Salvador Labor Ministry in 2021. All companies within El Salvador were evaluated for their compliance and action plans in four areas, including the basic pillars of the International Labor Organization (ILO), occupational health and safety practices, working conditions, and social protection of workers.
As a governmental entity, El Salvador's Labor Ministry works to establish occupational safety guidelines in the workplace and ensure the fulfillment of international treaties, such as the one established between El Salvador and the ILO. With its vision to create decent working conditions for all El Salvadorians, the Labor Ministry launched the "National Award for Decent Work" to recognize companies that promote good work practices and adhere to national and international norms.
The award is a national prestige symbol certifying companies that offer decent working conditions and occupational health and safety programs that exceed the expectations of legal regulations. Of the 342 companies evaluated in 2021, only 25 received the award.
According to Sandro de Ponte, the manager of the Sitio del Niño facility, the Labor Ministry works in tandem with Kimberly-Clark to conduct audits and ensure the fulfillment of established occupational safety processes year-round.
"The concept of 'decent work' includes people's aspirations of what they hope to achieve during their work lives. It means having equal opportunities and access to a productive job with a fair wage, in a safe environment, with the ability to freely express their opinions," said de Ponte. "By creating this environment, Kimberly-Clark creates a gender-equal and level playing field with an improved sense of belonging and a harmonious work environment."
* All content is copyrighted by Industry Intelligence, or the original respective author or source. You may not recirculate, redistrubte or publish the analysis and presentation included in the service without Industry Intelligence's prior written consent. Please review our terms of use.