March 31, 2023 (press release) –
On March 1-2, 2023, the 2nd Asia Wipes Summit (AWipes 23), organized by the China Nonwovens and Industrial Textiles Association (CNITA) and themed "Better Wipes, Cleaner World", was successfully held in Shanghai. AWipes 23 (including conference and tabletop-display) attracted more than 300 attendees from the entire wipes industry chain. The speakers comprehensively and deeply shared the latest innovation and sustainability of the wipes industry.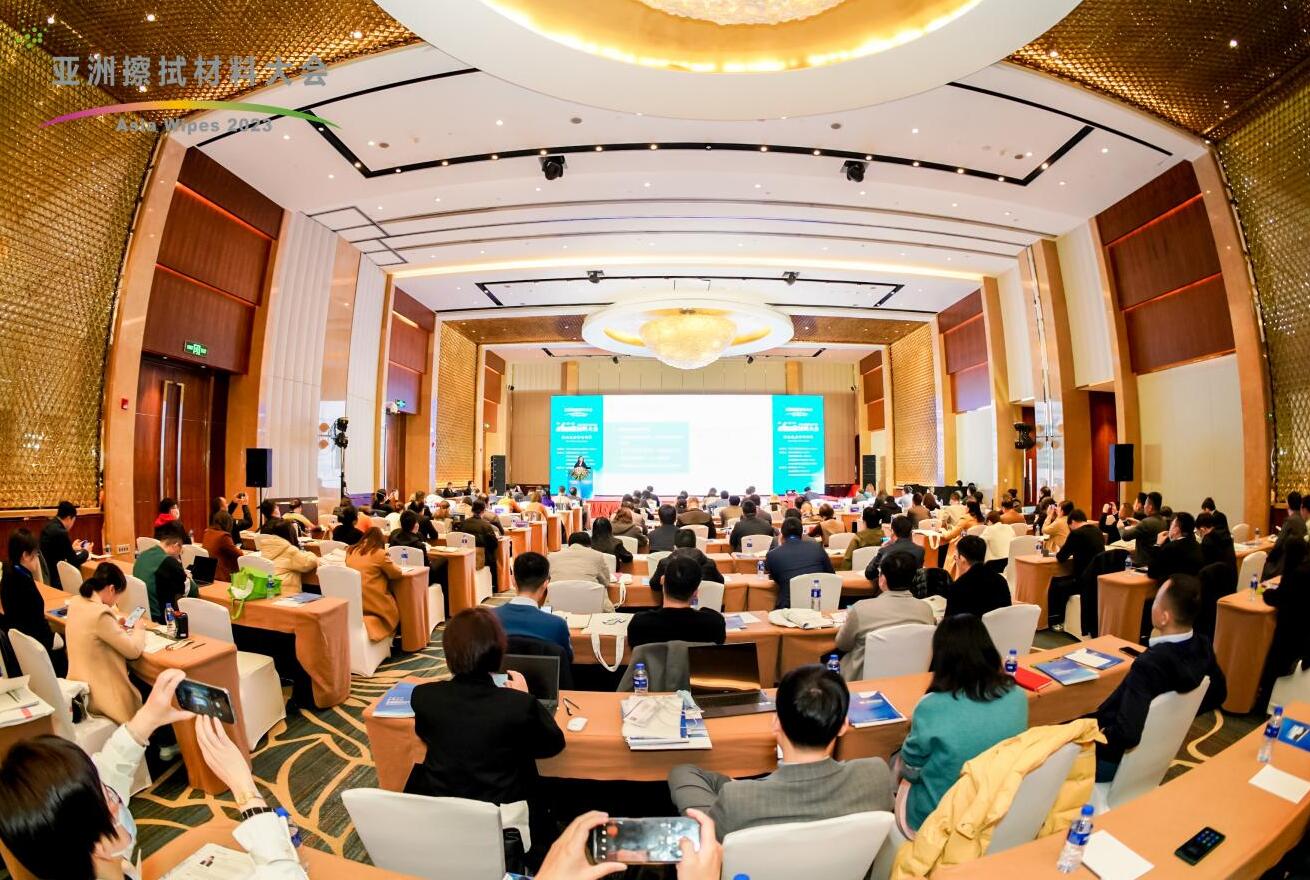 "As an important application field of nonwovens, wipes has shown a rapid development trend in China in the past 10 years, with an annual growth rate of about 15%. In 2022, the amount of nonwovens used in the production of wipes in China is about 800,000 tonnes, accounting for about 10% of the all uses of nonwovens. The quality improvement and product innovation of the wipes are very active. Functional, environment-friendly and differentiated wipes continue to emerge. Innovations in raw materials, processes and finishing of nonwovens are also constantly giving wipes new functions and a more optimized consumer experience. In addition, China's huge market has prompted domestic and foreign producers to increase their market share and expand their brand influence with innovation and environmentally-friendly products." Li Lingshen, Vice President of China National Textile and Apparel Council (CNTAC), said in his opening speech.
Li Guimei, President of CNITA, shared The Sustainable Development of China's Nonwoven Wipes Industry. She said, after years of rapid development and explosive growth in 2020, the development of China's nonwovens industry has gradually stabilized. Its application field: wipes, continuing to innovate its products and expand its market size. At the same time, the wipes industry development also faces challenges. The future focus of the nonwoven wipes industry should be on how to take the road to sustainable development under the pressure of industrial upgrading, quality improvement, energy saving, structural adjustment, etc.
Tony Fragnito, President of INDA, shared the Status of the Wipes Sector in North America by video. "The North American Nonwovens market is being influenced by economic, consumer and regulatory trends. Rapid increases in demand related to COVID drove up production rates and investments. As capacity caught up demand softened leading to both increased inventory and capacity in the short term. Retailer and consumer sentiments are demanding innovation in sustainable inputs and end-of-life options. Regulatory pressure, primarily related to plastics and waste water processing, are ever present. Regulation, absent a deep understanding of the technical, economic and social impacts remain a risk for the industry." Tony said in his video presentation.

Murat Dogru, the General Manager of EDANA, shared the State and Trends of European Nonwoven Wipes by video. He analyzed the market overview and penetration rates of European baby and personal care wipes, and detailed the flushability: European voluntary commitment.
Phillip Mango, the Lead Consultant for Nonwovens for Smithers, did a video presentation on The Global Drive to Make Nonwoven Wipes "Plastics Free". He started with a summary of the market status and market sizes for global nonwoven wipes, then evaluated the potential demand for "plastics free" products of the total global nonwoven wipes market. Finally, he disclosed and discussed the current and future "plastics free" products and processes.
Other speakers also made brilliant presentations from the wipes perspectives of consumption trend, international trade, green development, standards, e-commerce sales data, brand strategy, and innovation of product, technology and equipment, etc.
After the Summit, attendees expressed that they were impressed by the awesome presentations, the detailed arrangement, the thoughtful services, and the wonderful & plentiful tabletop-displays, and they were looking forward to the third edition of AWipes (initially scheduled to be held in March 2024).

About CNITA
CNITA, China Nonwovens and Industrial Textiles Association, is the only association approved by the Ministry of Civil Affairs of China represents nonwovens, industrial textiles and related industries in China, and serves 1,000+ member companies. Since its founding in 2001, CNITA has provided a comprehensive range of services with networking events, educational courses, market data, standards, consultancy, information, publicity, etc. to help members succeed. The main mission of CNITA is to preserve the rights and interests of its members, serves as a bridge between its members and government, promotes technological progress and industry development.
* All content is copyrighted by Industry Intelligence, or the original respective author or source. You may not recirculate, redistrubte or publish the analysis and presentation included in the service without Industry Intelligence's prior written consent. Please review our terms of use.