June 1, 2023 (press release) –
Two companies, one family business: Ip Cart and Blue Sky are Italian excellences in the tissue sector, born in the heart of Puglia and grown by building their success on customer focus. In this interview, CEO Vito Ippedico tells the story of these two realities and how OMET technology has played a key role in their growth process.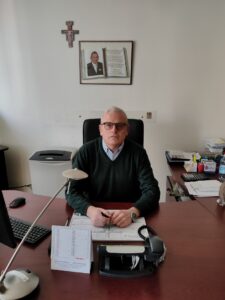 When, where and by whom was your company founded?
Ip Cart was born in 2000, Blue Sky in 2008 as a business branch of the first to manage the homonymous brand. The two companies have the same corporate structure made up of me, director, my brother-in-law Raffaele Carlucci, director, and my sister Matilde Ippedico.
Both companies work in the tissue sector, how are they organised?
Ip Cart deals with the design and production of personalized disposable items for catering and roasting such as napkins, paper bags, cups, stirrers, cutlery holders and much more. It offers a tailor-made service to customers with whom it has built long-term relationships of trust thanks to the punctuality, seriousness and quality of its service. The same values have also led to success for Blue Sky, which produces napkins in all formats (single-ply, double-ply, in various heights and colours).
How are you positioned on the market today?
Among our customers there are catering companies, seaside resorts and air and shipping companies. Ip Cart has a predominantly Italian market and a small part of the foreign market, Blue Sky is mainly present in the Center and South (Sicily, Calabria, Campania and Puglia) plus a few customers in the North.
How many OMET machines do you have?
In total we have 11 OMET lines: 7 at Ip Cart and 4 at Blue Sky. They are all machines purchased by OMET from 2000 onwards. The last two were bought at the beginning of 2023 as Ip Cart and in 2022 as Blue Sky.
Are you satisfied with the performance of the machines?
We cannot make comparisons on the performance of the machines because we only have OMET lines. But, working in the folded sector for several years, we have seen several competitors: however we would not want to change because in terms of production capacity and product quality we have never had any kind of problem. OMET has always been close to us.
What technology did you focus on for the latest machines?
We are aiming for 4.0 technology: we want all the machines to be connected remotely, in order to be able to manage them with greater flexibility and, if necessary, to be able to interface with the OMET service which, in our opinion, is number one. Always available and careful to the smallest details.
What do you appreciate most about OMET machines?
Service. Service is always accurate, punctual and fast. In this sector, as in others, service and response speed are decisive elements for customers, they are what make the difference. If you spend 100,000 euros less on the purchase of a line, but the supplier doesn't have reliable service and you find yourself stuck in production, there's no point in having saved that money.
How has your business grown from the beginning to the present day?
We were born in an 800m warehouse with only one line for bar napkins production. By 2008, the year we split the two companies, we grew exponentially. Today the desire to grow continues to exist and receives new life from our children who are approaching the company.
What size are you today?
Currently we have achieved – with both companies – a turnover of 10 million euros and about forty employees. Ip Cart has a warehouse of 7 thousand square meters and Blue Sky of 4 thousand square meters. We are planning the construction of another 5 thousand square meter warehouse which will be completed by 2025. We want to continue investing in the folded sector and we need space, it is a voluminous product and we need coverage. Surely when we have more space we will invest in new machinery.
Has the difficult economic situation of recent years created difficulties for you? How do you see the future?
Given that we turn to the Horeca sector, heavily penalized during the Covid period, I do not deny that we have suffered a bit. But we have always been positive and now I can say that we have recovered and everything is back to normal. We see a lot of interest in our products on the market, so the prospects are good.
* All content is copyrighted by Industry Intelligence, or the original respective author or source. You may not recirculate, redistrubte or publish the analysis and presentation included in the service without Industry Intelligence's prior written consent. Please review our terms of use.