CARY, North Carolina , August 22, 2023 (press release) –
INDA, the Association of the Nonwoven Fabrics Industry, announced the conference program for Hygienix™ 2023, November 13-16 to be held at The Roosevelt New Orleans Hotel, New Orleans, LA.
The program details can be found on the Hygienix website.
The keynote speaker is Courtney Scharf, Chief Client Officer, Trend Hunter. Trend Hunter leverages big data, human researchers, and AI to identify consumer insights, and deep dive opportunities for the world's most innovative companies, such as Unilever, Colgate-Palmolive, Georgia-Pacific, Kroger, Johnson & Johnson, Reckitt Benckiser, Samsung, and Bacardi. Trend Hunter utilizes Artificial Intelligence and research to identify and curate top insights and trends to advise brands and businesses in their pursuit of innovation.
The Hygienix program will feature thought leaders in consumer-centric innovations, the circular economy, raw material advancements in sustainability, opportunities for advanced recycling in absorbent hygiene, optimizing the packaging footprint, new approaches for odor control, and market trends and drivers.
Experts presenting at Hygienix include:
Aquapak Polymers Ltd. – "Creating Sustainable Nonwovens for Hygiene Applications with Thermally Processable Polyvinyl Alcohol; A Water Soluble, Environmentally Friendly and High-Performance Polymer"

Asahi Kasei Advance Corporation – "Continuous-Filament Cellulose Nonwovens"

Confitex Technology – "Reusables Production: It's Not All Green"

Egal Pads, Inc. – "Closing the Circularity Gap One Used Pad at a Time"

Essity – "Diaper Collection & Recycling in Australia"

ExxonMobil Chemical Company – "Innovate New Levels of Strong Comfort with Hygiene Solutions"

Henkel Corporation – "Reducing the Packaging Waste from Personal Hygiene Products"

INNOVATEGRN – "Accelerating Innovation / Embracing a Consumer-Centric Approach"

Kuraray Europe GmbH – "Safe and Eco-friendly Elastics for Absorbent Hygiene Products"

Nexus Circular – "Increasing Plastics Circularity for the Hygiene Segment Through Advanced Recycling"

W. Pelz GmbH –"Disposable Pads Meet Reusable Underwear"

Price Hanna Consultants – "Squaring the Circle: Why Demonstration Projects = Good Sustainability Strategy" and "Wellness and Natural Materials"

Rem Brands, Inc. – "Effective Reduction of Material Odors, In-use Odors, and Post-use Odors"

Sequel – "Spiraling into Business: How a Dramatic Innovation to the Tampon Met the World's Largest Manufacturer of Feminine Hygiene"

Sparkle Innovations Inc. – Sustainability and Circularity in the Absorbent Hygiene Products Industry"
The Hygienix program will offer a hands-on workshop as well as two pre-conference webinars. Jim Robinson, Principal, Absorbent Hygiene Insights, LLC, will lead the in-person workshop on AHP Absorbent Hygiene Systems, Monday afternoon, November 13th. This workshop evaluates SAP absorption for different SAPs and participants have the opportunity to deconstruct and examine several hygiene products including infant, adult, and period care products to increase the understanding of these systems.
The pre-conference webinars include:
"Period Care Products—The New, the Old, and the Old-New," by Heidi Beatty, CEO, Crown Abbey, LLC, October 25th,
11 am ET

"Global Trends in Diapers, Baby Pants & Adult Underwear," by Natalia Richer, COO, and Irene Richer, Market Analyst & Partner, Diaper Testing International, November 8th, 11 am ET
A highlight of Hygienix is the Hygienix Innovation Award™. Finalists will present their innovative absorbent hygiene products on Tuesday, November 14th. The winner of the award will be announced Thursday morning, November 16th. Last year's award recipient was Pads on a Roll™ by Egal Pads. Pads on a Roll is a wrapped super-thin absorbent period pad that dispenses like toilet paper in public bathroom stalls, preventing the personal embarrassment of not having a menstrual product when needed.
For more details on the program, registration, and tabletop exhibits, visit the Hygienix website.
About INDA
INDA, the Association of the Nonwoven Fabrics Industry, serves hundreds of member companies in the nonwovens/engineered fabrics industry to achieve business growth. Since 1968, INDA helps members convene and connect, innovate and develop their businesses. INDA's educational courses, business intelligence and market insights, test methods, consultancy and issue advocacy help members succeed by providing information they need to better plan and execute their business strategies. INDA Media is the business-to-business publishing arm of INDA and publisher of International Fiber Journal and International Filtration News, which reach a vast network of professionals who employ fibers, filaments, and filtration systems to optimize their application environments. For more information, visit inda.org or call 919-459-3700.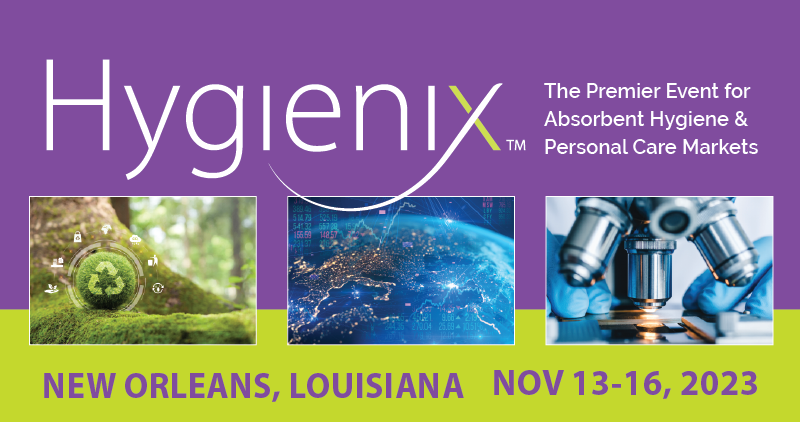 * All content is copyrighted by Industry Intelligence, or the original respective author or source. You may not recirculate, redistrubte or publish the analysis and presentation included in the service without Industry Intelligence's prior written consent. Please review our terms of use.