August 22, 2023 (press release) –
August 22, 2023
Corrigan, Texas - Georgia-Pacific has long supported fire departments and first responders in the communities in which they are located. The company has three major facilities that employ approximately 1,000 people in Polk County, Texas. Recently, Georgia-Pacific donated $100,000 to the volunteer fire department in Corrigan. The Corrigan Volunteer Fire Department, which has close to 25 active volunteers and answered more than 150 emergency calls in 2022, has kicked off a capital campaign to build a new fire station, which will cost $400,000.
The land for the new facility was donated by a local family, and the project will be completed in stages. The first stage involves building the shell of the facility so trucks can operate there immediately. The second stage will build out the living quarters and kitchen, and the third will finalize the parking lot and second story. The Corrigan Volunteer Fire Department also plans to allow local schools and community organizations to have access to the facility for functions and fundraisers.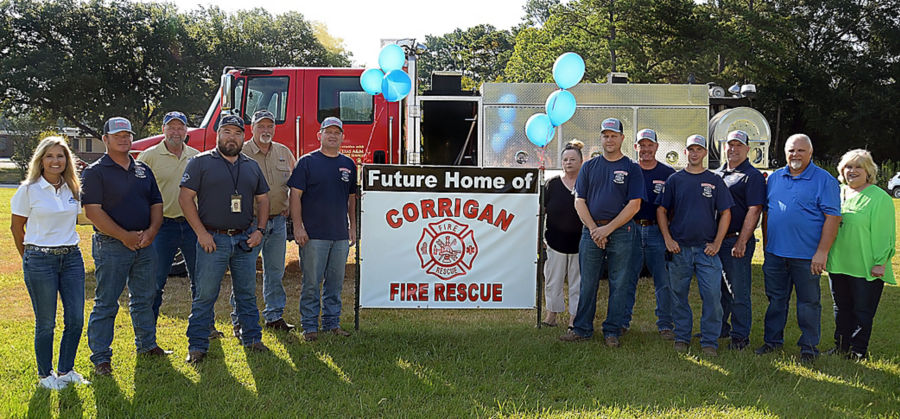 Georgia-Pacific donated $100,000 to the Corrigan Volunteer Fire Department to help build a new fire station. From the left are: Yana Ogletree, Georgia-Pacific public affairs manager-Texas; Thomas Murphy, firefighter; Myrton Thompson, Georgia-Pacific Camden lumber plant manager; Lester Knight, Georgia-Pacific Corrigan plywood plant manager; George Standley, Camden plywood plant manager; Jimmy McDonald, Corrigan VFD Chief; Connie Cobb; firefighters Matt Hughes, Ken Hughes and Aaron Miller; Mike Cobb, Corrigan VFD assistant fire chief; Darrian Hudman, Corrigan city manager; and Johnna Gibson, Corrigan mayor.
The Corrigan Volunteer Fire Department is solely staffed by volunteers, which is typical in small and rural areas within the United States. In fact, 65% of firefighters in the U.S. are volunteer, and many fire departments are made up of solely volunteers. Out of 29,452 fire departments in the country, 18,873 of these departments are volunteer. In addition to fire emergencies, these first responders handle many other types of situations, such as emergency medical incidents, vehicle accidents, natural disasters, hazardous materials incidents, water rescue emergencies, and other general public service calls.1 While volunteer fire departments save small local governments money, funding and other challenges, such as recruiting and training volunteers, and securing and maintaining equipment and facilities, are common.
"Fire poses one of the biggest threats in the community and to any wood products business," said Lester Knight, Georgia-Pacific's Corrigan plywood plant manager. "It has been dry, and we do face wildfires in this area. When it comes to supporting this community, I cannot think of a better opportunity to give back than to support the Corrigan Volunteer Fire Department. These volunteers leave their families, wake up in the middle of the night, and put their safety at risk to protect us. The new facility will help them in these efforts."
Georgia-Pacific launched its Bucket Brigade program in 2006 to help support local fire departments, awarding more than $3 million to first responders. Learn more about GP's work by visiting First Responders | Georgia-Pacific (gp.com).
1 National Fire Volunteer Council: https://www.nvfc.org/wp-content/uploads/2022/12/NVFC-Volunteer-Fire-Service-Fact-Sheet.pdf
* All content is copyrighted by Industry Intelligence, or the original respective author or source. You may not recirculate, redistrubte or publish the analysis and presentation included in the service without Industry Intelligence's prior written consent. Please review our terms of use.