August 1, 2023 (press release) –
Recognition is granted to companies with concrete projects focused on preserving this biome
For the second consecutive year, Bracell has been recognized as a certified Friend of the Atlantic Forest for its conservation and sustainable use of this biome. The certification granted by the National Council of the Atlantic Forest Biosphere Reserve (RBMA) was renewed on Tuesday evening, 18th, at a ceremony at the Praia do Forte Convention Center in Mata de São João, on the northern coast of Bahia.
Representing Bracell at the event were Marcos Sacco, Senior Forestry Manager, Meryellen Oliveira, Environmental and Forest Certifications Manager, and Fábio Góis Barbosa, Institutional Relations and Social Responsibility manager.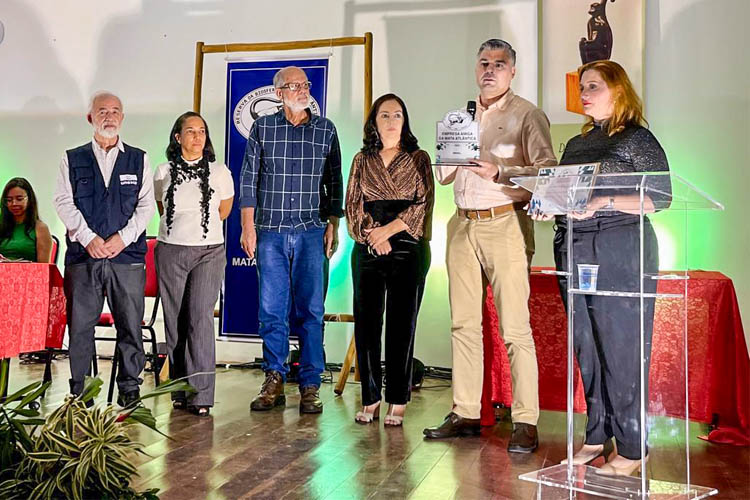 For Meryellen, the achievement highlights the company's commitment to the conservation of the Atlantic Forest and other biomes through its own actions and support for RBMA activities. "I especially emphasize Bracell's One-for-One Commitment, an unprecedented initiative in the Brazilian pulp and paper industry, which aims to protect, conserve and/or restore one hectare of native forest for each hectare of eucalyptus planted in the states of Bahia, São Paulo and Mato Grosso do Sul by 2025," she says. The Company ended 2022 with 82% of the target met.
She points out that the company has four Private Natural Heritage Reserves (RPPNs) in Bahia, including Lontra, with 1,377 hectares, in the municipalities of Entre Rios and Itanagra. In this natural area – recognized by the United Nations Organization for Education, Science, and Culture (UNESCO) as the only Biosphere Reserve Outpost of the Atlantic Forest owned by a company – 378 species of wild flora have been cataloged, plus 216 species of birds, 62 species of amphibians and lizards, 15 species of snakes, and 25 species of mammals, demonstrating the region's incredible biodiversity.
Partnerships with environmental institutions
Fábio Barbosa emphasizes that, besides being a certified Friend of the Atlantic Forest, Bracell is part of the National Coordination of the Atlantic Forest Restoration Pact Council (2023/2024 biennium), which involves more than 300 institutions committed to restoring the biome, and enshrines the advances made at COP 15, which define global targets for biodiversity and ecosystem restoration.
"The company is a partner of important organizations for conserving and preserving biodiversity, such as the Bahia State Environment Department, the Forest Foundation, and the NGO SOS Mata Atlântica," says Fábio Barbosa. Bracell also tracks the indicators and metrics compiled by the Taskforce on Nature-related Financial Disclosures (TNFD) in conjunction with the Brazilian Forestry Association (IBÁ) and the Brazilian Business Council for Sustainable Development (CEBDS).
* All content is copyrighted by Industry Intelligence, or the original respective author or source. You may not recirculate, redistrubte or publish the analysis and presentation included in the service without Industry Intelligence's prior written consent. Please review our terms of use.