Dorsal, a leading Italian company specializing in high-quality bedding products, has recently made a material change in its pillow packaging. The decision to change from fossil-based plastics to wood-fibre-based and recyclable at scale Paptic material was driven by the growing demand from environmentally conscious customers. This strategic move aligns perfectly with Dorsal's commitment to sustainability and responsible material usage.
"Our customers have enthusiastically embraced the new Paptic packaging. It beautifully complements the quality of Dorsal products," says Lucia Moretti Vice President at Dorsal, and continues: "The pleasant and sustainable material perfectly aligns with our environmental values. Finally, we can wrap our pillows in bio-based, recyclable, and reusable packaging made from renewable raw materials sourced from sustainably managed forests." The new packaging is soft and wraps nicely around the pillows. The breathable nature of Paptic material allows the pillows to maintain their shape. "The personalized print is also valued, featuring both the Dorsal logo and the Paptic brand, which highlights the unique characteristics of the packaging," Lucia Moretti added.
"We are extremely excited about our partnership with Dorsal. When two sustainably driven companies join forces, the cooperation is smooth, and environmental impact is achieved. The Paptic materials' unique qualities, such as flexibility and softness, function well in pillow packaging," says Diego Caviola, Business Development at Paptic Ltd.
Dorsal exploring future opportunities to use Paptic® material in other packaging applications
"As part of our sustainability strategy, we are investigating the potential to reduce fossil-based material in our packaging by replacing it with Paptic also in our other product packaging," explains Lucia Moretti.
Recyclable at scale Paptic materials offer a unique combination of sustainability, strength, and distinctive tactile properties. These materials were developed to decrease the use of plastic in flexible packaging, making it possible to replace oil-based materials in various packaging applications. The wood-fibre-based materials are available as FSC® certified.
For more information, please contact:
Diego Caviola
Business Development, Italy
Paptic Ltd
tel. +39 336 635 8031
Email: diego.caviola@paptic.com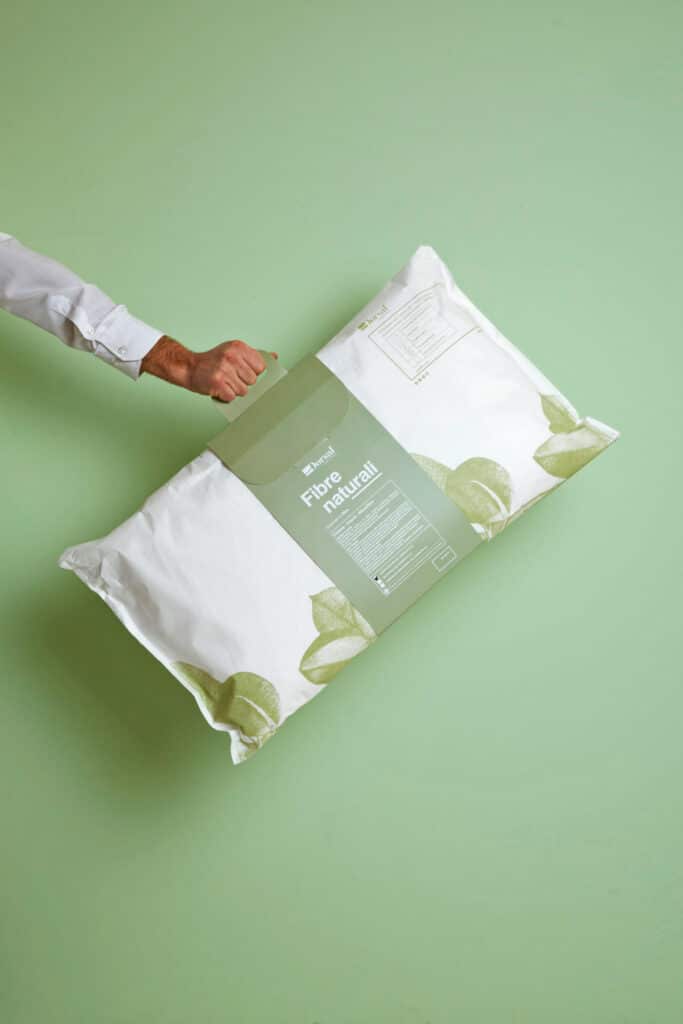 Paptic Ltd is a high-growth company established in 2015 with headquarters in Espoo, Finland. The company has developed Paptic®, a fibre-based and recyclable material to replace plastics and other conventional materials in packaging. Paptic® materials have been available on an industrial scale since 2018. Today Paptic is a company of 40 professionals, and Paptic® materials are delivered to over 50 countries. www.paptic.com
About Dorsal:
Since 1932, Dorsal has been designing and manufacturing bed systems capable of guaranteeing maximum quality sleep. The company has always designed and created products responding to requests for naturalness and at the same time guaranteeing regenerating rest for the body.
At Dorsal, there is a natural direction to which we can look with optimism, one that supports the use of renewable resources and constantly aims to search for new technological solutions capable of guaranteeing total respect for the environment. This strategic move aligns perfectly with the commitment of Dorsal, an FSC® certified company since 2015, to sustainability and the responsible use of materials.
At Dorsal the technologies used, both during the manufacturing phase of our products and with our selected suppliers, are certified by the best laboratories to guarantee a natural quality that lasts over time.