ROTORUA, New Zealand , August 29, 2023 (press release) –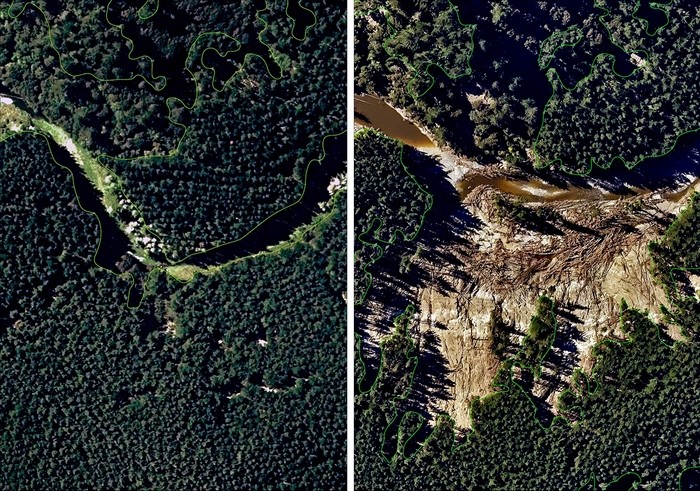 Scion's Remote Sensing team is combining aerial images and artificial intelligence (AI) to map the impact of Cyclone Gabrielle on forestry.
Scientists are harnessing the power of AI and deep learning technology to help local authorities, such as the Gisborne District Council, understand damage Cyclone Gabrielle caused to planted forests and help the forestry sector battle climate change.
The research is part of Scion's Digital Forest Project, which has pivoted following the cyclone to map out its effects, with Gisborne and Hawke's Bay the first to be mapped using the technology. Scion portfolio leader for New Value from a Digital Forest and Wood Sector, Claire Stewart, says Cyclone Gabrielle was the first opportunity to use their technology to measure the impact of a natural disaster on New Zealand's planted forests.
"The aim of our project is to create a national-scale digital inventory of our forests in New Zealand. Long-term, we plan to have the whole country mapped out.
"In the short term, we see immediate value in repurposing our AI model to quantify the forest loss and damage in these areas using a range of imagery sources," she says.
The information we collect can be used by councils, forestry companies and other stakeholders to help them understand what's happened and support them to make more informed land and forest management decisions. - Claire Stewart
"The information we collect can be used by councils, forestry companies and other stakeholders to help them understand what's happened and support them to make more informed land and forest management decisions."
The Gisborne-Tairāwhiti region was one of the worst hit areas during Cyclones Hale and Gabrielle. An immediate assessment of the region showed that many closed canopy forests had suffered significant damage with many landslides and a considerable amount of woody debris sitting on slopes or on the river margins.
Gisborne District Council is now working with Scion to rapidly assess the loss of net stocked area in these forests. As the normal stocking area in a pine forest is known, council principal scientist Dr Murray Cave says the measurement of loss will provide "an excellent indicator of the volume of woody debris likely to migrate downstream over time".
"If we can establish this volume, it would allow for the council to quantify the risk and thus help plan for measures to mitigate the risk to critical bridges and the water supply pipeline in the future."
The SmartForest AI model uses data to assess forest loss and damage caused by Cyclone Gabrielle such as windthrow and slips, as well as gaining insight into associated hazards such as woody debris.
Building on the model's foundations
The SmartForest AI model uses high-resolution aerial photography to detect exotic tree species and map forest stand boundaries. Researchers are using this data to assess forest loss and damage caused by Cyclone Gabrielle such as windthrow and slips, as well as gaining insight into associated hazards such as woody debris.
Developing a comprehensive digital replica of the productive forests in New Zealand on a national scale is ambitious, but it's work that, at its core, will allow for a more accurate description of the location of New Zealand's forests and the valuable resources they contain, such as timber and carbon.
Remote sensing technology plays a vital role in this mission. To create a high-resolution map of the planted forests, Scion's Data and Geospatial Intelligence team has developed a deep learning-based model that can accurately detect, and map planted forests using only RGB aerial imagery.
The AI model targets planted exotic forests and can map stands as early as two to three years after planting, once a minimum canopy size is reached. Although the model can also identify multiple exotic species, the results for radiata pine and Douglas-fir are shown as these species currently make up most forests planted in New Zealand.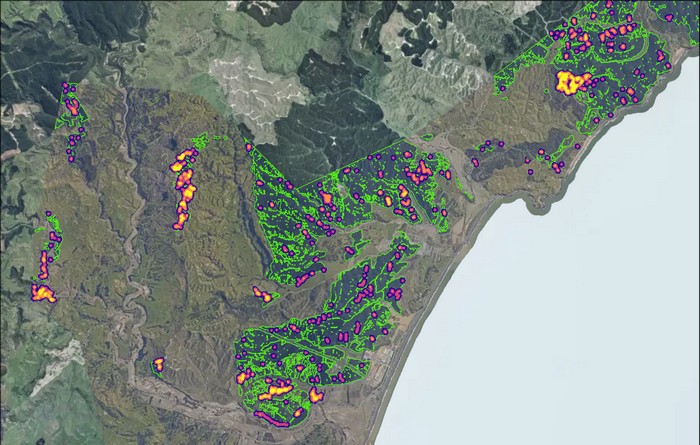 To build the model, the team has collected and labelled more than 500km2 of aerial imagery – making it one of the largest datasets for high-resolution landcover mapping. The advantage of this model is that it produces very accurate forest boundaries.
This work has proven to be even more significant after Cyclone Gabrielle. The team has combined Land Information New Zealand's (LINZ) existing high-resolution imagery with data collected from fixed-wing aircraft and satellites after the event to produce a highly detailed online map of the Hawke's Bay region. To allow people to easily explore these datasets and view the impact of the cyclone, a before-and-after slider has been embedded on the SmartForest website.
The research is already revealing valuable insights into where forest was standing pre-cyclone, what species it was, and what forest is now lost. This tracking of information is critical to determining what happened after the cyclone as well as support authorities to understand why it might have happened.
Cyclone Gabrielle's impact on the productive forests across the East Coast was plain to see, Stewart says.
"Slips and wind have resulted in extensive damage to forests, with a significant loss of trees, ranging from productive forest, native trees and shrubs, and riparian species. In many areas, this vegetation has been swept downstream along with large amounts of silt from landslides.
"The force of the floodwater and the debris caught within it has had a devastating impact on homes and infrastructure downstream."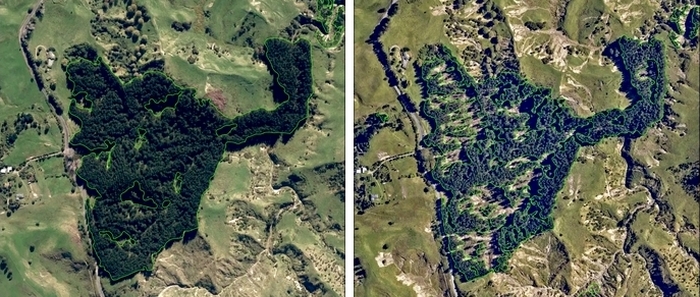 Information for decision-making
The redeployment of Scion's AI model will give forest companies and councils unprecedented insight into what happened before and after the cyclone and will support informed management and risk mitigation decisions across the slip-prone and dynamic landscape.
It could also serve as a tool to help authorities plan for future disaster responses, Stewart says.
Looking ahead, the team is wanting to combine the high-resolution forest boundaries with LiDAR. Standing for Light Detection and Ranging, LiDAR is a remote sensing method that uses light in the form of a pulsed laser to measure ranges, or variable distances, to the earth. This work will be carried out in Gisborne's planted forests first, to estimate attributes such as age class, stand density, height, timber volume and carbon.
By partnering with LINZ to access their cloud-based imagery and LiDAR data warehouse, the team aims to extend this approach to the rest of New Zealand as the national elevation programme progresses.
Ultimately, this work will feed into the national-scale 'digital twin' of the productive forest estate in New Zealand. This will allow mapping and monitoring of the forests using remote sensing.
Stewart stresses that the 'twin' will need regularly updated data flowing into the model, and her team is currently exploring the best ways to achieve this.
"As forests are a critical tool in our fight against climate change, it's important we understand how they will adapt under current and future conditions in a range of locations. It's data we need to capture and analyse to increase our knowledge about drought and disease resistant trees, as well as learn more about our forests' ability to capture carbon at a national level.
"Sensed data inside our digital forest can help us simulate the future and improve decision-making in the forestry sector."
Following Cyclone Gabrielle, Stewart sees further benefits to the forestry sector if the AI model could source data from additional agencies that are currently focused on rainfall and soil mapping.
"This could evolve into a landscape-level model to better understand what's happening not only in the forest, but in the wider ecosystem."
Seeking validation data
For the team to achieve its vision, the next step is to collect ground validation data for forest species, age class and other forest attributes. Scion is seeking to partner with companies and entities willing to share this data. An accuracy assessment will be conducted in due course and Scion welcomes all public feedback.
If you are keen to partner with us on this important initiative, email Grant Pearse.
* All content is copyrighted by Industry Intelligence, or the original respective author or source. You may not recirculate, redistrubte or publish the analysis and presentation included in the service without Industry Intelligence's prior written consent. Please review our terms of use.