October 26, 2022 (press release) –
A newly developed paper-based cup has the potential to replace millions of plastic cups for e.g. creme fraiche, skir and yoghurt and thereby reduce the environmental impact from packaging.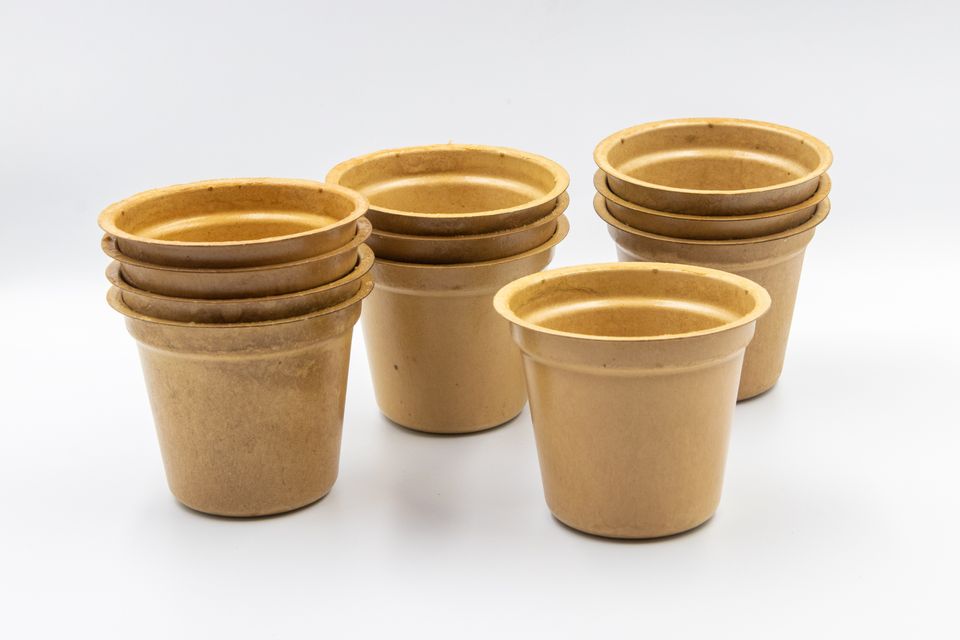 In the DairyFibreCup project, Arla Foods, Dagrofa, FCM Testing and the Danish Technological Institute have just completed the development of a new and ground-breaking paper-based cup which can replace plastic cups for acidified dairy products such as creme fraiche, skir and yoghurt. The new packaging has great potential to reduce the CO 2 footprint from the packaging and reduce the amount of plastic. The Norwegian Institute of Technology expects that it will be possible to replace 10,000 tonnes of plastic packaging with paper packaging. This will provide a CO 2 saving of more than 10,000 tonnes per year.
The cup is made of cellulose fibers which are coated with a thin barrier coating. Compared to a typical plastic cup, which is widely used today for fermented dairy products, the climate footprint per cup is reduced by at least 50 percent.
- Although the cup is made from renewable paper fibers and the coating is biodegradable, we have succeeded in developing a waterproof material that is resistant and dense enough for fresh dairy products. The material gives the consumer a feeling of hard, durable and dense material, which feels almost glass-like. The newly developed cup is biodegradable, and it can be reused like cardboard, says senior specialist Søren Rahbek Østergaard, Technological Institute.
The Danish Technological Institute has been responsible for the design and pilot production of the new packaging, while Arla Foods is in the process of investigating the possibilities for a larger industrial production of the new cups.
FCM Testing has been responsible for testing in accordance with the legislation on food contact, while Dagrofa - which, among other things, is behind the supermarket chains MENY, SPAR, Min Købmand and Let-køb - has researched consumers' attitudes to replacing plastic cups with fiber-based cups.
Consumers are positive
Dagrofa has already asked more than 1,300 of its customers about their attitude to the new packaging.
- Our consumer survey showed us that consumers are distinctly positive about the new cups - especially because they are made from renewable material and are firm to hold . There has been a lot of skepticism after single-use plastic straws were banned and replaced by paper straws, but the consumers in the survey are really excited about the new cups, says Karin Frøidt, group quality manager at Dagrofa, and adds:
- At Dagrofa, we are constantly looking for innovative product developments that both reduce the environmental impact, preserve the product's quality optimally and ensure a good experience for consumers. We are very much looking forward to following the development and eventually introducing the new cups in our stores.
Reduced plastic consumption
Arla Foods is pleased that the development of the new cup is now beginning to be within reach.
- Throughout the project, we have focused on making high demands on the cups' functionality and tested the theoretical results. We have focused heavily on proving the coating's moisture barrier and other properties under practical conditions to ensure that the cups meet Arla's and consumers' requirements, says Grane Maaløe, Sustainable Packaging Lead Specialist at Arla Foods.
- The new cup fits in well with Arla's sustainability strategy, where, among other things, we want to reduce plastic and use packaging with a lower CO 2 footprint. Once we have got cup production for the acidified products up and running, we will see how we can expand to other dairy products, explains the project manager and director of sustainable packaging at Arla Foods, Lise Berg Kildemark.
Approved for food
FCM Testing, which analyzes materials that come into contact with food, has investigated the new type of cup in the project.
- We have carried out a long series of tests on the new cup in order to assess whether it meets the legal requirements for food contact. Based on this, we have found that the packaging complies with the requirements for food packaging, says Per Holst-Hansen, owner of FCM Testing ApS.
DairyFibreCup is financially supported via GUDP, Green Development and Demonstration Program under the Ministry of Food, Agriculture and Fisheries.
* All content is copyrighted by Industry Intelligence, or the original respective author or source. You may not recirculate, redistrubte or publish the analysis and presentation included in the service without Industry Intelligence's prior written consent. Please review our terms of use.