October 2, 2023 (press release) –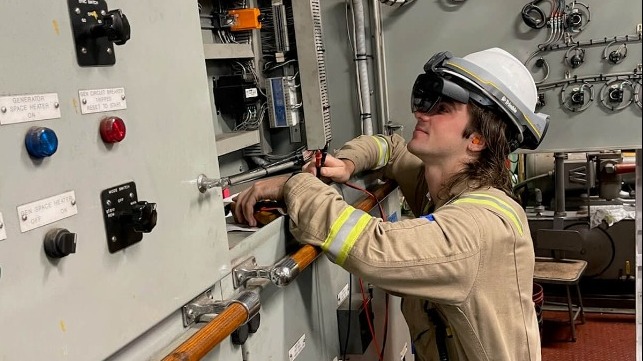 [By: ABS]
ABS and U.S. shipping and logistics company Crowley signed an agreement to jointly explore the application of visualization technologies in both augmented reality (AR) and virtual reality (VR) environments.
The new partnership agreement builds on Crowley's augmented reality technology used in select vessels where crew use wearable technology to provide video and remote access at 360-degree views of ship equipment. That technology, through Kognitiv Spark, allows mariners and shoreside crew to more quickly complete maintenance, updates and upgrades on board with real-time, digital collaboration.
By working together, ABS and Crowley can advance existing research that each has conducted independently. The joint pilot project will center around class-related survey support activities such as aspects of annual and special surveys including task crediting, along with a variety of scenarios involving surveyors, engineers and back-office survey support, virtual walkthroughs and livestreaming utilizing fully remote and hybrid survey techniques.
"Augmented reality technology is a field technology, so in collaborating with forward-looking companies like Crowley, we can explore what's possible for future survey operations as well as for safety in use. ABS class services are leading the industry and finding ways to enrich the data used to both streamline the class process and also keep mariners and our surveyors safe," said Patrick Ryan, ABS Senior Vice President and Chief Technology Officer.
"Partnership is key to sustainable growth and success in maritime services, and we look forward to working with ABS to advance innovation technology for the benefit of our maritime ecosystem and our customers," said Cole Cosgrove, vice president, Crowley Shipping. "These innovations will provide mariners a safer and more efficient option and allow us to provide services for our customers that are even more reliable and effective."
Crowley owns and operates a diverse U.S. and foreign flag fleet that includes, container, roll on/roll off (RoRo), tug, dry cargo and offshore wind development and service operation vessels. The collaboration with ABS will leverage its ongoing innovation efforts to bring more efficient and sustainable operations through technology.
AR technologies are also part of a new series of research projects ABS is funding at Texas A&M University that are underway. The basis of the AR research is to understand and characterize the safety implications of wearables aboard vessels and in offshore environments to be investigated in partnership with the Texas A&M Engineering Experiment Station (TEES).
ABS is leading the way forward in applying technologies such as high-resolution laser scanning, unmanned aerial vehicles (UAVs), crawlers, remotely operated vehicles (ROVs) and wearable technologies to augment traditional class-related surveys and inspections. The ABS Guidance Notes on The Use of Remote Inspection Technologies is available for download here.
The products and services herein described in this press release are not endorsed by The Maritime Executive.
* All content is copyrighted by Industry Intelligence, or the original respective author or source. You may not recirculate, redistrubte or publish the analysis and presentation included in the service without Industry Intelligence's prior written consent. Please review our terms of use.