August 8, 2023 (press release) –
Unpacking Paper and Cardboard Recycling's Success
How Much Paper Was Recycled in 2022?
Cardboard boxes, also known as old corrugated containers (OCC), are the most-recycled packaging material in the U.S.
In 2022, the recycling rate for cardboard boxes was more than 93%, an increase over last year's rate.
More than 2/3 of the paper used in the U.S. is recycled and used to make new sustainable paper products that people use every day. That's nearly 50 million tons of paper!
How is the Paper Recycling Rate Calculated?
The paper recycling rate is calculated using:
AF&PA data on the amount of recovered paper used to make new paper and paperboard by U.S. paper mills.
U.S. Census Bureau data on net exports of recovered paper used to make new paper and paperboard in paper mills around the world.
Then we compare that total to the new supply of paper and paperboard in the U.S. over the same time period.
The rate informs how much paper is diverted from landfills. It is an important indicator of how much recovered paper is used to make new products.
This is how we get to a paper recycling rate of nearly 68% and more than 93% of cardboard. We also call this the traditional rate.
What is the Effective Recycling Rate?
AF&PA calculates a statistically sound effective rate alongside the traditional recycling rate to provide a clear picture of the amount of paper and paperboard available for recovery in the U.S.
The 2022 effective recycling rate for total paper declined slightly to 73-78%, while the effective rate for OCC held approximately stable at 80-85%.
Both the traditional and effective rates illustrate that paper recycling remains consistently high.
Why Is Paper Recycling Successful in the U.S.?
The paper and wood products industry is inherently circular. Our products are made from renewable resources – trees – and recycled paper. They're also easily recycled.
Our industry voluntarily set a goal to help improve paper recycling back in the 1990s. The recycling rate has doubled since that time.
Paper recycling is also successful because of the millions of people who recycle every day and our industry's ongoing investments.
94% of Americans have access to a community paper recycling program.
Our industry has also completed or announced nearly $7 billion in manufacturing investments (2019-2025) that will use more than 9 million tons of recovered fiber.
As a result, nearly 50 million tons of paper was recycled in the U.S. in 2022. That amount of recovered paper would fill:
More than 4,000 Washington Monuments
Nearly 120 Empire State Buildings
Rail cars stretching from New York City to Los Angeles almost 3 times.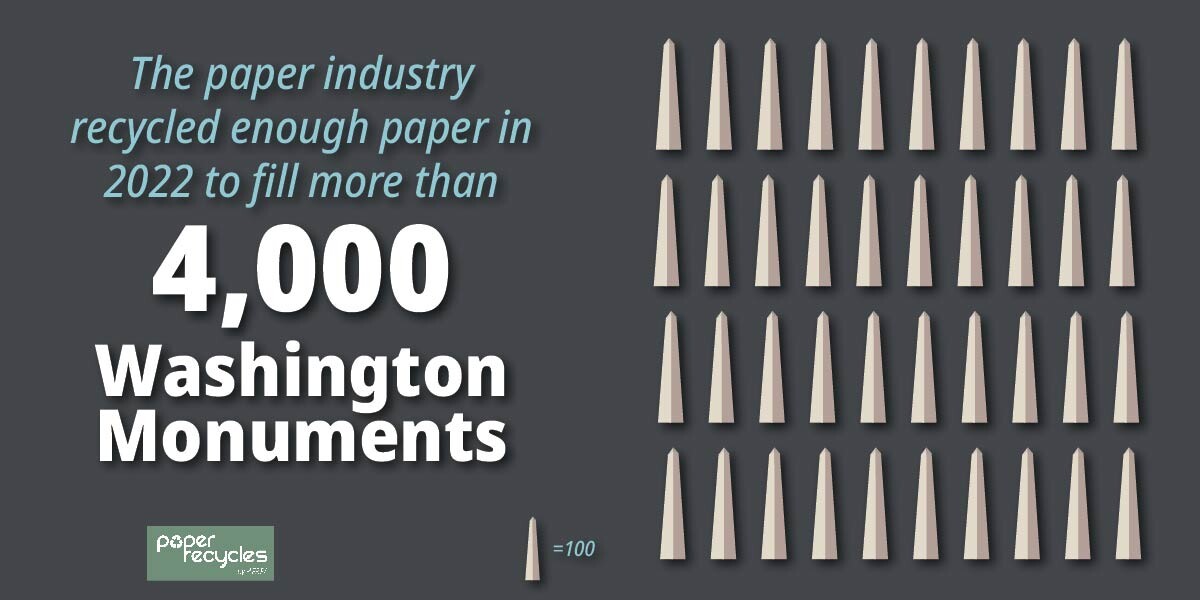 How Can You Recycle Paper and Cardboard?
You can keep the recycling process going by:
Keeping your paper products dry, clean and flatten cardboard boxes before placing them in the recycling bin.
Checking your local guidelines to find out what's accepted for recycling in your area.
Remembering not to wishcycle.
What is wishcycling? It's when you put something in your recycling bin hoping it can be recycled. But it causes problems in the recycling stream if the thing you put in the bin isn't recyclable.
This is why you should always check local recycling guidelines to see what's accepted in your local community. When you recycle correctly, you're helping us advance a more sustainable future.
* All content is copyrighted by Industry Intelligence, or the original respective author or source. You may not recirculate, redistrubte or publish the analysis and presentation included in the service without Industry Intelligence's prior written consent. Please review our terms of use.