October 27, 2023 (press release) –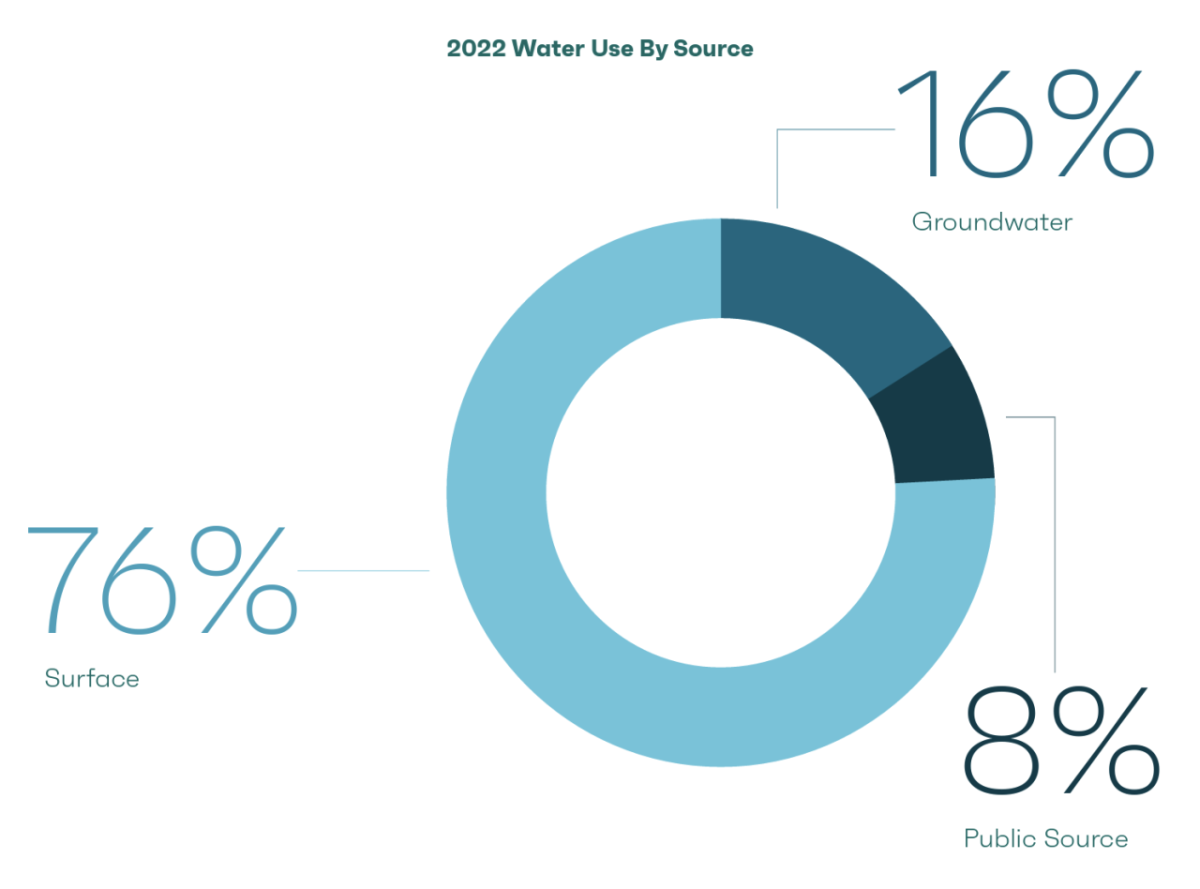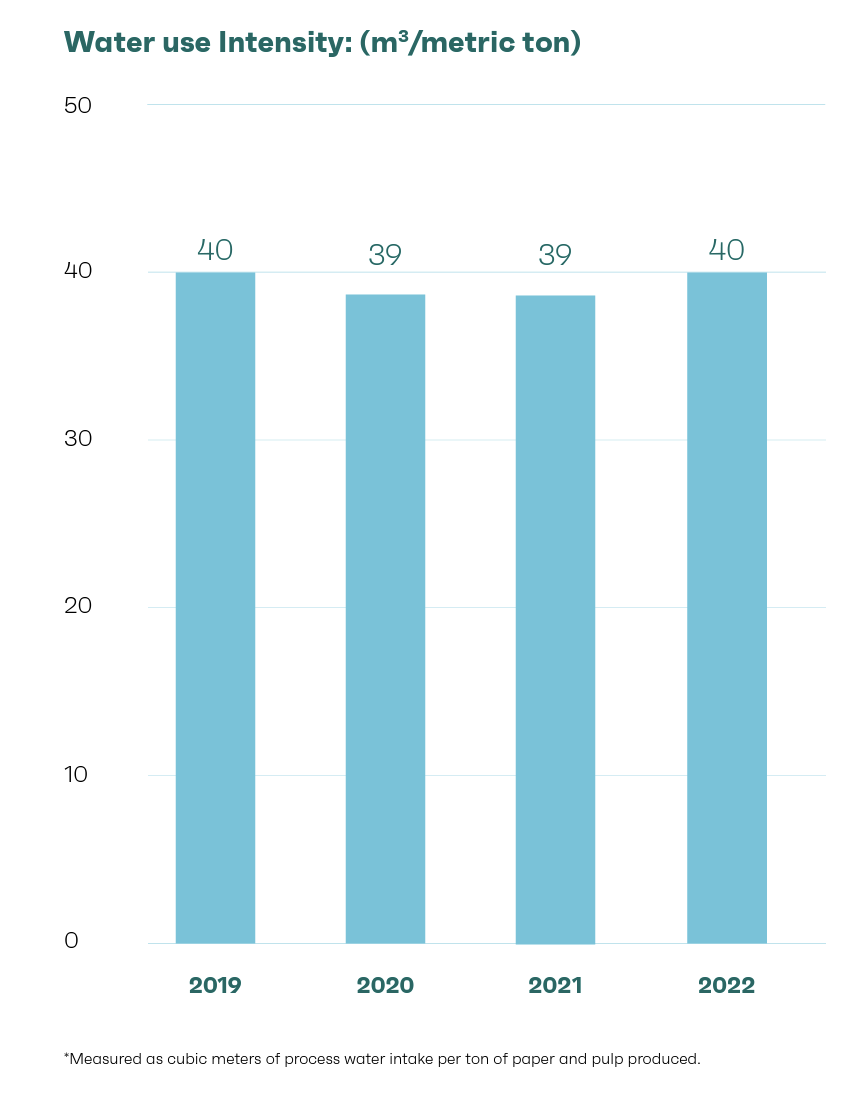 Originally published in International Paper's 2022 Sustainability
Report
2022 Impact:
Several of our mills successfully reduced their water usage in 2022 and have developed best practices that are useful for our enterprise-wide knowledge sharing. However, in 2022, we did not make significant progress against our enterprise goal of reducing water usage by 25%. The lack of progress was due in part to lower production, resulting from several factors including COVID-19-related supply chain disruptions. It is important to note that our water reduction goal is based on water use per ton, which means that lower production output will have a negative impact on our numbers.
As a result of these challenges, we initiated a process in 2022 to re-evaluate and improve our water stewardship governance and processes. Today, our planned water stewardship activities from 2023 forward are more closely aligned with our manufacturing objectives. Our intention is that our renewed approach will optimize integration of water reduction within our operations and ensure that our water stewardship efforts are more effective and impactful.
Target:
Reduce our water use by 25% and implement context-based water management plans at all mills
Our first-ever water use target commits us to reduce operational water use intensity by 25% by 2030, while taking into consideration the broader context of the watersheds where we operate.
Spotlight:
Two mills, two water use reduction plans
Our containerboard mill in Valliant, Oklahoma has reduced total water use intensity by 19% since 2019. We achieved this reduction through water use education and intentional efforts to fix leaks and valves.
Our Springfield, Oregon containerboard mill successfully exceeded its water reduction goal. Surpassing a planned reduction of 4%, the mill reduced its water consumption by 7.5%. We achieved this through noncapital projects, including eliminating water leaks, cleaning process systems and daily discussions of the mill's water intake levels against the target to investigate any abnormalities in water usage and troubleshoot increased use if levels are high.
Advancing water stewardship
Water is essential to nearly every process in our mills — pulping, steam generation, papermaking, box making, and more. As such, we can play a key role in conserving and protecting local water resources.
We have analyzed water use and risk at each of our facilities to reduce the amount of water we withdraw, maintain regulatory compliance and improve the long-term sustainability of the water resources we share.
Reducing water use
We've addressed water consumption in our operations by:
Conducting comprehensive water risk assessments in our facilities; our in-house method combines relevant internal and third-party data, including the World Resources Institute's (WRI) Aqueduct Baseline Water Stress indicator
Rebooted an internal Water Wise campaign throughout our operations to reduce water with more robust facility level data and governance
Watershed protection
All water issues are local. And every watershed has unique characteristics, threats and opportunities. In each watershed where we operate, we assess its characteristics to address the most important water issues for local communities, other water users and the environment.
We also partner with the World Resources Institute, through its Aqueduct Alliance program, to stay connected to the latest research, tools and best practices across industries.
88% of water used in our mill manufacturing in 2022 was treated after use and returned to the environment
Spotlight:
Mill Water Champions
At our large manufacturing facilities, an expert team of process engineers and environmental experts identifies opportunities, implements projects and tracks progress on water use reduction. The group shares best practices and lessons through an internal project database and regular meetings.
Looking ahead
Water stewardship remains a critical focus of our sustainability efforts, and we will continue to implement our Water Wise campaign to implement reductions and raise awareness about the importance of water conservation and responsible use. We will also strive to improve monitoring and reporting of water use, which will allow us to better understand our water footprint and identify areas for improvement.
As part of our commitment to context-based water management, we will develop and implement water management plans that consider the unique environmental, social and economic context of each of our operations. This will help us better manage water resources, minimize our impact on local communities and ensure the long-term sustainability of our operations.
In addition, we will continue to improve our water risk assessment process to identify and address potential water-related risks, such as scarcity or pollution, and develop appropriate mitigation strategies. By taking these steps, we are confident that we can achieve our water stewardship goals and contribute to a more sustainable future.
About International Paper
International Paper (NYSE: IP) is a global producer of planet-friendly packaging, pulp and other fiber-based products, and one of North America's largest recyclers. Headquartered in Memphis, Tenn., we employ approximately 39,000 colleagues globally who are committed to creating what's next. We serve customers worldwide, with manufacturing operations in North America, Latin America, North Africa and Europe. Net sales for 2022 were $21.2 billion. Additional information can be found by visiting InternationalPaper.com.
* All content is copyrighted by Industry Intelligence, or the original respective author or source. You may not recirculate, redistrubte or publish the analysis and presentation included in the service without Industry Intelligence's prior written consent. Please review our terms of use.