Los Angeles-based cold chain packaging manufacturer Insulated Products debuts vacuum-sealed sleeves for Greenliner thermal packaging products, which allow for packaging to be compressed for shipping
LOS ANGELES , April 28, 2014 (press release) – Insulated Products Corp. utilizes disruptive technology that allows cold chain shippers to save money and protect the thermal integrity of cold shipping products.

Insulated Products Corp. is changing the world of insulated shipping with the revolutionary Greenliner thermal packing product that saves them money and space. Industry maverick Charles Veiseh utilized a new disruptive technology to create the innovative Greenliner collapsible insulation walls 8 years ago and today debuted vacuum sealed sleeves allowing Greenliner products to be shipped compressed, dramatically reducing shipping costs and warehouse space requirements.

Bulkier products inside a warehouse leave less space for storage of other goods and smart company managers know they must compare multiple forms of insulated packaging when sourcing. Traditional molded thermal packaging and alternative collapsible insulation must both be considered.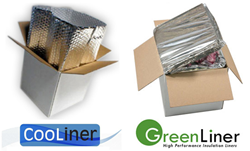 In learning about a traditional form of insulated packaging, cold chain shippers of foods, pharmaceutical products and industrial goods have used molded cooler type products made of EPS (Expanded Polystyrene) and Polyurethane (PUR). These rigid insulation products are typically molded in a process using heat and high-pressure molds that produce the 'parts' in single quantities as well as lot quantities.

"The central issue here is that the coolers are made in rigid form and once the products are manufactured they are 'set in stone,' they cannot be collapsed or folded," says Charles Veiseh, President of Insulated Products Corp.

Large scale cold chain shipping operations procuring larger quantities of rigid cooler type insulated shipping containers face the challenge of potentially colossal amounts of goods to store in order to support their operations; in addition to pass-thru transportation and handling costs that can add up.

Businesses that supply traditional insulated shipping containers are well aware of their bulkiness and related challenges. Here, researching the logistics world and its terminology goes a long way. The bulkier a product is, the tougher it will be for a business to ship it to clients at competitive prices. Shipping prices are based on "classification" or "class" of the freight, which is determined by the weight with relation to the length, width and height. "The important thing to consider is that bulkiness, raises the classification and increases shipping costs," says Veiseh.

In 2006, IPC, in search of better temperature control packaging that could be marketed throughout the nation and world over, invented a product that defies all logic when it comes to thermal packaging: the GreenLiner Box Liner.

After 8 years, GreenLiner has proven to be a successful disruptive technology in several ways; the collapsible, foam walls set it apart from rigid coolers; but IPC went a step further. IPC implemented a patented compression method wherein sets of GreenLiner thermal box liners are placed inside vacuum sleeves, compressed and maintained in a compressed form for transport and warehousing. They are only 'expanded' when ready to use.

"It's all about energy," says Alex Lualhati, Sales Engineer at IPC. "Fuel prices constantly drive the need for more efficient modes of sourcing and procuring insulation materials because ultimately, fuel is used to get them from point A to point B." Lualhati goes further to say "the world is seeing shifts in political power plays from the Russian Ukraine/Crimea crisis, to Iran's nuclear showdown, to America's desire to export natural gas found using fracking - it all affects energy and ultimately domestic and international freight transportation costs."

Given that transport fees are lower for more compact products, IPC's space efficient GreenLiner insulated box liners and thermal mailers are remarkably more cost-efficient when shipped or handled when compared to equal sized rigid insulation products.

IPC had already harnessed an efficient technology at the get-go; their highly compact CooLiner line of foil bubble bags, insulated envelopes and thermal wrap, are foldable, making them space efficient when packaged for storage and transportation.

When it comes to thermal protective packaging, there seems to be a constant challenge in that insulation, by its very nature, is bulky and difficult to transport. However, IPC with its innovative ideas in space efficiency, has developed and implemented technology that has forever changed the perishables packaging industry.
* All content is copyrighted by Industry Intelligence, or the original respective author or source. You may not recirculate, redistrubte or publish the analysis and presentation included in the service without Industry Intelligence's prior written consent. Please review our terms of use.