July 12, 2022 (press release) –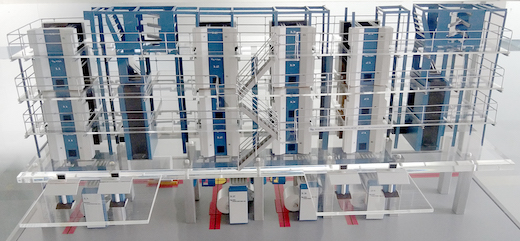 OÖn Druckzentrum, which is short for Oberösterreichische Nachrichten, is at the starting point of a comprehensive retrofit. The KBA Commander that is in operation at their Pasching site will get a complete overhaul. The retrofit & upgrade of the press automation and control consoles will be managed by Q.I. Press Controls (QIPC) and EAE Engineering Automation Electronics (EAE).
The Commander newspaper press on this location is in operation since 2003. Till now, for (nearly) 20 years, it has always proven its worth, but is it necessary to think of the future as well. Ronald Sonnleitner, Managing Director OÖn Druckzentrum: "The supply of spare parts for electronic components is becoming more difficult. The current situation looking at global shortages certainly does not make it any better. Therefore it is necessary to make investments. Initially to be able to operate the existing press longer and secondly to achieve a higher degree of press automation in order to reduce operational costs."
Koenig & Bauer will take charge of the mechanical and electronic upgrade. QIPC- EAE will be responsible for the press automation & press controls. EAE will retrofit the press controls for 2 folders, 4 printing towers and 4 reel splicers. Also EAE PRINT 7 will be implemented for taking planning and the pre-setting to the next level. With regard to the press automation QIPC will install mRC-3D to control cut-off and IDS-3D for color, color register and front-to back register control. Additionally OÖn Druckzentrum also invested in the proven damp control system.
"Since 1996 I am known with EAE. With QIPC since 2003. I got acquainted with their solutions while working for other print shops in the past and was satisfied with the performance of both. Maybe in some cases it is not the cheapest solution on the market, but a hassle free implementation and functionality is a certainty. Secondly, the support after installation has always been satisfactory," Ronald Sonnleitner states. "Also the exchange of positive experiences with another print shop that had a similar extensive retrofit, added to the confidence to trust QIPC-EAE with this task. We trust QIPC-EAE will meet our expectation, that the press will have the necessary stability and better performance in terms of print quality and waste. We reckon to make savings on staff and paper and also greater integration in the workflow area," Ronald Sonnleitner concludes.
Bernhard Schmiedeberg, Sales Manager QIPC-EAE: "This project once again offers QIPC-EAE the opportunity to proof our performances, assistance and added value on such large retrofit projects. After 15+ of similar projects, we have built up a specialist expertise that we are happy to share with printing companies facing such profound decisions and associated investments."
OÖn Druckzentrum in Pasching is one of the most modern printing plants in Austria. They print a wide range of products like daily, weekly and monthly newspapers with the OÖn Nachrichten as one of the most important titles, newspaper supplements and colored flyers.
For more information, go to: www.qipc.com & www.eae.com
* All content is copyrighted by Industry Intelligence, or the original respective author or source. You may not recirculate, redistrubte or publish the analysis and presentation included in the service without Industry Intelligence's prior written consent. Please review our terms of use.