WALTHAM, Massachusetts , June 13, 2023 (press release) –
Nano Dimension ("Nano") - Largest Stratasys Shareholder - Gears Up to Replace Stratasys Board
Committed to Creating Value for Stratasys Shareholders and Seeks to Replace Seven of Stratasys' Complacent Directors
Nano Demands Special Shareholder Meeting for Board Replacement To Be Called Immediately by Stratasys
Anticipated Completion of the Special Tender Offer Post June 26th, 2023
Stratasys Shareholders Have Until June 26th, 2023, to Tender Their Shares for Guaranteed Cash Value
Contact Georgeson Toll-Free at (877) 668-1646 for More Information
Learn More at www.StratasysValueNow.com
Nano Dimension Ltd. (Nasdaq: NNDM) ("Nano Dimension", "Nano" or the "Company"), a leading supplier of Additively Manufactured Electronics ("AME") and multi-dimensional polymer, metal & ceramic Additive Manufacturing ("AM") 3D printers, today reinforced its plan to deliver long-term value to Stratasys Ltd. (Nasdaq: SSYS) ("Stratasys") shareholders, which includes:
An $18.00 per share special tender offer to provide certain, near-term premium and all-cash value to Stratasys shareholders.

Nano demands that the Stratasys Board call an Extraordinary General Meeting of Stratasys shareholders following the completion of the $18-per-share-special-tender for the purpose of removing the majority of the Stratasys Board of Directors and replacing them with highly qualified nominees proposed by Nano. Nano believes such action is vital to prevent further value destruction and create a path to establishing a preeminent leader in the rapidly growing AM market that will drive long-term value.
Nano Dimension is offering a straightforward plan to deliver value:
D elivers IMMEDIATE $18 cash value to Stratasys shareholders.
Nano leadership will set up management to be committed, motivated and compensated based on demonstrating efficacy in driving the performance of Stratasys, which will become the main business asset of Nano following the successful tender, reversing years of lagging Stratasys growth and profits.
The immediate value of Nano's $18 per share all-cash tender is clear:
Provides a premium to all relevant Stratasys historical trading levels, including a 39% premium to the unaffected 60-day VWAP as of March 3rd, 2023.

Provides more certainty than the pending Desktop Metal Ltd. (NYSE: DM) ("Desktop Metal") merger agreement or the 3D Systems Corp. (NYSE: DDD) ("3D Systems") unsolicited, unclear & dubious proposal.

Nano has approximately $1 billion in cash and cash equivalents on hand to complete the special tender offer, which is not subject to Nano shareholder approval. The board of directors of Nano has full authority to effect the tender offer as confirmed by the Israeli courts.
Nano believes urgent change is needed. Stratasys' current Board of Directors is not fulfilling its fiduciary duties and not acting in its shareholders' interests:
Stratasys directors refused to negotiate with Nano, a well-funded and reputable peer that made multiple all-cash offers at compelling premia, disregarding Nano's efforts to reach a mutually agreeable all-cash acquisition of all outstanding ordinary shares of Stratasys not currently owned by Nano. Those offers included:


$18.00, $19.55, and $20.05 per share, reflecting premiums of 26%, 37% and 41% to the unaffected closing stock price as of March 3rd, 2023, submitted to Stratasys on March 22nd, 29th and April 3rd, 2023, respectively.


Stratasys directors (several of which are ex-CEOs of the company) and management have a history of empty promises to Stratasys shareholders, including making statements every two to three years that Stratasys will become a "billion-dollar company," only to deliver further cash burn and value destruction, as evidenced by the losses on the sale of MakerBot in September 2022. MakerBot alone cost its shareholders at least $403 million (for a startup with approximately $15.7 million revenue in the year prior to acquisition) and additional over $60 million in cash1 which was spent in order to sell/spin out a failed investment. This was originally initiated and closed by a present board member when he was the CEO of Stratasys. This is just one of many examples of the Stratasys Board's history of value destruction.

Stratasys directors agreed to a value-destroying transaction with Desktop Metal designed to preserve their entrenchment. Stratasys' agreement to merge with a cash-burning de-SPAC in a transaction would destroy value and be highly dilutive to Stratasys shareholders, leaving shareholders with less than two-thirds of a company that would have an uncertain path for long-term value creation.

Over the last few days, Stratasys' institutional and other shareholders have already filed lawsuits against this Board about their corporate governance practices in relation to the transaction.
Stratasys needs better management, operators and, first and foremost, Board oversight to optimize the business and set the company on a path to realize its potential.
The time for change at Stratasys is now. Through its SPECIAL TENDER OFFER of June 26th, 2023, and the ultimate replacement of the Stratasys Board, Nano Dimension will provide that change and allow Stratasys shareholders to realize the potential of their investment.
LEARN MORE ABOUT NANO DIMENSION'S SPECIAL TENDER OFFER AT WWW.STRATASYSVALUENOW.COM
FOR INFORMATION ON HOW TO TENDER SHARES, CALL GEORGESON, THE INFORMATION AGENT FOR THE SPECIAL TENDER OFFER, TOLL-FREE AT
(877) 668-1646
Important Information About the Special Tender Offer
This press release is for informational purposes only and is neither an offer to purchase nor a solicitation of an offer to sell any ordinary shares of Stratasys or any other securities, nor is it a substitute for the tender offer materials described herein. A tender offer statement on Schedule TO, including an offer to purchase, a related letter of transmittal and other tender offer documents, was filed with the SEC by Nano Dimension on May 25, 2023, as subsequently amended. Stratasys filed with the SEC a solicitation/recommendation statement on Schedule 14D-9, as required by the tender offer rules, on May 30, 2023, as subsequently amended.
INVESTORS AND SECURITY HOLDERS ARE URGED TO CAREFULLY READ BOTH THE TENDER OFFER MATERIALS (INCLUDING THE OFFER TO PURCHASE, RELATED LETTER OF TRANSMITTAL AND CERTAIN OTHER TENDER OFFER DOCUMENTS) AND THE SOLICITATION/RECOMMENDATION STATEMENT ON SCHEDULE 14D-9 REGARDING THE OFFER, AS THEY MAY BE AMENDED FROM TIME TO TIME, BECAUSE THEY CONTAIN AND WILL CONTAIN IMPORTANT INFORMATION THAT INVESTORS AND SECURITY HOLDERS SHOULD CONSIDER BEFORE MAKING ANY DECISION REGARDING TENDERING THEIR SECURITIES.
Investors and security holders may obtain a free copy of the offer to purchase, the related letter of transmittal, certain other tender offer documents and the solicitation/recommendation Statement and other documents filed with the SEC at the website maintained by the SEC at www.sec.gov or by directing such requests to Georgeson LLC, the information agent for the tender offer, named in the tender offer statement. In addition, Stratasys files annual reports, interim financial statements and other information, and Nano Dimension files annual reports, interim financial statements and other information with the SEC, which are available to the public at the SEC's website at www.sec.gov. Copies of the documents filed with the SEC by Stratasys may be obtained at no charge on the investor relations page of Stratasys' website at www.stratasys.com. Copies of the documents filed with the SEC by Nano Dimension may be obtained at no charge on the investor relations page of Nano Dimension's website at www.nano-di.com.
About Nano Dimension
Nano Dimension's (Nasdaq: NNDM) vision is to transform existing electronics and mechanical manufacturing into Industry 4.0 environmentally friendly & economically efficient precision additive electronics and manufacturing – by delivering solutions that convert digital designs to electronic or mechanical devices - on demand, anytime, anywhere.
Nano Dimension's strategy is driven by the application of deep learning-based AI to drive improvements in manufacturing capabilities by using self-learning & self-improving systems, along with the management of a distributed manufacturing network via the cloud.
Nano Dimension serves over 2,000 customers across vertical target markets such as aerospace & defense, advanced automotive, high-tech industrial, specialty medical technology, R&D and academia. The company designs and makes Additive Electronics and Additive Manufacturing 3D printing machines and consumable materials. Additive Electronics are manufacturing machines that enable the design and development of High-Performance-Electronic-Devices (Hi-PED®s). Additive Manufacturing includes manufacturing solutions for production of metal, ceramic, and specialty polymers-based applications - from millimeters to several centimeters in size with micron precision.
Through the integration of its portfolio of products, Nano Dimension is offering the advantages of rapid prototyping, high-mix-low-volume production, IP security, minimal environmental footprint, and design-for-manufacturing capabilities, which is all unleashed with the limitless possibilities of additive manufacturing.
For more information, please visit www.nano-di.com .
Forward Looking Statements
This press release contains forward-looking statements within the meaning of the "safe harbor" provisions of the Private Securities Litigation Reform Act of 1995 and other Federal securities laws. Words such as "expects," "anticipates," "intends," "plans," "believes," "seeks," "estimates," and similar expressions or variations of such words are intended to identify forward-looking statements. For example, Nano Dimension is using forward-looking statements in this press release when it discusses the potential benefits and advantages of the special tender offer, the expiration time and date for the special tender offer, the Company's intention to request that the Stratasys Board call an Extraordinary General Meeting of Stratasys shareholders for the purpose of replacing the majority of the Stratasys Board of Directors and appointing replacement directors, the potential for growth and value creation opportunities as a result of the special tender offer and the integration of Stratasys and the Company, and the comparative benefits of the Company's tender offer weighed against the anticipated outcomes of the alternative transaction between Stratasys and Desktop Metal and the potential alternative transaction between Stratasys and 3D Systems, respectively. Because such statements deal with future events and are based on Nano Dimension's current expectations, they are subject to various risks and uncertainties. The completion of the special tender offer would be subject to certain conditions as described in the tender offer materials, including the offer to purchase, a related letter of transmittal and other tender offer documents. Actual results, performance, or achievements of Nano Dimension could differ materially from those described in or implied by the statements in this press release. The forward-looking statements contained or implied in this press release are subject to other risks and uncertainties, including those discussed under the heading "Risk Factors" in Nano Dimension's annual report on Form 20-F filed with the SEC on March 30, 2023, and in any subsequent filings with the SEC. Except as otherwise required by law, Nano Dimension undertakes no obligation to publicly release any revisions to these forward-looking statements to reflect events or circumstances after the date hereof or to reflect the occurrence of unanticipated events. References and links to websites have been provided as a convenience, and the information contained on such websites is not incorporated by reference into this press release. Nano Dimension is not responsible for the contents of third-party websites.
NANO DIMENSION INVESTOR RELATIONS CONTACT
Investor Relations | ir@nano-di.com
NANO DIMENSION MEDIA CONTACTS
Kal Goldberg / Bryan Locke / Kelsey Markovich | NanoDimension@fgsglobal.com

1 United States Securities and Exchange Commission, 2022, Form 20-F, pages F-31, 90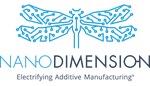 Source: Nano Dimension Ltd.
* All content is copyrighted by Industry Intelligence, or the original respective author or source. You may not recirculate, redistrubte or publish the analysis and presentation included in the service without Industry Intelligence's prior written consent. Please review our terms of use.