May 9, 2023 (press release) –
Interview with Kiyo Suhara on 150 years Konica Minolta
(1) Kiyo, you have been here now for four weeks – what is your impression of Konica Minolta Europe so far and how do you feel here?
As I stepped into my new role at Konica Minolta Europe, I knew that the next few weeks would be crucial in getting to know the people, the organization, and the processes inside out. To make the most of every moment, I decided to take an immersive approach and started quizzing my new colleagues with lots of questions. I
listened carefully
to their responses, absorbing every detail about the company's culture, work ethics, and values. It was
during this process
that I
truly understood the agility of the employees, their passion for the products, work, and customers, and the innovative spirit that thrives at Konica Minolta Europe
.
As I learned more about the organization and its people,
I grew increasingly proud to be a part of this team
. I also recognized the opportunities that we can take advantage of as a company and knew that I had to do
everything in my power to realise this potential
. Going forward, I am
committed to working with my colleagues to create an atmosphere of positive change at Konica Minolta Europe
.
(2) This year Konica Minolta is celebrating 150-years. Why do you think the company has been able to achieve this milestone?
In 1873, the world was a very different place when Rokkusaburo Sugiura, the founder of Konica, began selling photographic and lithographic materials in Tokyo. The
industrial revolution
was in full swing, and technological innovation was happening all around. Even though it was a time before the car, radio, and television, Sugiura's
entrepreneurial spirit
laid the foundation for what would become
Konica Minolta, a company with a rich history spanning over 150 years
.
Throughout its existence, Konica Minolta has
constantly transformed, reinvented itself, and innovated – always based on the foundation of imaging.
The company has contributed many revolutionary innovations, as evidenced by an
impressive list of approximately 20,000 patents registered worldwide
. The company has always been
versatile and eager to develop, which has driven its continued success
.
But the company doesn't just rely on its heritage. Today, Konica Minolta
dedicates a three-digit million-euro budget to continued research and development
. This
commitment to innovation and transformation
is what
has enabled Konica Minolta to survive and thrive for 150 years
.
I feel privileged to work for a company with such a rich history and an
innovative spirit
that continues to drive us forward.
(3) What are such revolutionary innovations?
When I think of Konica Minolta, I think of innovation. We have been in the imaging business for more than 150 years and have a
long history of pioneering many firsts
in the field. One of our biggest successes was in
1975
, when we introduced the
world's first 35mm camera with built-in flash and automatic exposure function
. This product was a
game-changer
and
helped make photography accessible to the masses
. Two years later, we developed a
finger-measurement type pulse oximeter
that made it possible to measure oxygen saturation in the blood without taking blood.
In
1980
, we opened the
world's first round planetarium
, providing an immersive and innovative experience for people to learn about the universe. In
1983
, we introduced the
world's first copier with stepless zoom magnification/reduction function, which was an unparalleled success worldwide
. One year later, we produced the
world's first aspherical plastic lens for CD drives, which revolutionized the way we listen to music
.
We broke new ground again when we introduced a
single-lens reflex camera with a professional-quality autofocus function
,
making professional photography accessible to the masses
in 1980.
When we launched the
world's first printer with polymerisation method toner
, which had a
significantly lower environmental impact than conventional pulverised
toners we "did it again" – and that was in the early 2000s.
And in 2011, we developed the
world's first OLED lighting panels
with one of the highest luminous efficiencies,
paving the way for more efficient and sustainable lighting solutions
. In the same year, we launched
AeroDR, the world's lightest cassette-type digital radiography system, which revolutionized the way doctors could diagnose and treat patients
. This invention solved several problems associated with conventional DR, including its heavy weight and the necessity of power and data transmission cables. AeroDR reduced the weight to a minimum and made data transmission wireless, contributing to a broader use of DR around the world.
We are proud of our innovative spirit and are committed to continuing to push the boundaries of what's possible in the imaging field.
(4) What do you consider to be the company's greatest achievements?
Apart from innovations in the camera business, we have revolutionized offices worldwide: One of our biggest achievements was the introduction of the
U-Bix 480 in 1970,
an electro-photographic copier that transformed the way people worked
. So successful was the product that copiers became one of our core products from then on.
A3 digital colour multifunctional printers (MFPs), the evolution of the earlier copiers
, have been our recipe for success over the last 20 years, but they have been so much more: Alongside PCs, laptops and the internet, they
have been
crucial to the digital transformation of offices
. In 2011, we decided to expand this business and started to enter the IT services market. Our
vision
was an
intelligent connected workplace, where we connect people, spaces and devices
.
In
2004
, we
entered the digital production print market
, a
bold move
that was met with some scepticism from industry experts. But we knew we had the technology, the expertise, and the drive to succeed. And we did. Right from the start, we went all-in with our bizhub production print systems, offering our customers a new level of quality, productivity, and flexibility. We focused on the A3 cut-sheet market, knowing that it was the largest segment of the production print market, and we were determined to become a market leader. And that's exactly what we did – and we've
held the position of market leader in cut-sheet A3 production printing in Europe ever since
. We didn't achieve this success by luck or chance; we earned it through our dedication to innovation, quality, and customer service. We were relentless in our pursuit of excellence, always pushing the boundaries of what was possible. As we look to the future,
we know that the digital production print market is constantly evolving, and we are ready to evolve with it
. We will continue to invest in research and development, in order to offer our customers even more innovative solutions. And we will continue to put our
customers at the heart of everything we do
, because we know that it is their success that ultimately leads to our own.
This new age for Konica Minolta has seen it
lead the way in the digital print revolution
(as of 2021 we are
also leading the
digital label press market
with a 28% market share),
pioneer new intelligent video technology
by taking a majority share in Mobotix in 2016 and have since been very successful in expanding the Video Solution Services business in Europe, and
break new ground in healthcare, in areas such as radiography and pioneering cancer research
.
However, whilst we can be proud of our long history of innovation, I believe that our greatest achievements are ahead of us, as we
spearhead the creation of the intelligent connected workplace
.
(5) What have been the biggest challenges?
World history over the past 150-years has presented many economic, societal, ecological and geo-political challenges and these issues are prevalent in our modern world. For us the biggest challenge we have ever faced has been
responding to the impact of the COVID-19 pandemic
, as the world went into lockdown, supply chains and manufacturing froze, with labour and semiconductor shortages impacting everything from IT to telecommunications and transportation. At the same time dining room tables, bedrooms and studies replaced offices.
As a company we take great pride in our accomplishments, breaking new ground through technology innovation. However, we are also
proud of how we were able to adjust to what became known as the 'new normal' so quickly
.
(6) How has the company overcome these hurdles?
As the world went into lockdown,
we were able to shift our office-based operations throughout Europe (more than 9,000 employees across 30 organisational entities) to remote working within days
. This was made possible by a huge collaborative effort by all of our employees, but especially those in internal IT, HR, the countless team leads in different departments and a dedicated interdisciplinary coronavirus taskforce that was put in place. It is nothing short of remarkable, what was achieved at such short notice in so little time and with minimal risk to business continuity for our customers.
With age also comes wisdom and the ability to build back stronger in the face of adversity. As the world was continuing to reopen in 2021,
we experienced two fires at the Tatsuno Factory of Konica Minolta Supplies Manufacturing Co., Ltd in Japan, which again put our resiliency to the test
. Thankfully, there were no injuries or casualties as a result of these incidents. We recognised the need to adjust our approach to manufacturing toner and as a result our production process and how we manage the global supply of toner stock has been transformed. It is
an example of strength in adversity making you stronger
– a lesson all of us that have experienced the pandemic, both professionally and personally, will recognise.
(7) What are you most proud of at Konica Minolta?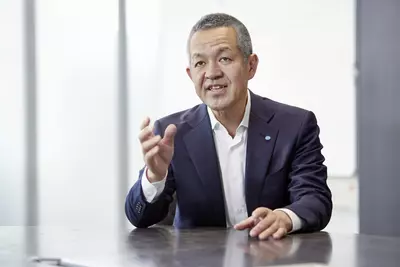 It is the creativity, ingenuity, and adaptability of all of the people, past, present and future, whether employees, partners and customers that has made Konica Minolta the brand it is today and will be tomorrow.
During the pandemic it was truly inspiring and humbling, to be part of a team in which every single person rose to the situation and was willing to go the extra mile to do everything they could to support partners, customers, and each other.
(8) How is Konica Minolta prepared for the future?
We see the future in data.
Just as the company was conceived during the industrial revolution, we are in the midst of a digital revolution and
digital transformation
is creating an explosion in volumes of data, which can provide information, insight and knowledge if interacted with in the right way. Take IIM (Intelligent Information Management) for example: we see the future in extracting unstructured data and making it accessible or visible through technology, whether it is paper based or electronic documents - we want to unlock the value of the data hidden within.
Only if you interpret the data correctly can you make hidden insights visible. But often the amount of data is too large for humans to analyse on their own. We need artificial intelligence (AI) to recognise patterns and anomalies in the data. AI can work through huge data sets and make the right decisions.
Our goal is to use our original imaging technologies in combination with AI to enable data processing and data-driven decision making. Decisions that change the way we work, that improve safety, that improve the quality of products or that enable advances in medicine. This is our vision, which we call "Imaging to the People". We strive to make data accessible to everyone and to develop solutions that address the immediate problems of our customers and society as a whole.
(9) Can you give a few examples of such data-driven technologies?
One example of this is our
gas monitoring solution
, which is used in
oil complexes and power plants.
By analyzing data from sensors and other sources, this system
can detect gas leaks at an early stage and alert operators before a fire or explosion occurs.
This not only reduces the risk of accidents, but also helps plants operate more safely and efficiently.
Another example of our data-driven technology is the
nursing care support solution called "HitomeQ".
This system uses digital image processing, sensing, and voice inputs to monitor residents in nursing homes. It can detect unusual movements or behavior and automatically send notifications to care staff.
By reducing the workload on nursing staff, this technology helps improve the quality of care and makes life easier for both caregivers and residents.
Finally, there's
SenrigaN
, our
non-destructive inspection solution.
This innovative technology
uses data analysis to detect breakages in internal steel structures from the outside,
without causing any damage. For example, it can detect fractures in bridges before they collapse,
potentially saving countless lives.
All of these examples show
how data-driven technologies can have a significant impact on society, making it safer, more efficient, and more enjoyable for everyone.
And as a company, Konica Minolta will continue to innovate and develop new solutions that can help make our world a better place.
(10) How important is the topic of sustainability for Konica Minolta?
As a global company,
Konica Minolta takes its responsibility towards society and the environment seriously.
Sustainability has been
at the core of our values for decades
, with the
establishment of a global Environmental Management Department as early as 1971.
We want to contribute to society's sustainable growth and prosperity in every possible way.
Last year,
we took a significant step in this direction by bringing together our separate sustainability efforts and forming a unified ESG department in Europe.
This new department works tirelessly towards addressing global issues in the areas of environmental, social, and governance. Our company's
alignment with the United Nations' Sustainable Development Goals (SDGs)
is another step we have taken in this direction. Through our social innovations,
we aim to use our digital technologies to make a positive impact on society while fulfilling the SDGs.
We are committed to setting achievable targets and making ambitious contributions to bring about a more sustainable future.
We believe in taking concrete actions to support society and the environment.
As a responsible corporate citizen, we support many projects for the common good.
For example, we have provided
assistance to Ukrainian refugees and supported relief efforts for the communities and people affected by the recent earthquakes in Turkey.
We also
participate actively in local environmental and charity initiatives and support educational programs that help the next generation.
Our commitment to sustainability has earned us a place in the
Global 100 Most Sustainable Corporations list for 2023.
We are proud of this achievement and will continue to work towards ensuring a more sustainable future for all. We regularly monitor our progress through KPIs and controlling systems to ensure reliable follow-up of our achievements.
We remain committed to sustainability as we firmly believe that our innovations must have a positive impact on society and the environment, leaving a better world for future generations.
Boilerplate
About Konica Minolta Business Solutions Europe
Konica Minolta's journey started 150 years ago, with a vision to see and do things differently. We innovate for the good of society and the world. The same purpose that kept us moving then, keeps us moving now.
Konica Minolta Business Solutions Europe GmbH, based in Langenhagen, Germany, is a wholly owned subsidiary of Konica Minolta Inc., Tokyo, Japan. With its unique expertise in imaging, data processing and data-based decision making, Konica Minolta creates relevant solutions for its customers - small and medium-sized businesses, large enterprises and public sector - and solves issues faced by society.
As a digital workplace solution provider, Konica Minolta helps its clients to identify and unlock the potential digitalisation holds and reach the next level in the digital maturity of their organisation by rethinking the workplace. In support of an 'Intelligent connected workplace', Konica Minolta offers cloud, IT, managed print and video solution services for remote working, collaboration, workflow management and automation and security. The company's success in driving transformation is also confirmed by IDC, since the 'IDC MarketScape: Worldwide Print Transformation 2020 Vendor Assessment' stated that Konica Minolta is 'recognised globally as a leader in print transformation'. Konica Minolta has been a Microsoft Global Managed Partner since 2021.
Konica Minolta's Igniting Print Possibilities offering helps printers, converters and brand owners maximise workflow automation to increase efficiency. The company delivers consultancy in all communication matters as well as top-of-the-line production, packaging as well as label printers. Its finishing devices create print products that stand out and create added value. Konica Minolta has established itself as the production printing market leader for more than a decade in Europe (InfoSource).
For an increasing number of organisations, success today is more than the narrow definition of financial prosperity – it also includes protecting the environment and having a positive impact on their workforce as well as the societies they are embedded in. With its commitment to the Sustainable Development Goals (SDGs), Konica Minolta has pledged to consistently pursue its sustainability and social responsibility goals.
The company has been repeatedly recognised for its rich history of social contribution as well as for working towards achieving the SDGs throughout its business and supply chain. Konica Minolta is listed among "2023 Global 100 Most Sustainable Corporations in the World" and received a GOLD Level Recognition Medal in the EcoVadis sustainability ratings for 2023.
For its remote services, Konica Minolta was awarded the prestigious 'Buyers Lab (BLI) 2023-2024 Pacesetter Award in Remote Service for the Western European market' from Keypoint Intelligence.
Konica Minolta Business Solutions Europe is represented by subsidiaries and distributors in more than 80 countries in Europe, Central Asia, the Middle East and Africa. With approximately 8,700 employees (as of April 2022), Konica Minolta Europe earned net sales of over EUR 1.9 billion in financial year 2021/2022.
Worldwide, the company has over 39,000 employees and is operating in over 150 countries.
For more information, please visit https://www.konicaminolta.eu/eu-en/news and follow Konica Minolta on Facebook, Instagram and YouTube.
Terms and product names may be trademarks or registered trademarks of their respective holders and are hereby acknowledged.
Silke Ehmann-Cotichini
Team Manager Brand Positioning & Architecture, Content Strategy & Development
Konica Minolta Business Solutions Europe GmbH
Silke.Ehmann-Cotichini@konicaminolta.eu
+49 (0) 511 7404-5604
* All content is copyrighted by Industry Intelligence, or the original respective author or source. You may not recirculate, redistrubte or publish the analysis and presentation included in the service without Industry Intelligence's prior written consent. Please review our terms of use.