March 17, 2022 (press release) –
Independent audits confirm high standards in environmental performance, labour practices, ethics and sustainable procurement
Konica Minolta, Inc. (Konica Minolta) is pleased to announce that it has been awarded a GOLD Level Recognition Medal in the EcoVadis sustainability ratings for 2022 in recognition of its sustained and committed focus to sustainable and socially responsible business practices. The company's achievements in addressing climate change through its supply chain has also been recognised by CDP, an international non-profit organisation working to achieve a sustainable economy, which has named Konica Minolta as a CDP Supplier Engagement Leader. The rankings by the two highly-respected independent organisations reflect Konica Minolta's continuous dedication to sustainability and social responsibility.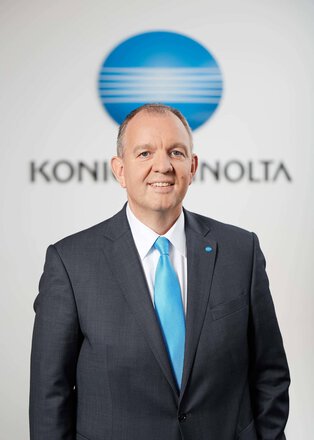 We are delighted to once again receive independent recognition of our deep commitment to environmental and corporate social responsibility from these expert international organisations. As a company we are dedicated to solving real world challenges faced by our customers and the communities in which we operate and where we are a part from. Within our DNA is the belief that we must be the change that we wish to see, operate in a way that enhances our environmental and social impact, and work to support healthier ways to work and live.
Olaf Lorenz
Head of International Marketing Division, Konica Minolta Business Solutions Europe
EcoVadis "Gold Level": Konica Minolta among the top five per cent of companies
EcoVadis is the world's largest and most trusted provider of business sustainability ratings, creating a global network of more than 90,000+ rated companies. By earning a Gold Level Recognition Medal in EcoVadis' sustainability ratings, Konica Minolta has been confirmed as being in the top 95th percentile of benchmarked companies in its industry. 2022 marks the seventh successive year that Konica Minolta has participated in the independent audit process and been awarded a high ranking.

The EcoVadis rating process assesses corporate social responsibility (CSR) using four key indices - the environment, labour practices, ethics and sustainable procurement. The rating process is based on scorecards for each participating company that cover 21 CSR indicators, 190 commodities and 150 countries. The evaluation environment is built on the Global Reporting Initiative, the United Nations Global Compact and the ISO 26000, which take environment, social, ethics and supply chain into account. Within the EcoVadis scorecard report, Konica Minolta was praised for demonstrating advanced management systems on environmental and ethics issues and for sustainable procurement.
Konica Minolta named a CDP Supplier Engagement Leader
One of the foundations of Konica Minolta's continuous drive for greater sustainability is its work to improve the environmental performance of its supply chain. These ongoing efforts have once again been recognised by leading independent non-profit organisation, CDP, which has named Konica Minolta a 2021 CDP Supplier Engagement Leader in its annual Supplier Engagement Ratings.

The Supplier Engagement Rating evaluates companies' commitment to climate change throughout their supply chain. Of more than 8,000 companies surveyed in the 2021 fiscal year, only companies in the top 8% have been named a Supplier Engagement Leader.

Konica Minolta has achieved excellence in this field by proactively engaging with suppliers to help them rapidly reduce CO2 emissions and costs, thereby fostering systems and business cultures that value environmental management. Its Green Supplier Activities have provided suppliers with the expertise and hands on support to reduce their environmental impact, while also reducing costs. This approach has been based on Konica Minolta's own success in reducing the environmental impact of its manufacturing sites as part of Green Factory Certification. As a result, many Konica Minolta suppliers have been empowered to achieve their Green Supplier activity targets that are equivalent to Green Factory Certification Standards.

Konica Minolta's Innovation Garden OSAKA Center receives Environmentally Friendly Architecture Award
Alongside better business practices, Konica Minolta has also sought to enhance the environmental and social impact of its buildings and facilities. Last month, its new Innovation Garden OSAKA Center (IGOC), established as a cooperation and development center for imaging IoT/AI technology received the Governor of Osaka Award, the highest honour, in the FY2021 Osaka Environmentally Friendly Architecture Award. The state-of-the-art facility was designed to minimise energy use and reduce CO2 emissions during construction and operation, while also promoting a healthier environment for employees to enhance well-being.
* All content is copyrighted by Industry Intelligence, or the original respective author or source. You may not recirculate, redistrubte or publish the analysis and presentation included in the service without Industry Intelligence's prior written consent. Please review our terms of use.