January 25, 2022 (press release) –
Connected pro-active services includes Visual ServiceSupport in which customer and tech teams work together via a phone app to swiftly find solutions
Remote maintenance resolves 80% of customer press questions without needing to send a technician on site
Push-of-a-button Press Call system transmits press information immediately for fast and timely service for an analysis of machine data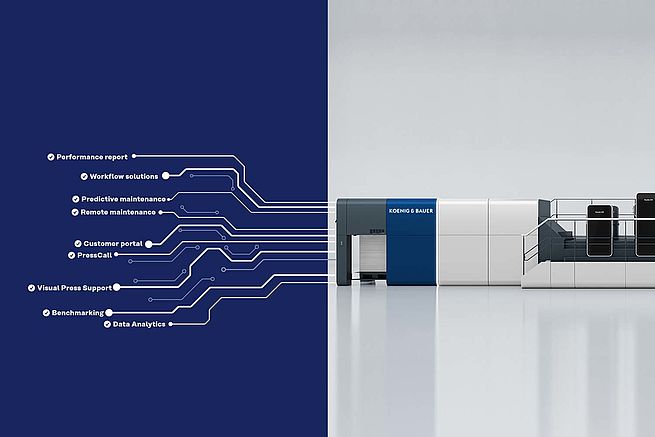 In today's evolving technological workforce, the digitization of service has been paramount in the success of Koenig & Bauer's organization. Over the past several years, its tech team has built a solid foundation to easily reach customers no matter where they are located. This modernization ensures that customers have maximum throughput and the highest number of net sheets on the floor. With this holistic approach, the Koenig & Bauer organization has displayed its superior position in the industry in producing award-winning printing presses and its digital services network.
"Customers expect immediate response, the highest press uptime, and being able to rapidly solve problems through new innovative means," says Chris Talbert, vice president of service operations for Koenig & Bauer. "With the proprietary technological advances that continue to be introduced and implemented throughout our organization, we are able to apply those systems to keep constant contact with our customers. We are continually introducing new solutions to help our print customers achieve their productivity goals."
The Koenig & Bauer service department's philosophy has been to build an end-to-end system providing predictive maintenance before the customer makes a service call, analyzing the on-going press operation to output current digital industrial analytics and performance reports, while optimizing the customer relationship through easy digital means to ensure maximum uptime.
Koenig & Bauer's performance monitoring and advisory services begins with predictive maintenance, in which the service team casts its eye on the press operation, generates custom analytics for each customer, and proactively determines if the operations might soon generate a call for service or need a new part sent to the customer. The goal is to utilize Koenig & Bauer's connected network to optimize the communication chain between its valued customers and its service network.
Using artificial intelligence, Koenig & Bauer, in conjunction with a customer's approval, can compile data analytics for each press. With digital services, abnormalities are predicted in advance and the system automatically initiates its service organization.
Digital systems resolve customer problems without an onsite visit
Koenig & Bauer has updated its printing press models with two new integral data-based systems: a digital Press Call system and Visual ServiceSupport. Found on the console, the Press Call system allows a customer to speak to the remote maintenance department at any time of day. With the push of a button, a customer's machine operator can transmit all of their information to the service team.
Once the remote maintenance team gets notification of a potential issue, they can begin to utilize the Visual ServiceSupport system. This cutting-edge tool makes communication much easier for both customers and hotline technicians. Using a mobile phone camera, Koenig & Bauer's remote maintenance specialists can see, in real time, what the customer is seeing on site. The customer can then be instructed step by step on how to resolve the issue in the fastest manner.
"Visual ServiceSupport has allowed our department to reach a new higher level," says Talbert. "It gives us eyes on-site without being there. The hotline technician sees what the press operator or service technician sees on the press. We can share our screen to show a customer or technician live videos of how to resolve a problem, display wiring diagrams, and circle where they need to focus their attention. In 80% of cases, this first call is successful. This facilitates communication, saves the need for extensive explanations, and reduces the risk of misunderstandings compared to a conventional telephone call. Your press is back in full production without delay – and without a service technician having to be present on site."
Continuous digital analytics via customer community portal
Due to Koenig & Bauer's modular platform, the service team is continually gathering digital data on a customer's equipment. The new customer community portal captures real time press information on its overall equipment effectiveness (OEE) and tracks performance of the press. The first phase of the Koenig & Bauer customer community portal has been implemented and will have continual innovations on an ongoing basis.
Customers have found benchmarking to be a valuable tool in data collection. In this case, a customer service representative visits a facility and uses a scoring system to compare their production data against other similar facilities and presses in the market. The Koenig & Bauer service team can generate a scatter chart placing a dot where the customer's machine's performance ranks in speed and output. By creating these digital analytics, the team can educate and train the customer on how to reduce makeready time and increase overall net sheets on the floor.
As Koenig & Bauer's digital systems continue to evolve with teams in Germany and North America hard at work unlocking its power, its customers are being handed the ability to expand efficiency and productivity, reduce costs, and create more opportunities for increased revenue and profitability. Its performance monitoring and advisory services are an extremely important component for Koenig & Bauer customers, targeted to maximize production, efficiency, and reliability and put on display the firm's sophisticated digitally-enabled solutions and services.
Interesting website: www.koenig-bauer.com
* All content is copyrighted by Industry Intelligence, or the original respective author or source. You may not recirculate, redistrubte or publish the analysis and presentation included in the service without Industry Intelligence's prior written consent. Please review our terms of use.