May 23, 2023 (press release) –

FESPA Global Print Expo, Munich, Germany, 23rd May 2023 - Canon today launches PRISMAelevate XL, an extension of the powerful PRISMA XL Suite, and an easy-to-use software application that enables large format graphics designers and print service providers (PSPs) to create tactile print applications and produce outstanding-quality elevated prints on Arizona printers. It allows users to enhance their product offering with printed textured effects and raised lettering and brings improvements in productivity, flexibility, print height, media range and usability.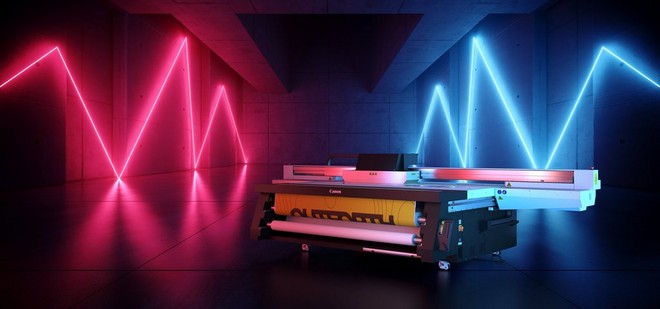 PRISMAelevate XL is an easy-to-use software application for creating tactile prints on Canon Arizona flatbed printers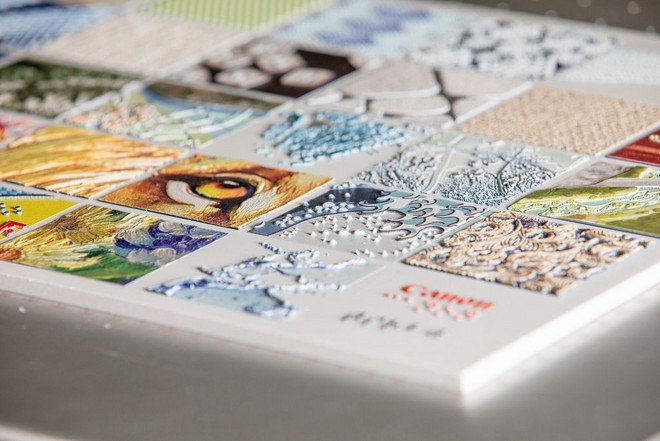 With PRISMAelevate XL it's easy to print outstanding quality elevated prints including textured effects and raised lettering up to 2mm

PRISMAelevate XL succeeds Arizona Touchstone and delivers twice the elevation at up to 20% higher speeds - creating tactile print applications and elevated prints on the world-leading Arizona 1300 and 2300 flatbed series. PRISMAelevate XL is the latest member of the successful PRISMA XL Suite, enabling customers to design creative, high value applications with textured effects by mimicking textured surfaces and using embossing, metallic accents and raised lettering up to 2mm. It expands the range of creative and functional applications users can produce including high-value signage, interior and exterior décor, awards, fine art reproduction and packaging prototyping, for growing areas such as the décor, packaging and retail industries. It also provides innovative print options with the capability to produce accessible signage, such as braille, for the visually impaired.

The patented Advanced Layer Printing System (ALPS) technology in PRISMAelevate XL, used in combination with the Arizona mid-volume flatbed printers, makes it possible to intelligently print layers of ink to create unparalleled quality in high-resolution colour, adding stunning or functional tactile elements to print applications. It also offers an easy-to-use Adobe Photoshop and Illustrator plugin, that requires no extra training to use, and enables highly accurate 3D design of elevated print projects.

With automation enhancements and its preview functionality for first-time-right printing, PRISMAelevate XL helps to reduce waste as there is no need for test prints. Canon UV curable inks live up to high and strict environmental standards and have been awarded the UL GREENGUARD Gold certificate, making them safer for use in sensitive environments such as hospitals, schools, shops and other public places.

Andrea Haklander, Braille and Relief Manager, at The Christian Library for the Blind and Visually Impaired (CBB), one of the largest braille printing services in Europe, explained how Canon's elevated printing technology, Arizona Touchstone (now PRISMAelevate XL), has helped their business and enabled them to offer a complete package: "We can now offer customers braille, large prints, audio, embossing and digital reading matter in one complete package, thanks to the Arizona. 90% of our products printed on the Arizona are elevated prints and previously, it was not possible to combine relief with fine structuring or with full colour, nor was it possible to print relief on other materials. Now all of this is possible. Producing elevated prints requires expertise but Touchstone makes it easy to create a good file, it includes all the elevation data the printer needs to build up the print layer by layer and that's how we can reduce costs by 65-80% compared to the previous process. The output quality of the braille is much better than alternative processes can offer."

Mathew Faulkner, EMEA Marketing & Innovation Director, Wide Format Printing Group, Canon Europe says: "Joining our PRISMA XL suite, PRISMAelevate XL offers customers an end-to-end solution for creating tactile and eye-catching creative prints, which are particularly relevant for markets such as décor, retail and packaging. Ideal for creating a luxe feel for high-end applications such as fine art prints and interior and exterior décor, PRISMAelevate XL can also be used to create accessible prints, such as braille applications for the visually impaired. Variable and unpredictable results are a thing of the past as PRISMAelevate XL delivers a solution that turns creative vision into reality - taking care of the complexities of multi-layer processing and print file optimisation, so that users can focus on delivering show-stopping elevated prints."

The PRISMA XL Suite is part of Canon's PRISMA workflow solution portfolio and includes PRISMAguide XL, an easy-to-use, innovative job automation software ideal for handling complex jobs. It assists customers in building and previewing designs using pre-defined job recipes for Colorado and Arizona printers, supported by ONYX for Arizona printers and Caldera for Colorado printers.

The PRISMA XL Suite is completed by PRISMAservice – a new cloud-based service platform that provides faster, more efficient and more effective customer support for Arizona printers. With 24/7 access to service information, dashboards and relevant service data to predict, plan and perform relevant service activities to keep printers running. PRISMAservice is available free of charge to Canon Authorised Servicing Partners.

PRISMAelevate XL will be available for ordering and delivery from July 2023 via accredited partners as well as Canon's direct sales organisations.
* All content is copyrighted by Industry Intelligence, or the original respective author or source. You may not recirculate, redistrubte or publish the analysis and presentation included in the service without Industry Intelligence's prior written consent. Please review our terms of use.