June 21, 2023 (press release) –
British sustainable packaging firm Frugalpac has been invited by the UK Government to send its paper Frugal Bottles to trade chiefs in Australia and New Zealand to mark the Free Trade Agreements with the countries coming into force.
UK businesses will be able to sell to Australia and New Zealand more easily as the UK's trade deals with the countries go live.
International Trade Minister Nigel Huddleston toured DHL's Southern Distribution Centre to see off two handpicked consignments of UK goods from the UK's Department for Business and Trade, some of the first to be sent under the new deals.
These included Silent Pool's Green Man Vodka and Gin and Greenall's Greener Gin – all in paper Frugal Bottles made in Ipswich.
Other British goods including Beano comics signed by Beano editor John Anderson, Welsh Penderyn whisky, Brighton Gin, Cambridge Satchel Company bags and Fever-Tree tonics were also among the items that were sent.
The Frugal Bottle is made from 94% recycled paperboard with a food grade pouch to hold the liquid, is five times lighter than a glass bottle and crucially uses six times less carbon and energy to produce and dispose.
Under the deals' beneficial terms, tariffs on all UK goods exports to Australia and New Zealand will be removed, unprecedented access to these markets for services unlocked, and red tape slashed for digital trade and work visas.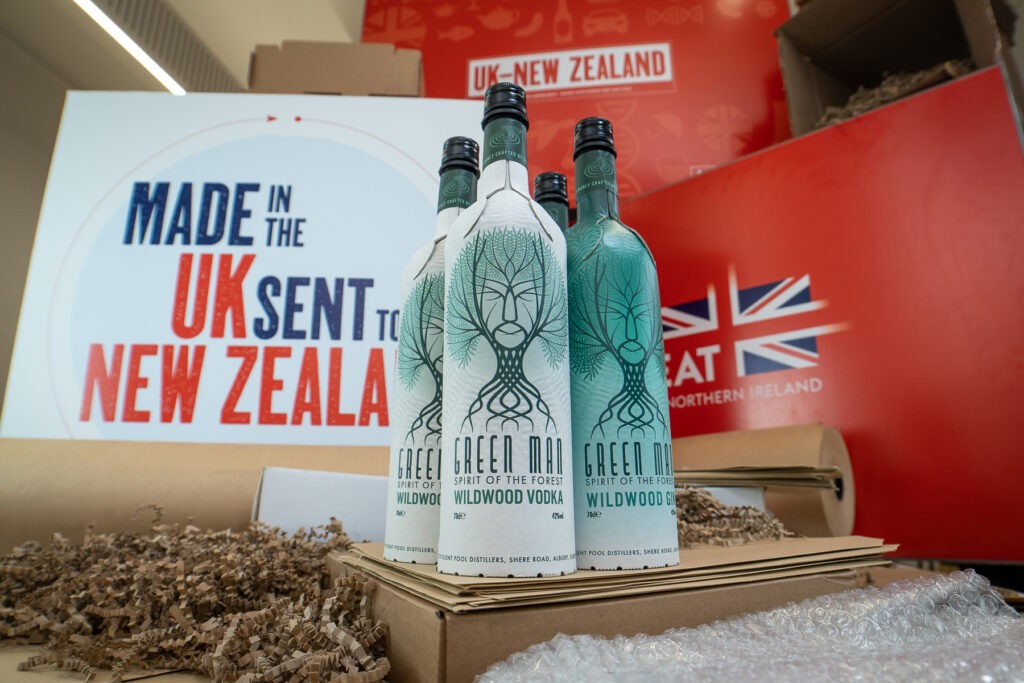 Silent Pool Green Man Vodka and Gin being sent to New Zealand
Frugalpac, based in Ipswich, launched the Frugal Bottle in June 2020 – the world's first and only commercially available paper bottle for wines, spirits and olive oils – with a red wine called 3Q from Italy's Cantina Goccia.
Now more than 30 different drinks producers from around the world have launched 65 different SKUs of wines, spirits and olive oils in the Frugal Bottle. They are available in 22 countries including Japan, North America, the UK, across Europe, Scandinavia, Australia, and South Africa.
Frugalpac has seen such strong sales and interest from drinks producers around the world that it now has enquires to make more than 120m Frugal Bottles and has opened a new 11,000 square foot Frugal Bottle factory in Ipswich to meet the global demand and sold its first Frugal Bottle Assembly Machine to KinsBrae Packaging in Canada.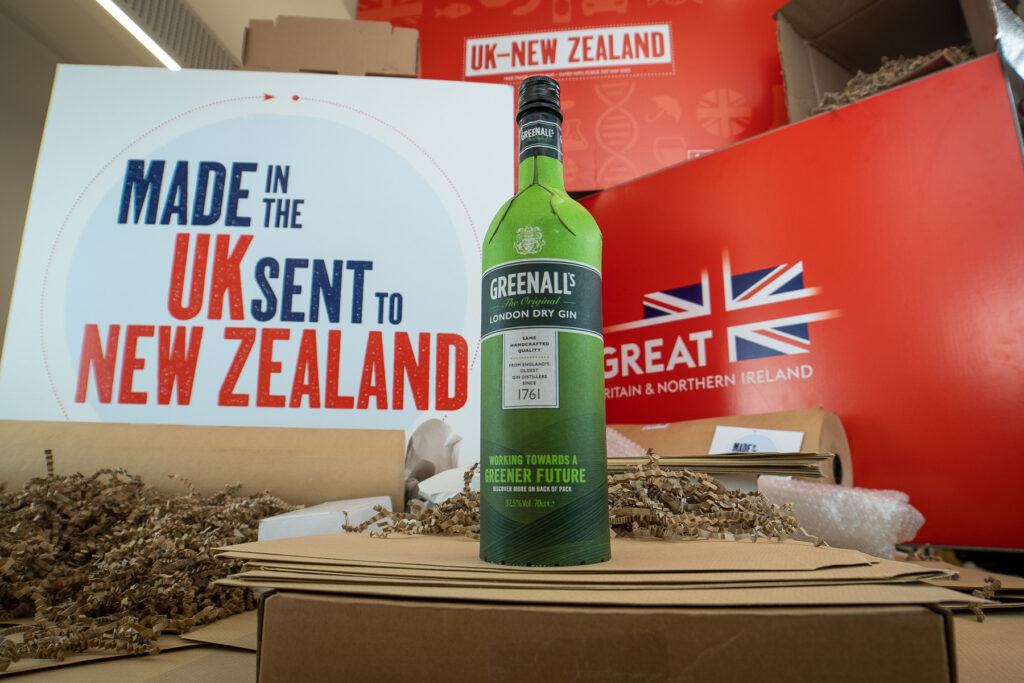 Greenall's Greener Paper Gin Bottle being sent to New Zealand
CEO of Frugalpac Malcolm Waugh said:
"Frugalpac produces the world's first paper bottle for wines and spirits and the machines that make them. Our Frugal Bottles, which are made from 94% recycled paperboard and have a carbon footprint six times lower than a glass bottle, are now sold in 22 countries including Australia and New Zealand.
"The Department for Business and Trade has been hugely supportive of Frugalpac and these free trade agreements will boost our plans to export machines to help the Australian and New Zealand drinks industry to further decarbonise."
Business and Trade Secretary Kemi Badenoch said:
"Today is a historic moment as our first trade deals to be negotiated post-Brexit come into effect.
"Businesses up and down the country will now be able to reap the rewards of our status as an independent trading nation and seize new opportunities, driving economic growth, innovation and higher wages.
Minister for International Trade, Nigel Huddleston, said:
"It was incredibly exciting to visit DHL to see some of the first shipments leave the UK, knowing that when they arrive Down Under they will benefit from our brand new deals.
"Australia and New Zealand are two of our closest friends and likeminded partners and our trade deals secure favourable terms for British exporters, removing tariffs on all UK goods and slashing red tape."
Frugal Bottles currently available in Australia and New Zealand are:-
Quintessential Brands' export its Greener Greenall's Gin in a Frugal Bottle Down Under
Silent Pool a British distillery sells its Green Man vodka and gin in paper bottles in Australia, and New Zealand.
New Zealand based British expats sell their award-winning Mothers Ruined craft gin in paper bottles.
Launching imminently in a Frugal Bottle is a premium vodka by Sydney-based Mother of Pearl Vodka.
In the UK, three brands have won listings with Frugal Bottles in major UK supermarkets. Leading gin brand Greenall's launched its first paper Frugal Bottle gin in Sainsbury's supermarkets across the UK in October 2022.
In Q1 this year When In Rome became the first paper bottle wine producer to win a supermarket listing with two SKUs on sale in 450 Sainsbury's stores. In Q2 Flawless Vodka won the first listing in UK Tesco stores with two SKUs.
Brands using the Frugal Bottle include The English Vine's No1 white wine, Signal 7 Wines in the US, Spain's Planet B by Bodegas Murviedro, Interpunkt wines in collaboration with South Africa's Journey's End, UK-basedwine brand Savvy Pair, Spain's Bodegas Fernando Castro organic wines, and a range of red, white and rosé wines from the UK's leading provider of wine in alternative packaging, When In Rome.
It's also used by NB Distillery's School Night and Silent Pool's Green Man for gin and vodka,a Mexican organic tequila Buen Vato from Sweden's Alias Smith, a French Calvados from Avallen Spirits, Half Shell Vodka by Florida's Distillery 98, cocktails by Bottle Proof Cocktails, flavoured vodka by south Wales' Flawless Vodkas, Wildjac rum from the UK, Wisconsin-based Demon Spirits rum, four gins by New Zealand based UK expats Mothers Ruined and Italy's Evviva and Greece's AONES for olive oil.
Imminent releases in the Frugal Bottle include wines from Spanish producer Bodegas Alodia.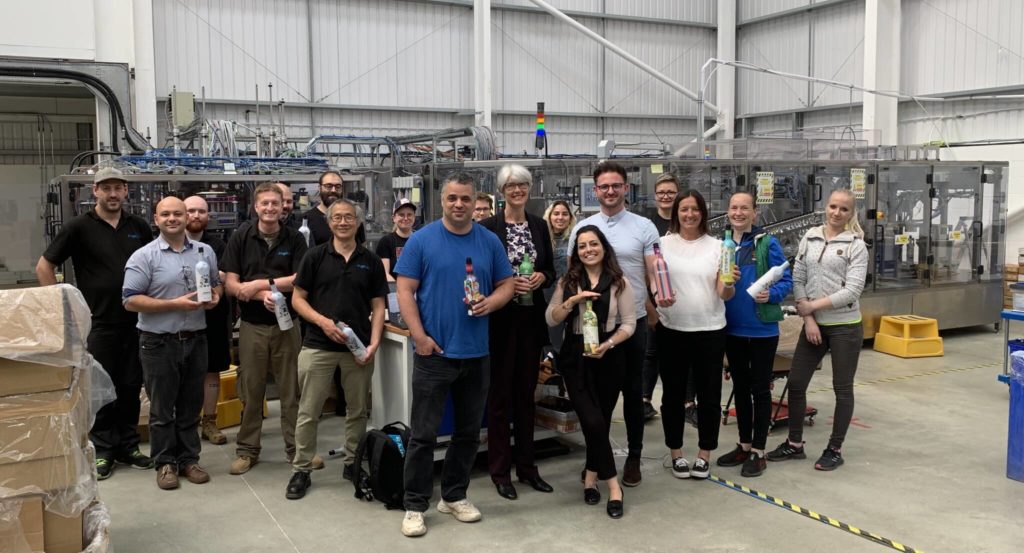 The team at Frugalpac's Innovation Centre in Ipswich, home to the world's first Frugal Bottle Assembly Machine (FBAM-1)
As well as enquiries to make 120m Frugal Bottles, Frugalpac also has strong enquiries.
from more than 100 other international brand, contract packing and packaging companies to buy Frugal Bottle Assembly Machines. Each machine will be able to produce 2.5 million Frugal Bottles a year.
New co-packing filling lines for Frugal Bottles are emerging across the globe and can be found in the UK at Surrey's Silent Pool distillery; across Europe in Spain at Bodegas Fernando Castro; in Provence, France at La Bouteille Qui Cartonne; in Denmark Skanvin serves the Scandinavian market; and in Italy Cantina Goccia offers a dedicated filling service for wine producers, while in North America Canada's Kinsbrae Packaging and California's Monterey Wine Company offer full paper bottle filling services.
For more information visit email hello@frugalpac.com or contact David Prescott at Larkin PR at david@larkinpr.co.uk
Images of the Frugal Bottles being sent to New Zealand and Australia along with other available Frugal Bottles can be downloaded here.
* All content is copyrighted by Industry Intelligence, or the original respective author or source. You may not recirculate, redistrubte or publish the analysis and presentation included in the service without Industry Intelligence's prior written consent. Please review our terms of use.