As part of its ongoing commitment to developing automated packaging solutions for major manufacturers around the world, Shemesh Automation has launched BuckIT TKS25© – a complete turnkey buckets line that offers major advantages to its customers' production throughput across many of the world's key industries – from food and beverage to chemicals, paints, cosmetics, wet wipes and much more.
Shemesh's BuckIt packaging line is completely automated and is the ultimate feature-heavy, complete end to end packaging line for liquid and solid products in buckets.
The line includes all the following Shemesh made machines:
Across its applications the line produces up to 25 buckets per minute with a 3,500ml vol, and can handle many different bucket specifications, loads and final products. As shown above, it can also be modified for the packing of jumbo nonwoven wet wipes in buckets.
The key advantages of this one-stop-shop line include having design, manufacturing, integration, installation, servicing, parts, delivery AND training all under one umbrella. This results in streamlined processes, the removal of traditional bottlenecks associated with complex packaging lines and the support of Shemesh's industry leading worldwide customer support and machinery service and repair model. Having one contract contact point providing all integral services to your business results in cost effective end-to-end solutions.
The line only requires two operators, from nested buckets to pallets of filled, sealed, capped & labelled buckets in boxes, and it features extremely low changeover downtime, raw materials waste and space requirement on the factory floor – leading to substantial ongoing cost savings when compared to other multi-supplier lines.
Further, the 'one umbrella' approach increases accountability and minimizes the costs and hassle of having to deal with multiple suppliers. Having a clear and open relationship with one supplier results in greater expertise, efficiency of communication, reduced costs and increased product quality. All of these benefits can combine to unlock increased market share and higher profit margins for Shemesh's customers.
All of the machines in the line are Industry 4.0 ready (potentially tapping into endless possibilities through the use of near infinite data), have FDA approved piping, banner sensors and SIEMENS PLC, HMI and MOTORS – making them truly bespoke all-in-one packaging lines based on superior engineering.
As the experts in automated packaging machinery, with over 30 years' experience, Shemesh Automation's R&D taps into generational engineering talent to deliver first class results across demanding international packaging sectors.
Shai Shemesh, president of Shemesh Automation, said: "With BuckIT TKS25©, we offer our customers significant competitive advantages, but one of the absolute clearest is the ability to purchase entire production lines under the 'one umbrella' banner. This means that all of our packaging production lines are created by experts who have come from one of the world's most exciting and advanced technology sectors. Any ongoing technical support and repairs can also be covered by our engineers and partners, making us a worthy supplier for packaging production lines that will make measurable long-term differences to our customers' products and profit margins."
For more information on the full range of machines and Shemesh Automation wet wipes solutions, visit www.sawetwipes.com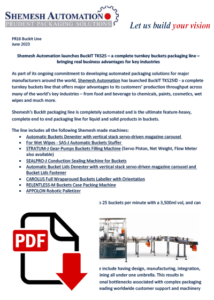 ---
For more info on our full range of machines visit: www.shemeshautomation.com
ABOUT SHEMESH AUTOMATION:
With over 30 years in the industry, Shemesh Automation is a global leader in the high-end packaging and assembly machinery and industrial automation appliances manufacturing arena. The private equity backed business supports almost 2,000 assets in over 30 countries around the world. Its nonwovens arm, Shemesh Automation Wet Wipes (www.sawetwipes.com) is a global pioneer in nonwovens downstream packaging equipment with cutting-edge technology positioned at the very forefront of the industry.
Shemesh is represented in 13 countries around the world with offices in the US, UK, France and Israel. Its London-based office coordinates global sales and marketing operations and its Israeli office managing research, development and engineering innovation. Shemesh's unique combination of UK customer-centric service with an Israeli high-tech mentality to push the technical boundaries, plus the use of tried & tested parts from German manufacturers has greatly contributed to its success. The US market is served by a 43,055 square-foot office in Green Bay, Wisconsin, home to a Demo Center, 24 Hour Service and Parts Center and a large US installed base of packaging machines.
We don't see Shemesh as a company that builds just cutting-edge machinery, we want to become your partner of choice for long and successful cooperation. "Let us build your vision" is not just our slogan, simply put, this is what we do, day in and day out!