The packaging made from Metsä Board's renewable materials will replace plastic bags that the products were previously transported in. "I'd long thought our products needed packaging that matched their high quality and offered buyers a unique experience when unboxing it," says Dita Eklund, owner of Lena Rewell Textilestudio.
The products of Lena Rewell Textilestudio are manufactured in limited numbers and the company's operations are based on ethics and sustainability. The packaging also had to reflect these values.
Minimalist design through co-creation
At the Äänekoski Excellence Centre, Metsä Board's packaging design team came up with a lightweight gift package supporting the valuable brand and offering a luxurious experience with a natural feel. Metsä Board's uncoated white kraftliner, Natural WKL Bright, was chosen as the material for the two-piece package.
The unprinted white surface communicates a sense of naturalness, with the uncoated surface giving the package an attractive matte appearance and tactile feel. The gift experience is accentuated by the cover, which features the brand logo in foil embossing. Thanks to the embossing method, the gold foiled logo can be rendered very sharply and three-dimensionally. The packages are made by Starcke in Eura in southwestern Finland.
Metsä Board's Packaging Design team presented ideas to Eklund in regular Teams-meetings. During the design process the team moved gradually from a maximalist style towards a more simplified, elegant end result.
"The process took some time but it was definitely worth it, since over time a lot of things fell into place," says Eklund.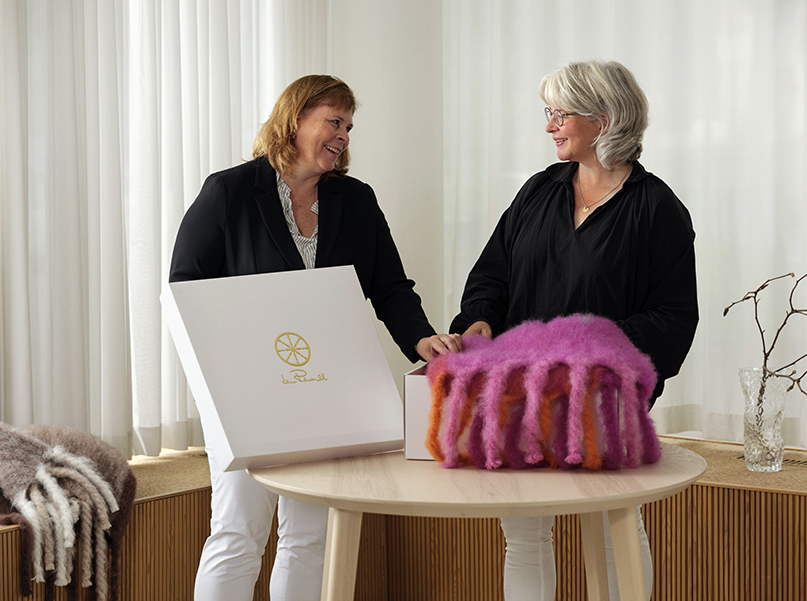 Plastic bags are a thing of the past
Eklund is particularly pleased that the new gift packaging makes the plastic bags that used to protect the mohair blankets during shipping obsolete. The new gift box is fully recyclable, made from renewable raw materials and has no adhesives.
"Designing this gift package was a major project for us, so it's important the result meets our requirements. I'm extremely satisfied with both the package and our cooperation with Metsä Board. Their packaging design team came up with several good ideas, and were great at listening to my wishes."