November 3, 2023 (press release) –
Medtronic: Helping Lead the Way in Packaging Waste Reduction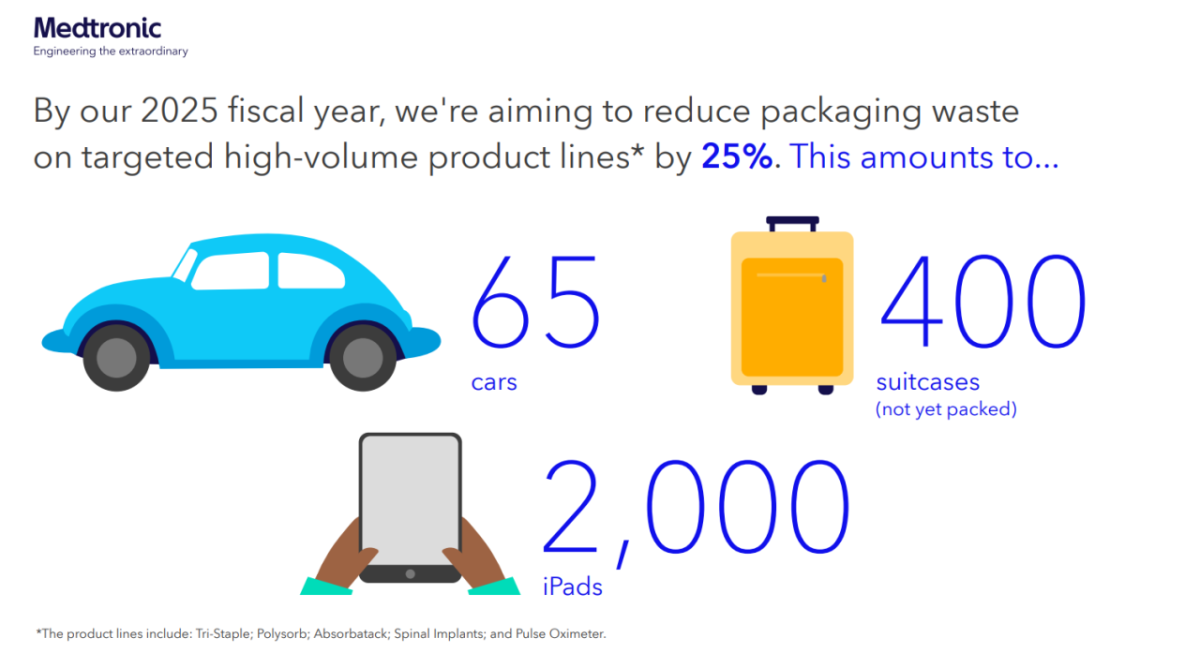 Globally, less than 15% of waste gets recycled each year. Even more staggering, less than 1% of medical waste gets recycled.* Type of Content Article Layout Standard Format Body
As part of our commitment to operate sustainably, Medtronic is working to set an example for how our industry can reduce waste generated from the packaging of medical devices. And one way we do that is by making intentional design choices that optimize our use of packaging materials to avoid the unnecessary generation of waste.
The Medtronic Sustainability Development Center (SDC) continuously develops and introduces innovative and sustainable products and packaging. The team's goal is to improve patient and community health and reduce life-cycle environmental impact. The SDC applies concepts like eco-friendly design, product circularity, and recyclability to meet and anticipate emerging regulatory requirements and to support customer requests.
By the end of our 2025 fiscal year, our ambition is to reduce packaging waste on select product linesii by 25%. While seemingly straightforward, reducing packaging waste in a highly regulated industry is anything but. Required information and packaging alone make this challenging. Let's put the potential impact into context.
How much is 25% of packaging waste, really?
Small changes lead to a big impact. Executing on this goal is projected to lead to a reduction of approximately 130 tons of packaging material.
This amount is roughly equivalent to the weight of more than 60 cars, 400 suitcases (before they're packed!), or about 2,000 iPads.
And we're just getting started. The next step in this waste reduction journey is looking further into product circularity and life cycle design. This could be keeping product packaging in use for as long as possible or recovering packaging materials to make new packaging.
And when it comes to sustainability commitments, packaging waste is just one piece of the puzzle. There are a number of ways we're working to influence sustainability in our industry and reduce our environmental impact. You can learn more about our commitments to the planet here and in our 2023 Sustainability Report.
*Internal Medtronic data
ii The product lines include: Tri-Staple; Polysorb; Absorbatack; Spinal Implants; and Pulse Oximeter
Distribution Settings Markup
Date and Time are ET. We may take up to two hours to approve confirmed content. Content is reviewed for publishing: Monday-Wednesday 8 a.m. -8 p.m. ET , Thursday-Friday 8 a.m. -6 p.m. ET
Layout Advanced Publish on CSRWire On Skip Accesswire No
* All content is copyrighted by Industry Intelligence, or the original respective author or source. You may not recirculate, redistrubte or publish the analysis and presentation included in the service without Industry Intelligence's prior written consent. Please review our terms of use.