November 9, 2023 (press release) –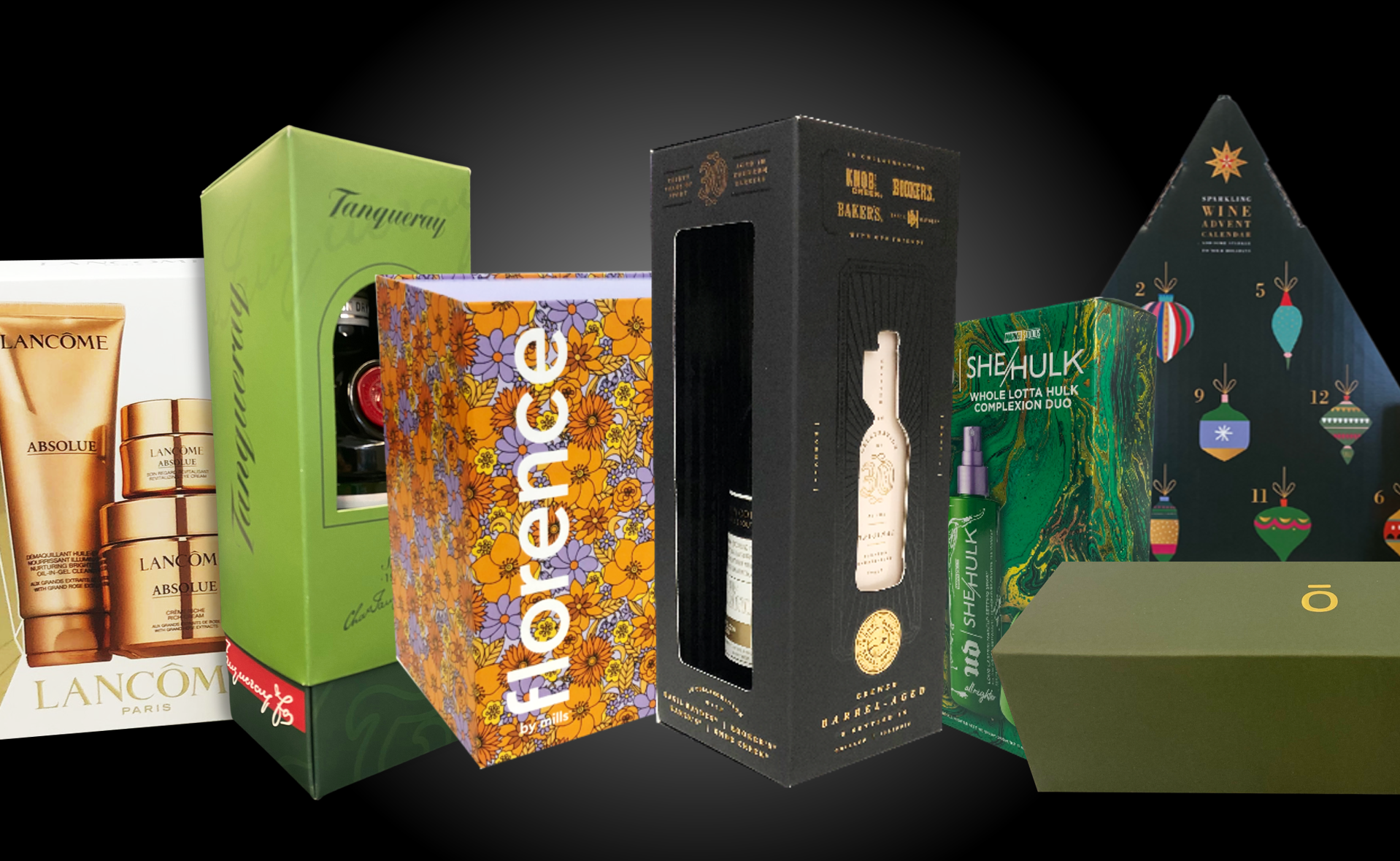 JohnsByrne is pleased to announce that we've received an impressive seven awards in the categories of Innovation and Sustainability at the 80th Anniversary of the North American Paperboard Packaging Competition. We're honored to be recognized as an industry leader of paperboard packaging.
Our award-winning packaging is a testament to our capabilities and dedication in support of client partnerships to develop creative, cutting-edge, and environmentally friendly folding cartons, promotional packaging and rigid boxes that truly 'Presses the Limits'.
We'll take a closer look at each of these award-winning packages to provide insight on our client collaborations as a go-to premium packaging provider for leading national and global brands.
Goose Island Bourbon Stout 30th Anniversary
Gold Award: Sustainability, Innovation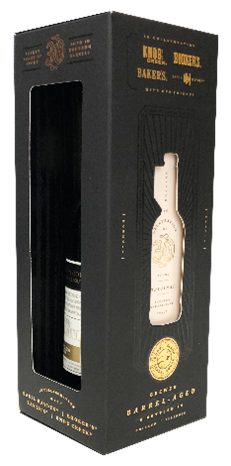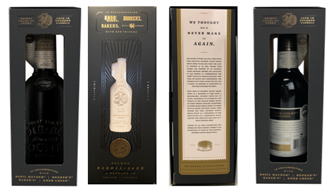 Goose Island Beer Company, a Chicago brewery named after a nearby island and pioneer of bourbon barrel-aged beer, granted us the opportunity to produce the package to showcase the 30th anniversary of their Bourbon County Stout.
While providing samples to drive inspiration, our client ultimately decided that a two-piece side loading slipcase and tray would provide the most unique package. We designed a structure that included windows on the front and back to showcase the 16.5 oz. Bourbon County Stout. To create a unique unboxing, we crafted a creative concept that featured a die cut image of the bottle on the left side of the slipcase for end users to push the tray open and slide out the inner carton.
Our collaboration for the 30th Anniversary of the Bourbon County Stout resulted in a highly decorated paperboard structure.
Printed on a 24pt stock, utilizing 4-color process, (2) PMS inks, and gold foil stamping throughout to create contrast.
The look of charred barrel on the interior structure was designed using soft touch, spot gloss, and emboss patterns to create a wood grain, tactile feel.
The stock included 10% PCW, the brand's 30th anniversary paperboard package is sustainable and fully curbside recyclable.
Freixenet Mionetto's Holiday Advent Calendar
Gold Award: Innovation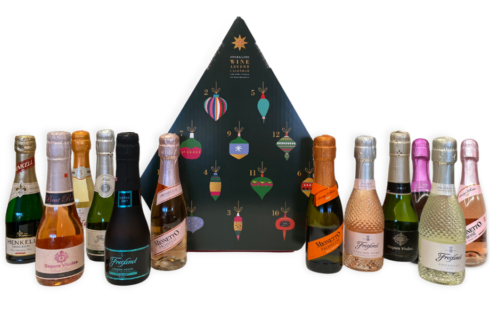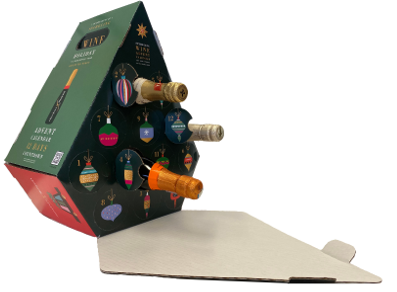 Freixenet Mionetto USA is one of the largest sparkling wine companies with global success drawn from an equal blend of quality, passion, and innovation.
The brand called on us to manage the production of their holiday program; an advent calendar that would house 12 of their specialty crafted sparkling wines. Freixenet specified the need for quick turnaround and a cost-effective design that would allow for flexibility of product placement.
Our structural engineers developed prototypes based on creative concepts the brand desired: a structure that resembled a Christmas tree. While the concept would pose more challenges than that of a standardized, rectangular structure, the tree format was viewed as more of a unique structure that embodied the spirit of the holiday season.
Our development team improved the overall design by compressing the concept's initial size, ensuring sustainability while continuing to support the project's creative integrity. We also recommended an additional panel for the outer carton to serve as a protective layer for avoiding potential tampering in the retail setting.
Due to the size and weight of the package, it was designed to be ergonomically carried by the handle for ease of transport by the consumer. Retailers were also able to stack the individual Christmas tree package to form an in-store Christmas tree.
Florence by Mills Advent Calendar
Gold Award: Sustainability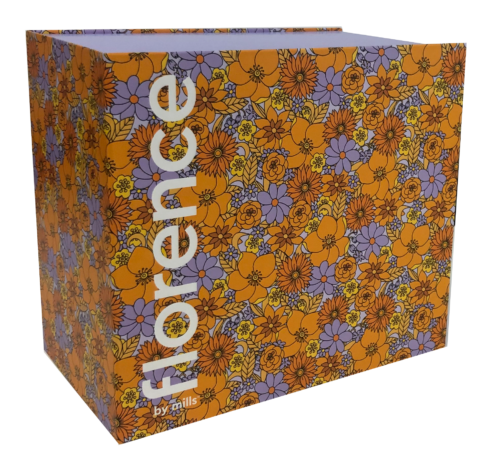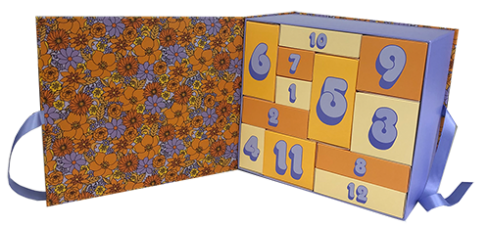 florence by mills is a brand made with love by Mille Bobby Brown (the well-known Stanger Things actress, also known as Mills.) Her brand was looking for a new domestic supplier for their Peace, Love, and Florence advent calendar in time for the holiday season. While quick turnaround was an essential priority, the calendar also needed to be high quality to reflect the clean, non-toxic qualities of the brand.
Our structural engineering team worked with florence by mills team to develop a fun, colorful, and interactive 12-day advent calendar featuring their skincare and cosmetic products as well as an ornament for the last day in individual cartons nested inside of a keepsake box.
The finished package includes:
FSC stock used throughout the package.
Fully recyclable and biodegradable materials.
A keepsake box that can be repurposed and is reusable.
Lancôme Holiday
Gold Award: Sustainability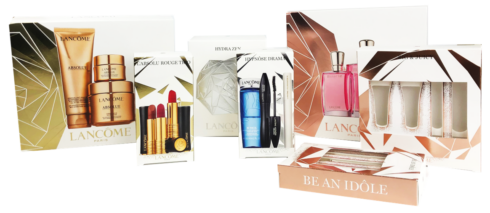 For the Holiday line, Lancôme was looking to create packaging featuring a flower pattern created in France by one of their designers. A digital comp of the pattern was provided for reference for our team to begin developing a luxury packaging solution including folding cartons and rigid boxes that also needed to be fully recyclable.
To achieve this, we:
Translated the pattern into multi-level embossing creating a microetched effect combined with matte and gloss coatings to add dimension and fine detail.
Used gold, silver and rose gold foil cold foil for the packaging and hot stamping for the inner paperboard trays.
As part of L'Oréal's commitment to sustainability, FSC paperboard and chipboard were used along with paperboard trays to replace traditional thermoform tray, making the entire package recyclable.
The entire packaging line also features a very detailed and dimensional rose pattern across the set of 9 rigid boxes with sleeves and 18 folding cartons.
Urban Decay 'She Hulk' Folding Carton
Gold Award: Innovation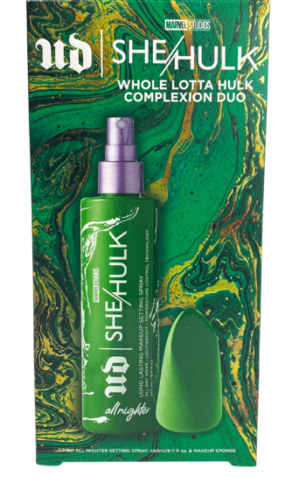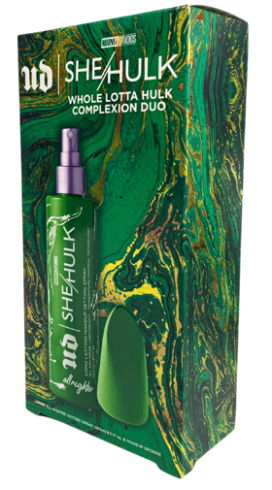 Urban Decay teamed up with Marvel Studios to promote the new comedy series, She Hulk, now streaming on Disney+. The promotional kit helped fans get ready for the show's premiere by releasing a limited edition set of one of their "hero" SKUs – the iconic, All Nighter Setting Spray with expandable sponge.
We engaged the Urban Decay team with ideas on how to best execute their desired decorative embellishments while providing cost saving solutions. Our team developed a plan to explore different finishes and printing techniques that would maintain the creative integrity of the client provided artwork.
Ink drawdowns and technical findings were provided to our clients to better understand the benefits of hot foil vs. cold foil while using a 4-color process to enhance the print.
An 18pt stock was selected to provide a premium feel package that was also lightweight. Stabilizers were added to the bottom of the carton to provide on-shelf stability. Featuring rainbow holographic hot foil stamping, multi-level embossing and a matte and gloss finish, the unique decoration on this paperboard folding carton really packs a punch!
Diageo Tanqueray Gift Box
Excellence Award: Innovation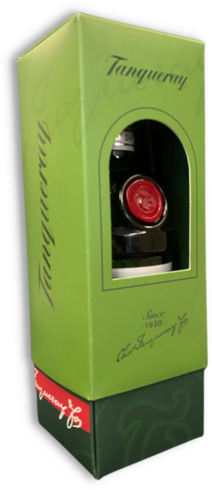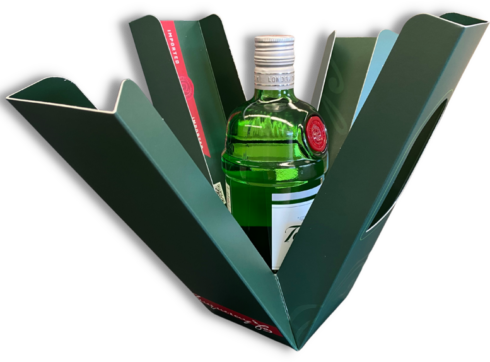 As part of helping our partners boost their visibility in the marketplace, JohnsByrne provided support to the Tanqueray brand by developing an interactive, 2-piece carton for Diageo to gift to influencers and distributors. Both teams collaborated from concept to completion to develop this unique and impressionable packaging design: a vertical telescoping SBS box with a flower layflat reveal.
We worked closely with the customer to fit the artwork and the special challenges the flowering base created for art crossovers. Use of tone-on-tone blind spot gloss UV on the base creates a modern look.
doTERRA Malama Holiday Kit
Excellence Award: Innovation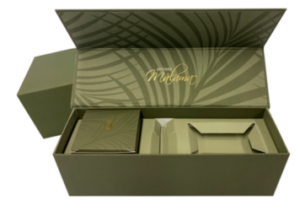 Our clients at doTERRA came to our team with an ask to manage their Malama Collection Holiday rigid box with an overwrap, insert tray, and carton.
We worked with the client to develop this creative concept as they were looking for a structure and enhancements that would bring the packaging to life.
To provide a premium unboxing experience for the 3 kit SKUs, the structure was wrapped and lined with a magnetic closure and featured tactile finishes including an overall soft touch and foil stamp throughout the design.
Visit JohnsByrne.com to learn more about our sustainable packaging solutions and innovation process for collaborating with clients to understand their brand direction, product vision and desired high-impact result. From our innovative structural design and sustainable packaging solutions to our robust printing and finishing capabilities, we look forward to continuing to 'Press the Limits' with our clients to help them be successful and build their brands.
* All content is copyrighted by Industry Intelligence, or the original respective author or source. You may not recirculate, redistrubte or publish the analysis and presentation included in the service without Industry Intelligence's prior written consent. Please review our terms of use.