Chocolate is sensitive to light, heat and air. Traditionally, confections and truffles are packaged individually in plastic wrappers or into plastic trays within a box. With its new truffle packaging, Kultasuklaa wanted to reduce the use of plastic and thereby reduce the environmental impact of its products, without compromising the shelf life of its valuable ingredients.
Lightweight protection with locally produced quality
In addition to reducing plastic, it was important for Kultasuklaa that the raw materials used for the packaging were locally sourced and ethically produced. "Many of the raw materials we use in our chocolate products travel to us from far away. Therefore it was important for us to be able to produce the packaging locally from local raw materials," says Juri Kaskela, chocolate entrepreneur at Kultasuklaa.
MetsäBoard Prime FBB EB, a barrier paperboard suitable for direct food contact produced at Metsä Board's Kyro mill, was chosen as the material for the packaging. Thanks to its dispersion barrier coating, the paperboard has a medium-strength protection against grease and moisture needed for chocolate products. The material is light but strong and is suitable for offset, flexo and digital printing.
Thanks to the dispersion coated paperboard, there was no need for separate plastic parts and the entire truffle package is now easily recyclable. The bright surface of the fresh fibre board led to excellent printing results.
Collaboration for an innovative and distinctive packaging design
Kultasuklaa wanted the shape of the packaging of their truffles to stand out from the traditional boxes. The structure of the packaging was produced by CadPack, the layout was designed by DesignCompany and the printing was done by Markprint.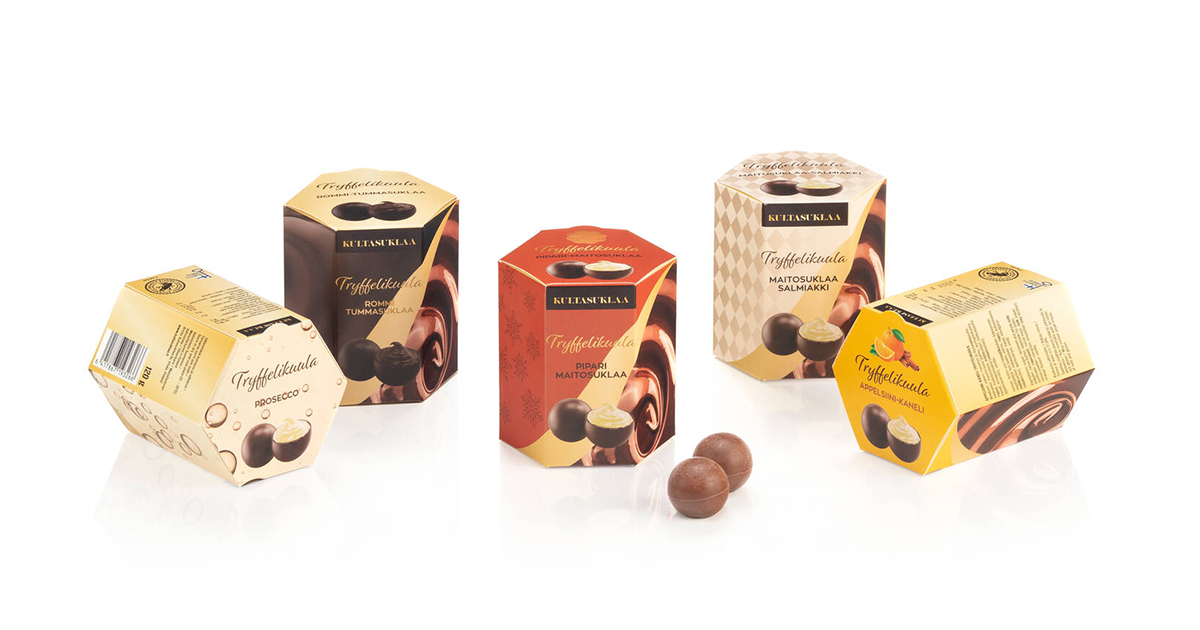 The hexagonal design makes the packaging stand out on the store shelf. The distinctive shape was also intended to encourage consumers to buy the packaging as a gift. The new shape suits the round truffles perfectly and they can now be packed tightly without wasted space. The truffles are also easy to store in their sales packaging, as the lid is easy to open and close.
Different layouts were designed for different flavours. The hexagonal shape allowed for multiple printing surfaces. All the outer surfaces of the packaging were used and the mandatory food labelling easily found its place.
The collaboration between several partners of different sizes resulted in a functional and distinctive solution that reduces plastic. "It was great to see companies of different sizes working together on this project. It felt good that Metsä Board also took smaller players like Kultasukla into account with its services," Kaskela concludes.