November 6, 2023 (press release) –

Australian drinks brand Mother of Pearl Vodka of the Sea is staging the World Launch of its IWSC award-winning grape-based vodka in Frugalpac's revolutionary paper Frugal Bottle at the first-ever Bar Convent Singapore trade show on 6-7 November.

It is the first Australian brand to launch in a Frugal Bottle – the world's first and only commercially available paper bottle for wines, spirits and olive oils – and is exhibiting at Pasir Panjang Power Station in the Emerging Brands Pavilion in Booth B-21/6.

The Singapore launch comes just weeks after the Mother of Pearl paper bottle was shown to Queen Camilla during the King and Queen's visit to Bordeaux in France.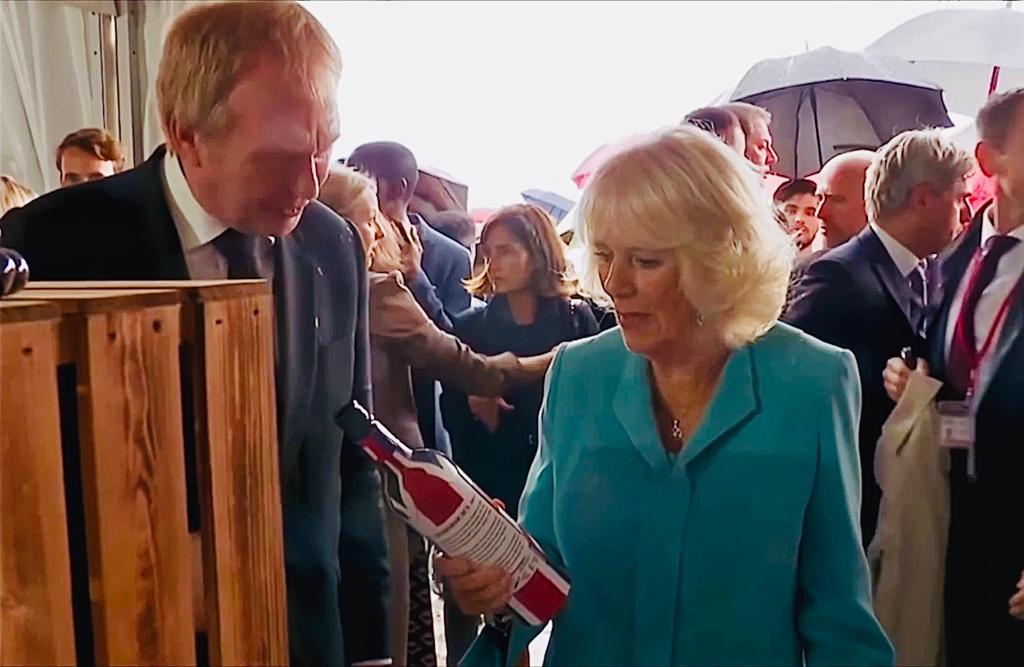 (Queen Camilla and Mother of Pearl Vodka's paper bottle on display (centre – top) in Bordeaux, France, with Frugalpac CEO Malcolm Waugh)

Made from 94% recycled cardboard, Frugal Bottles are five times lighter and have a carbon footprint six times lower than glass bottles – using less energy to produce, transport and dispose of than glass equivalents.

Weighing just 83g (before filled), the bottles have a food grade pouch inside to contain the liquid and also offer 360° branding for exceptional, impactful shelf presence.

More than 35 different drinks producers from around the world have launched 128 different SKUs of wines, spirits and olive oils in the Frugal Bottle since 2020. The paper Frugal Bottles also appear in the No1 watched Netflix show 'Bodies.'

Melbourne-based Mother of Pearl Vodka co-founders Nic Hancock and Nicola Thompson Hancock adopted the sustainable packaging to reflect their respect for Australia's pristine environment and their outdoor antipodean lifestyles.

Co-founder Nic Hancock said: "Nicola and I are proud to be the first Australian producers to use the Frugal Bottle for our premium grape-based vodka and we are thrilled to be holding the world launch of the Mother of Pearl Vodka of the Sea paper bottle at Bar Convent.

"With my background in 5-star hospitality, I love that we're bringing a stylish, innovative product to the Australian and Southeast Asian drinks markets which not only cuts our carbon footprint but will help reduce the hospitality industry's carbon footprint too.

"The opportunities for this shatterproof, lightweight packaging are huge and we're delighted to be early adopters of it and excited to see how far we can push into new markets."

Co-founder and Business Development Director, Nicola Thompson Hancock added:

"We've worked hard to create a fantastic vodka for a discerning audience. As women have more taste buds than men, we've crafted a drink that plays to the feminine palate by filtering the distilled vodka through coconut husks and charcoal, to create a smooth creaminess that removes any 'burn'.

"What we have is a naturally gluten free vodka with zero sugar, made in Melbourne from late-off-the-vine pinot gris grapes for a full-bodied flavour.

"We believe it's exceptional – and have two IWSC awards to prove it – and can't wait to see what the future holds.

Malcolm Waugh, CEO of Frugalpac said: "We're delighted to see Mother of Pearl become the first Australian drinks producer to launch in our paper Frugal Bottle.

"More than 35 brands are already using the Frugal Bottle for wine and spirits around the world and we welcome Nic and Nicola to the paper bottle revolution and wish them every success."

This year the Frugalpac was named SME of the Year in the UK Green Business Awards and the Innovation of the Year award winner at the East Anglian Daily Times Business Awards 2023.

Frugalpac calls on all wineries, distillers, contract fillers and packaging businesses to invest in the Frugal Bottle Assembly Machines to meet the high demands for the Frugal Bottles around the world to reduce carbon and increase their sales of the wines, spirits and packaging.

Ends

Notes to Editors.

For interviews, please contact Nicola Thompson Hancock on: +61 403 278 291

An independent Life Cycle Analysis carried out by Intertek which tested the Frugal Bottle alongside bottles made from glass and PET plastic, found:
The Frugal Bottle has the lowest carbon footprint with 91.9g CO2e – 84% lower than a 440g imported glass bottle (558.2g CO2e) and 34% lower than a bottle made from 100% recycled plastic (138.6 g CO2e)
The Frugal Bottle's carbon footprint was even four times less than a 345g lightweight glass bottle made in the UK (382g CO2e)
The Frugal Bottle uses up to 77% less plastic than a plastic bottle. Only 15 grams against a 64g wine bottle made from 100% recycled plastic
The Frugal Bottle's water footprint is at least four times lower than a glass bottle. It takes 2.5 litres of water to make a lightweight 345g glass bottle made in the UK but only 0.6 litre to make a Frugal Bottle
The LCA looked at the 'cradle to grave' life cycle of all bottles, including mineral extraction, manufacture, transportation, distribution, filling and recycling or incineration.

About the Frugal Bottle
It's lighter. The Frugal Bottle weighs just 83g so it is up to five times lighter than a normal glass bottle, making it easier to carry and lighter to transport.
It's better for the environment. An independent Life Cycle Analysis by Intertek found the Frugal Bottle, which is made from recycled paperboard with no chemicals, has a carbon footprint up to six times (84%) lower than a glass bottle and more than a third less than a bottle made from 100% recycled plastic. The Frugal Bottle's water footprint is also at least four times lower than glass.
It's easy to recycle again. Simply separate the plastic food-grade pouch from the paper bottle and put them in your respective recycling bins. The food grade pouch is certified recyclable and is a polyethylene metallised polyester laminate, the same material used in bag in box wines.
It uses less plastic than a plastic bottle. The Frugal Bottle uses up to 77% less plastic. Only 15g compared to a 64g bottle made from 100% recycled plastic. The food grade pouch is a polyethylene metallised polyester laminate, the same material used in bag in box wines. It is recyclable.
It stands out. As the Frugal Bottle is made from recycled paperboard, it allows for 360-degree branding across the bottle. No other wine or spirits bottle looks or feels like it, so it stands out on shelf and table.
It's better for drinks producers. The Frugal Bottle can be produced in the heart of their bottling facility, offers complete freedom on design and print, is more cost effective to transport than glass bottles while reducing their carbon footprint further.
About Mother of Pearl Vodka

Mother of Pearl, is a premium grape vodka inspired by Australia's pristine waters, blending coastal minerality with a smooth, creamy, pearl-like finish. It is Australia's 'vodka of the sea' redefining Australia's premium vodka market.

Crafted by hand using Australian premium reserve grapes, this fresh and youthful vodka is soft and rounded on the palate, distilled using only the purest mineral water, with a refined 40% alcohol content.

The brainchild of hotelier and restaurateur Nic Hancock and international fashion brand director Nicola Thompson-Hancock, the Mother of Pearl story started while visiting a friends oyster farm in Australia's far north.

We were completely in awe of the majestic and sheer natural beauty of the area. As we learnt more about the pristine environment required to create the perfect pearl from the Pinctada oyster shell, the importance of water quality and the perfect balance of elements, it all fell into place to create a vodka complementing the Australian South Sea Pinctada Pearls.
* All content is copyrighted by Industry Intelligence, or the original respective author or source. You may not recirculate, redistrubte or publish the analysis and presentation included in the service without Industry Intelligence's prior written consent. Please review our terms of use.