Sysco Corporation (NYSE:SYY), announced today that its specialty produce company, FreshPoint, has agreed to acquire BIX Produce , a leading produce specialty and fresh cut distributer based in Minnesota . Founded in 1930, BIX Produce primarily services a broad range of restaurant and other foodservice customers in Minnesota , Wisconsin , the Dakotas, Illinois and Iowa .
FreshPoint plans to retain all BIX Produce colleagues, and the current management team will remain in place. The acquisition provides a strategic opportunity for FreshPoint to:
Expand its geographic footprint in an area of the country where it does not currently have operations,
Strengthen specialty produce offerings to its customers, including fresh cut and grab-and-go items, and
Add a custom, high-quality 200,000 sq. ft. production and warehouse facility to its operations.
"As we continue to invest in our specialty businesses, BIX Produce is an outstanding addition to our family of companies, reinforcing our Recipe for Growth strategy and helping our customers succeed through industry-leading people, products and solutions," said Greg Bertrand , Sysco's Executive Vice President, US Foodservice Operations.
In addition to whole produce and fresh cut items, BIX Produce also offers a full line of chef crafted, grab-and-go products including options across categories such as breakfast, fruit cups, veggie cups, parfaits, puddings, power snack packs, salads, wraps and sandwiches.
The acquisition is subject to regulatory approval and other customary closing conditions.
About Sysco
Sysco is the global leader in selling, marketing and distributing food products to restaurants, healthcare and educational facilities, lodging establishments and other customers who prepare meals away from home. Its family of products also includes equipment and supplies for the foodservice and hospitality industries. With more than 71,000 colleagues, the company operates 333 distribution facilities worldwide and serves approximately 700,000 customer locations. For fiscal year 2022 that ended July 2, 2022 , the company generated sales of more than $68 billion . Information about our Sustainability program, including Sysco's 2022 Sustainability Report and 2022 Diversity, Equity & Inclusion Report, can be found at www.sysco.com.
For more information, visit www.sysco.com or connect with Sysco on Facebook at www.facebook.com/SyscoFoods. For important news and information regarding Sysco, visit the Investor Relations section of the company's Internet home page at investors.sysco.com, which Sysco plans to use as a primary channel for publishing key information to its investors, some of which may contain material and previously non-public information. In addition, investors should continue to review our news releases and filings with the SEC . It is possible that the information we disclose through any of these channels of distribution could be deemed to be material information.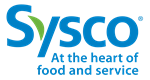 Source:
Sysco Corporation