August 2, 2023 (press release) –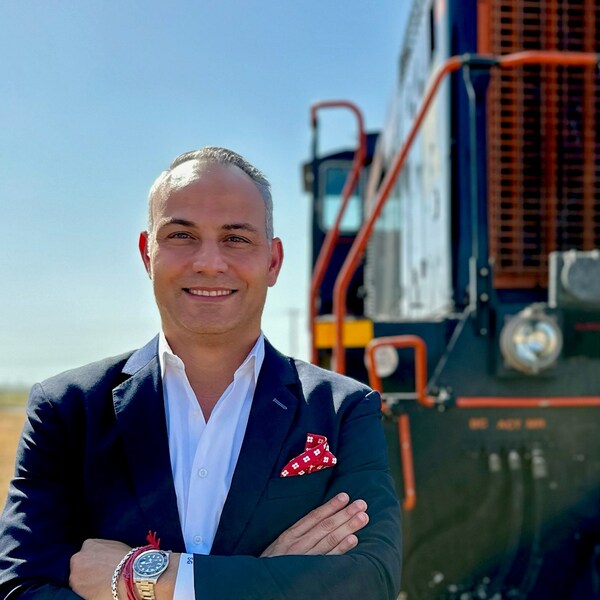 OmniTRAX, a comprehensive supply-chain and logistics solutions provider, and the transportation affiliate of The Broe Group, has named former Amazon global supply chain executive, Shariff Gonnella, President of The Brownsville & Rio Grande International Railway, LLC (BRG). Gonnella's vast experience developing global infrastructure and international transportation strategies will help reshape the role that the Port of Brownsville plays in North America's port capacity. The appointment follows announcements of major Brownsville area projects, including a state-of-the-art space port and the largest greenfield energy project in the history of the United States.
"Texas has continued to shoulder record-breaking freight volumes – stretching shipping infrastructure capacity to its limits – and Brownsville offers global shippers the much-needed optionality and efficiency to reach worldwide markets," said OmniTRAX President and COO Sergio Sabatini. "Shariff's vast experience creating international infrastructure capacity and his bold vision to transform the BRG into a dynamic, global freight gateway are the ideal skills to help us meet the ongoing demands of near shoring and international trade."
Demand for efficient global supply chain solutions is at an all-time high and Texas continues to process some of the highest port volumes in the nation. International freight processed at the Port of Laredo alone eclipsed volumes at the ports of Los Angeles and Chicago in 2023, making Laredo the top international trade port in the United States. The Port of Brownsville offers expanded capacity and optionality to relieve the pressure of strained demand. BRG is poised to serve as a critical international transportation artery that offers unparalleled shipping efficiency for US and Mexico imports and exports.
"The Port of Brownsville is excited to welcome Shariff Gonnella to our community," said Esteban Guerra, Chairman of the Board of Commissioners for the Port of Brownsville. "We are looking forward to continued collaboration with Shariff and our valued partners at OmniTRAX. Our team is committed to work together to bring economic growth to the Port and the entire Rio Grande Valley."
The BRG provides exclusive rail transportation to all facilities located within the 40,000-acre Brownsville Navigation District at the Port of Brownsville. With key cross-border rail interchanges that connect to the Union Pacific and CPKC railroads, BRG is a strategic import and export artery between the US and Mexico with the capacity to become a complementary trade corridor that offers relief from the growing capacity strains at the Port of Laredo.
"I am honored to join a dynamic OmniTRAX team that shares a vision about the critical importance of international transportation strategies and the bold role the BRG can play," said Shariff Gonnella. "The BRG presents a unique opportunity to create an unrivaled global gateway that redefines the very landscape of our industry and I'm excited to join forces with my colleagues to forge the relationships to make that possible."
Gonnella succeeds retiring BRG President Norma Torres and begins his new role on August 1. Prior to his time at Amazon, Shariff held key strategic leadership and commercial positions at Convoy, Cargolux Airlines, and Singapore Airlines, leaving an indelible mark across the United States and Latin America.
About OmniTRAX, Inc.
As one of North America's largest and fastest growing private railroad and transportation management companies, OmniTRAX's core capabilities range from providing transportation and supply chain management services to railroad and port companies, to providing intermodal and industrial switching operations to railroads, ports and a diverse group of industrial companies. Through its affiliation with The Broe Group and its portfolio of managed companies, OmniTRAX also has the unique capability of offering specialized industrial development and real estate solutions, both on and off the rail network managed by OmniTRAX. For more information visit omnitrax.com.
About The Broe Group
Founded in 1972, The Broe Group is a private, multi-billion-dollar investment group with diversified holdings in real estate, rail, infrastructure, energy, agriculture, water, healthcare and technology throughout 37 North American states and provinces. Its deep operational knowledge derived from owning and operating multi-billion-dollar businesses and the global economic insights gleaned from serving its vast Fortune 500 clientele are strategic differentiators. The Broe Group's entrepreneurial focus enables it to find true value wherever it resides. For more information, visit broe.com.
* All content is copyrighted by Industry Intelligence, or the original respective author or source. You may not recirculate, redistrubte or publish the analysis and presentation included in the service without Industry Intelligence's prior written consent. Please review our terms of use.