October 12, 2023 (press release) –
- The new Factory will recycle waste metal into raw material -
- TOKYO, Japan, October 12, 2023 -
Epson Atmix Corporation ("Atmix"), a group company of Seiko Epson Corporation (TSE: 6724, "Epson"), will invest 5.5 billion Yen in plant and equipment on the construction of new factory, a sustainable metal refinery that will recycle waste metal to produce the raw material for metal powder.
In July 2022, Atmix concluded an agreement with Hachinohe City in Aomori, Japan, to purchase the site for the factory, lot No. 16, in the Hachinohe Kita Inter Industrial Park. A groundbreaking ceremony was held today, and construction is scheduled to start on October 15, 2023. The factory is expected to begin operations in June 2025.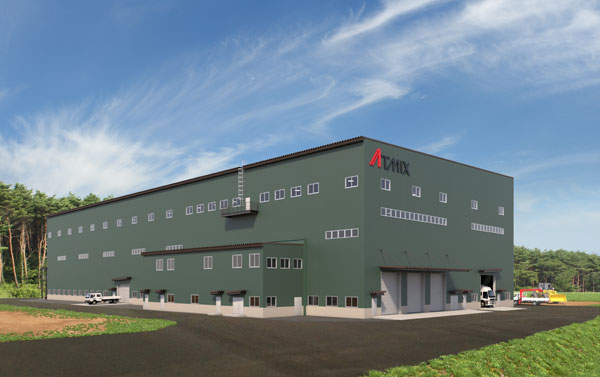 As stated in its Environmental Vision 2050, Epson seeks to become carbon negative and underground resource1 free by 2050 with the aim of achieving sustainability and enriching communities. Part of Epson's environmental strategy, outlined in the Epson 25 Renewed corporate vision, is to develop environmental technologies for recycling materials such as metal and paper and to use the resulting technologies and solutions to create new businesses.
Atmix recognizes that sourcing virgin materials will likely become more challenging due to underground resource scarcity and soaring metal prices. The new factory is aimed at mitigating risk by manufacturing metal powders from recycled metal resources.
As a facility for recycling metal for use in producing metal powders, the new factory will be outfitted with a high-frequency induction furnace for melting metals, an AOD refining furnace for removing impurities from metals, and a casting machine for forming ingots.
Atmix will use the new factory to recycle unwanted metals from various sources, including out-of-specification metal powders in manufacturing processes at Atmix, metal scraps generated within Atmix, and metal end cuts and used molds discarded by the Epson Group. These unwanted metals will be reused as raw materials for Atmix's metal powders. Virgin materials such as high-purity iron from blast furnaces will be replaced with recycled metal materials, conserving underground resources and reducing CO₂ emissions.
The introduction of a new refining process will better enable Atmix to develop next-generation high-performance powders, improve their magnetic properties, and enhance its amorphous forming capability, thereby contributing to the realization of a new generation of compact and energy-efficient devices.
The new factory is a step on the path to reaching Epson's goal of becoming underground resource1 free by 2050, as started in Environmental Vision 2050.
1 Non-renewable resources such as oil and metals
New Factory Overview
| | |
| --- | --- |
| Address: | 111-2, 4-chome Hachinohe Kita Inter Industrial Park, Hachinohe City, Aomori Prefecture, Japan |
| Investment: | Approx. 5.5 billion Yen (plant and equipment, excluding property) |
| Lot area: | Approx. 29,000 m² |
| Buildings: | Factory building 3,617 m², substation building 345 m², office 356 m² |
| Equipment: | High-frequency induction furnace, AOD refining furnace, casting machine, etc. |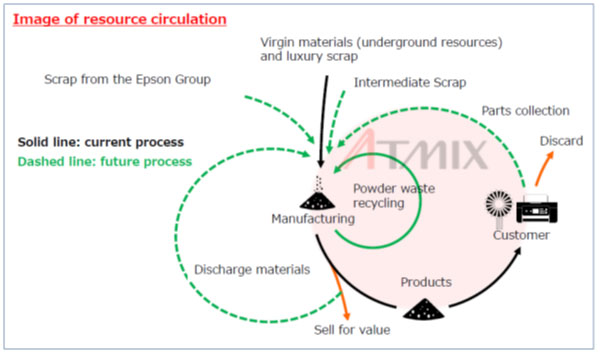 For information about Environmental Vision 2050, please visit the website below.
corporate.epson/en/sustainability/environment/vision/
About Epson
Epson is a global technology leader whose philosophy of efficient, compact and precise innovation enriches lives and helps create a better world. The company is focused on solving societal issues through innovations in home and office printing, commercial and industrial printing, manufacturing, visual and lifestyle. Epson's goal is to become carbon negative and eliminate use of exhaustible underground resources such as oil and metal by 2050.
Led by the Japan-based Seiko Epson Corporation, the worldwide Epson Group generates annual sales of more than JPY 1 trillion.
corporate.epson/en/
---
* All content is copyrighted by Industry Intelligence, or the original respective author or source. You may not recirculate, redistrubte or publish the analysis and presentation included in the service without Industry Intelligence's prior written consent. Please review our terms of use.