CENTER VALLEY, Pennsylvania , April 25, 2023 (press release) –
Company to showcase the iTind™ procedure for BPH treatment, SOLTIVE™ SuperPulsed Thulium Fiber Laser, and expanded stone management portfolio at American Urology Association meeting
Olympus Corporation, a global medical technology company committed to making people's lives healthier, safer, and more fulfilling, will highlight its minimally invasive portfolio for the treatment of enlarged prostate, urinary stones and bladder cancer during the American Urology Association (AUA) annual meeting April 28-May 1 in Chicago.
The Olympus booth will feature hands-on demonstrations of:
ShockPulse-SE™ system, SOLTIVE™ Premium SuperPulsed Laser System and EMPOWER™ laser for kidney and bladder stone management.
The iTind procedure for the treatment of benign prostatic hyperplasia (BPH) or enlarged prostate.
A versatile electrode portfolio for plasma resection and vaporization for the treatment of BPH and bladder tumors, including the PlasmaButton™ and PlasmaLoop™ electrodes.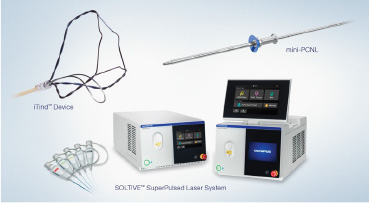 Olympus will also highlight its expanded stone management portfolio, including the Mini-PCNL system and new stone retrieval baskets. The Mini-PCNL system consists of four sheaths in different lengths, two single-step dilators and one mini-nephoscope and enables a suction effect.1 A hands-on demonstration and skills challenge in the Olympus booth using the Mini-PCNL system to remove stones from a kidney model will be available to all AUA attendees.
Olympus will also sponsor "Device Tech Talks" to present the SOLTIVE SuperPulsed Laser and the iTind procedure in the Science and Technology Hall, Booth #2348. An Olympus iTind product expert will discuss how the iTind device was invented, how it works and which patients are the ideal candidates for the procedure. Dr. Brian Eisner,2 an early adopter of the SOLTIVE SuperPulsed Laser, will discuss his firsthand experience with the use of thulium fiber laser for stone treatment.
Other iTind procedure presentations will include Dr. Christopher Hollowell, Dr. Rahul Mehan and Dr. Austin Younger3 discussing proper patient selection, their first-hand experiences and best practices for the new minimally invasive procedure.
Dr. Kenneth Kernen,4 a urologist with the Michigan Institute of Urology, will present the abstract "Temporarily Implanted Nitinol Device versus Prostatic Urethral Lift for Minimally Invasive Surgical Treatment of Benign Prostatic Hyperplasia with Lower Urinary Tract Symptoms: A Matching-Adjusted Indirect Comparison." The abstract compares the safety and efficacy of the iTind procedure to permanent prostatic urethral lift (PUL) treatment for BPH.
BPH affects approximately 50% of men between the ages of 51 and 60 and up to 90% of men over the age of 80.5 The iTind™ procedure involves the temporary placement of a nitinol device that slowly expands and reshapes the prostatic urethra. The device remains in place for five to seven days while the patient is at home. When removed, the procedure leaves three channels in the prostatic urethra through which urine can flow.
The Centers for Medicare and Medicaid Services (CMS) announced last year it would increase payment rates for the iTind procedure performed in the hospital-based outpatient department (HOPD) and Ambulatory Surgical Center (ASC). The final CMS CY2023 Outpatient Prospective Payment System (OPPS) Rule increases payment rates for code C9769 covering the iTind procedure in HOPD and ASC facilities. The rule changes are as follows:
In the HOPD, CMS reclassified the urology Ambulatory Payment Classification (APC) from a level 5 to a level 6, and CMS finalized a national average payment rate of $8,221.74 per procedure in OPPS payments.
In the ASC, CMS finalized a national average payment rate of $7,274.78 per procedure in ASC payments.
As with any medical procedure, the iTind procedure comes with the possibility of side effects, including pelvic discomfort, blood in urine, painful or urgent urination. In rare cases, the device may cause urinary tract infection or a sudden difficulty to urinate.
Visit the Olympus booth, #3015, during AUA and the urology product page for information on the complete urology portfolio.
# # #
A leading medical technology company, Olympus uses innovative capabilities in medical technology, therapeutic intervention, and precision manufacturing to help healthcare professionals deliver diagnostic, therapeutic, and minimally invasive procedures to improve clinical outcomes, reduce overall costs, and enhance the quality of life for patients. Olympus' portfolio includes endoscopes, laparoscopes, and video imaging systems, as well as surgical energy devices, system integration solutions, medical services, and a wide range of endotherapy instruments. For more information, visit medical.olympusamerica.com.
1Data on file with Olympus TREP_100-084-807_00
2Dr. Brian Eisner is a paid consultant for Olympus Corporation of the Americas
3Dr. Christopher Hollowell, Dr. Rahul Mehan and Dr. Austin Younger are paid consultants for Olympus Corporation of the Americas
4Dr. Kenneth Kernen is a paid consultant for Olympus Corporation of the Americas
5American Urological Association, Urologyhealth.org, "Urology A-Z: Benign Prostatic Hyperplasia." Updated September 2021, accessed March 29, 2023
i Criner GJ, Delage A, Voelker K, et al. Improving Lung Function in Severe Heterogenous Emphysema with the Spiration Valve System (EMPROVE): A Multicenter, Open-Label, Randomized, Controlled Trial. Am J Respir Crit Care Med. 2019;200(11):1354-1362. doi: 10.1164/rccm.201902-0383OC.
* All content is copyrighted by Industry Intelligence, or the original respective author or source. You may not recirculate, redistrubte or publish the analysis and presentation included in the service without Industry Intelligence's prior written consent. Please review our terms of use.