November 1, 2023 (press release) –
Broad-based execution drives further sales and earnings growth
Total Q3 2023 sales +10% and +16% ex COVID
Vaccines sales +33%, +34% ex COVID. Shingrix £0.8 billion +15%, Arexvy sales £0.7 billion
Specialty Medicines sales -1%, +17% ex COVID with HIV +15%
General Medicines sales -2% with impact of generic competition to older products, in part offset by Trelegy +23%
Total operating profit and Total continuing EPS reflects strong growth in the quarter and year to date with lower charges for contingent consideration liabilities remeasurement
Adjusted operating profit +15% and Adjusted EPS +17% reflects strong execution, resilient growth and higher royalty income in part offset by increased investment in R&D, new product launches and a seven percentage point operating profit reduction from lower COVID-19 solutions sales
Q3 2023
Year to Date
£m
% AER
% CER
£m
% AER
% CER
Turnover
8,147
4
10
22,276
1
2
Turnover ex COVID
8,146
10
16
22,102
12
13
Total operating profit
1,949
64
83
6,172
35
39
Total continuing EPS
36.1p
92
>100
113.0p
54
59
Adjusted operating profit
2,772
6
15
7,034
7
10
Adjusted operating margin %
34.0%
0.8ppts
1.7ppts
31.6%
1.7ppts
2.2ppts
Adjusted EPS
50.4p
7
17
126.2p
11
14
Cash generated from operations
2,508
32
4,415
(24)
R&D delivery underpins longer-term growth outlook
Arexvy approved in Japan as country's first RSV vaccine for older adults; positive preliminary phase III data in adults aged 50-59 presented at ACIP and support regulatory filings
New Shingrix data demonstrates 100% efficacy in preventing shingles in adults aged 50+ in China; copromotion partnership in China with Zhifei announced, set to begin in 2024
Apretude long-acting treatment approved for HIV prevention in EU; clinical development plans advancing for innovative long-acting treatment and prevention regimens with data anticipated in 2024
Ojjaara approved by US FDA as first and only line agnostic treatment for myelofibrosis patients with anaemia
Jemperli plus chemotherapy approved in US as new frontline treatment for endometrial cancer
Agreement to acquire worldwide rights to Janssen's JNJ-3989, which may have potential to further increase functional cure rates of bepirovirsen in chronic hepatitis B treatment
2023 guidance upgrade, Q3 2023 dividend of 14p declared, 56.5p expected for full year
Turnover to increase 12 to 13% (from 8 to 10%)
Adjusted operating profit growth 13 to 15% (from 11 to 13%)
Adjusted EPS growth 17 to 20% (from 14 to 17%)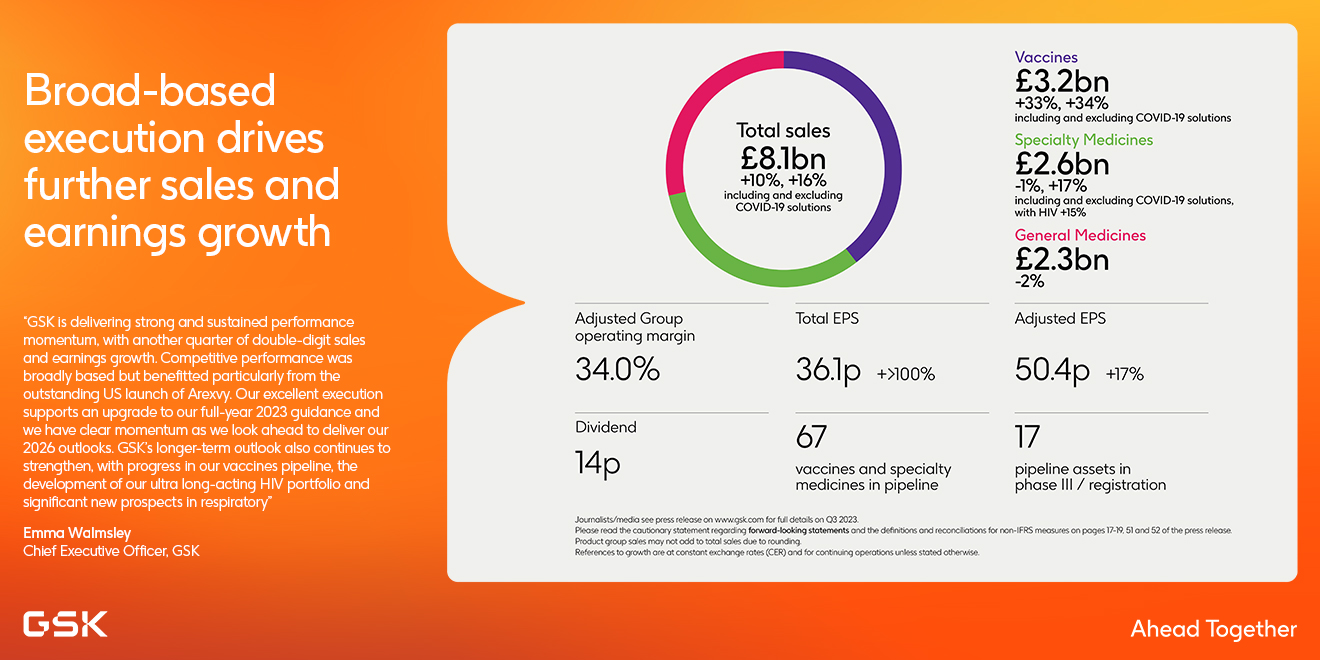 Emma Walmsley, Chief Executive Officer, GSK:
"GSK is delivering strong and sustained performance momentum, with another quarter of double-digit sales and earnings growth. Competitive performance was broadly based but benefitted particularly from the outstanding US launch of Arexvy, the world's first RSV vaccine. Our excellent execution supports an upgrade to our full-year 2023 guidance and we have clear momentum as we look ahead to deliver our 2026 outlooks. GSK's longer-term outlook also continues to strengthen, with progress in our vaccines pipeline, the development of our ultra long-acting HIV portfolio and significant new prospects in respiratory."
Assumptions and cautionary statement regarding forward-looking statements
The Group's management believes that the assumptions outlined above are reasonable, and that the guidance, outlooks, ambitions and expectations described in this report are achievable based on those assumptions. However, given the forward-looking nature of these guidance, outlooks, ambitions and expectations, they are subject to greater uncertainty, including potential material impacts if the above assumptions are not realised, and other material impacts related to foreign exchange fluctuations, macro-economic activity, the impact of outbreaks, epidemics or pandemics, changes in legislation, regulation, government actions or intellectual property protection, product development and approvals, actions by our competitors, and other risks inherent to the industries in which we operate.
This document contains statements that are, or may be deemed to be, "forward-looking statements". Forward-looking statements give the Group's current expectations or forecasts of future events. An investor can identify these statements by the fact that they do not relate strictly to historical or current facts. They use words such as 'anticipate', 'estimate', 'expect', 'intend', 'will', 'project', 'plan', 'believe', 'target' and other words and terms of similar meaning in connection with any discussion of future operating or financial performance. In particular, these include statements relating to future actions, prospective products or product approvals, future performance or results of current and anticipated products, sales efforts, expenses, the outcome of contingencies such as legal proceedings, dividend payments and financial results. Other than in accordance with its legal or regulatory obligations (including under the Market Abuse Regulation, the UK Listing Rules and the Disclosure and Transparency Rules of the Financial Conduct Authority), the Group undertakes no obligation to update any forward-looking statements, whether as a result of new information, future events or otherwise. The reader should, however, consult any additional disclosures that the Group may make in any documents which it publishes and/or files with the SEC. All readers, wherever located, should take note of these disclosures. Accordingly, no assurance can be given that any particular expectation will be met and investors are cautioned not to place undue reliance on the forward-looking statements.
All guidance, outlooks, ambitions and expectations should be read together with the guidance, assumptions and cautionary statements in this Q3 2023 earnings release and the 2022 Annual Report.
Forward-looking statements are subject to assumptions, inherent risks and uncertainties, many of which relate to factors that are beyond the Group's control or precise estimate. The Group cautions investors that a number of important factors, including those in this document, could cause actual results to differ materially from those expressed or implied in any forward-looking statement. Such factors include, but are not limited to, those discussed under Item 3.D 'Risk Factors' in the Group's Annual Report on Form 20-F for 2022. Any forward looking statements made by or on behalf of the Group speak only as of the date they are made and are based upon the knowledge and information available to the Directors on the date of this report.
* All content is copyrighted by Industry Intelligence, or the original respective author or source. You may not recirculate, redistrubte or publish the analysis and presentation included in the service without Industry Intelligence's prior written consent. Please review our terms of use.