LONDON , May 25, 2022 (press release) –
New pathways show how Europe's plastics systems can cut its dependence on fossil fuel, and accelerate the transition towards the EU's net zero carbon emissions and circularity goals.
Launched on 4 April, "ReShaping Plastics – Pathways to a Circular, Climate Neutral Plastics System in Europe" finds that a fully circular, net zero carbon emissions plastics system in Europe is possible, but achieving it will require radical innovation, ambitious policies, and significant capital investment. Cooperation between industry, government and civil society is the critical success factor underlying all of these.
The report focuses on four big plastics users: packaging, household goods, automotive, and construction. It presents six scenarios, outlining which actions should be prioritized for different plastic applications in order to meet circularity and climate mitigation goals.
"A new plastics system is within reach, but will require bold action. It needs industry, public sector, investors and civil society to come out of their 'trenches' and collaborate in a deeper way based on a shared fact-base – and that's what this programme aimed to provide.

Yoni ShiranProgramme Director and Partner, SYSTEMIQ
Current industry and policy actions would still leave a badly resource-inefficient system. Their changes are not fast or far-reaching enough to align with the European Green Deal or the Paris and Glasgow climate agreement.
The report finds that the next three to five years are critical: long technology maturity cycles and capex lock-in for large infrastructure investments mean that the decisions taken in the early 2020s will determine whether the European plastics system will meet targets by 2050.
Upstream and downstream solutions are complementary and are most effective when deployed together. Achieving net zero emissions by 2050 means further reducing GHG emissions and decoupling plastic from fossil fuel feedstocks. And to do this, multiple less mature, innovative technologies and approaches need to be developed and deployed, on top of the proven circular economy levers. The report calls this the 'Net Zero Systems Change Scenario'. Here's how that could look: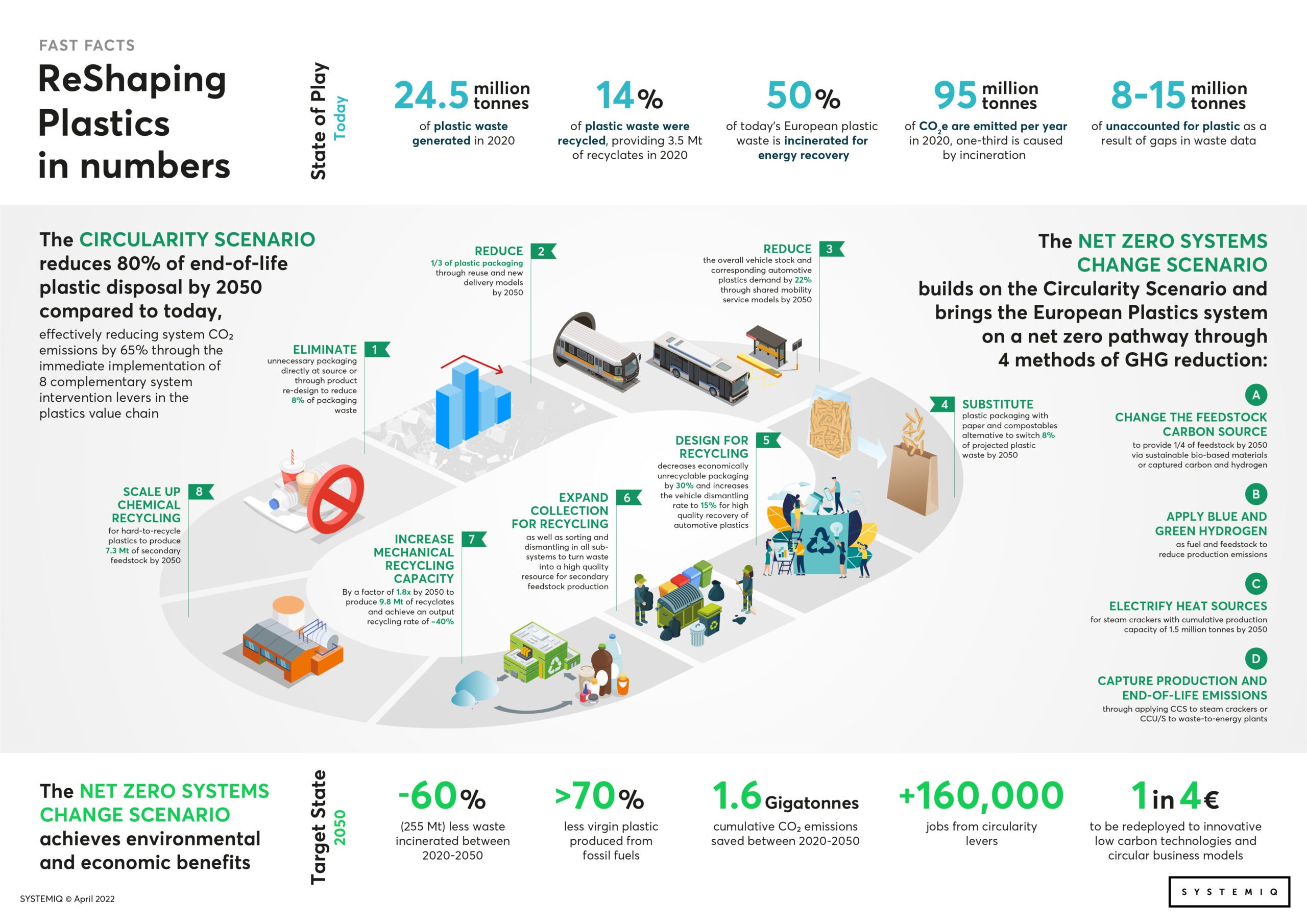 Find out more
Download the report resources here
READ THE RESHAPING PLASTICS REPORT
READ THE RESHAPING PLASTICS SUMMARY
Interested in learning more about what ReShaping Plastics means for you? Get in touch with plastic@systemiq.earth for more insight into the analytics behind the report, and how European industry can increase the pace of positive change.
* All content is copyrighted by Industry Intelligence, or the original respective author or source. You may not recirculate, redistrubte or publish the analysis and presentation included in the service without Industry Intelligence's prior written consent. Please review our terms of use.