July 31, 2023 (press release) –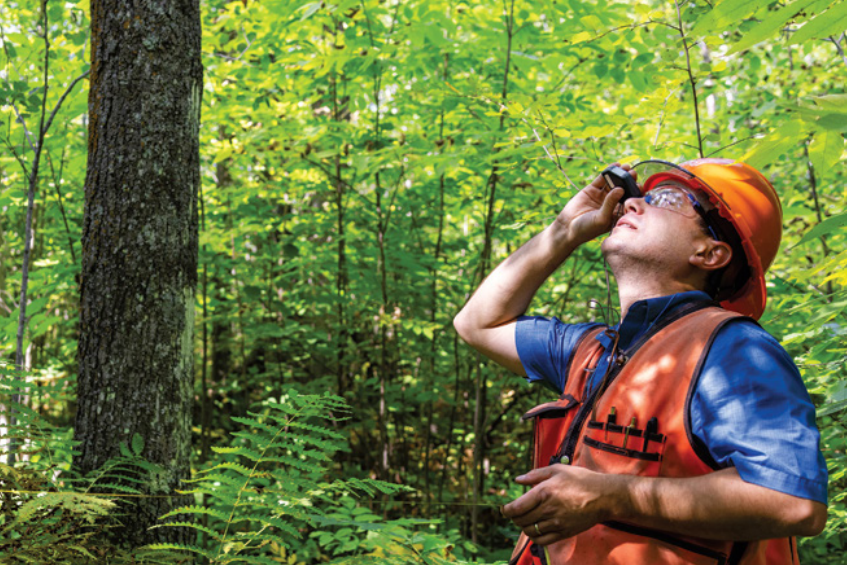 Sappi North America's forest management programs offer a wide range of services to Maine's landowners to help them manage their forests sustainably
Sappi North America's forest management programs in both Maine and the Upper Midwest offer a wide range of services to landowners to help them manage their forests sustainably. The Sappi Maine Forestry Program and the Sappi Lake States Private Forestry Program provide a team of experienced and licensed forest professionals to help landowners achieve their woodlot ownership objectives.
Private individuals and organizations own about 80% of the forestland in New England and 58% of the timberland in the Upper Midwest. Most of these private landowners have relatively small tracts of land, ranging from tens to hundreds of acres, that collectively form the extensive temperate northern forests that support abundant wildlife, sequester forest carbon, provide thousands of jobs and economic opportunity, and are popular for recreational activities, including hunting, fishing, hiking and snowmobiling.
"Our goal is to really establish a good rapport with them and understand what their wants and needs are for their property. Do they use it for recreation? Are they absentee landowners? What are their goals as far as end results after the timber harvest or timber sale? Do they want more aspen trees? Do they want more birch or oak or maple? We have to assess what trees are there already and how we can meld the landowner's wants, goals and needs with what we can do on the ground as far as actual timber management to achieve those goals," says Chris Martland , Senior Wood Procurement Forester for Wisconsin and Michigan at Sappi.
Most forest landowners care about the long-term health and aesthetics of their forest, and the benefits that a healthy forest brings to wildlife and water quality. They want any improvements done on their land today to result in a healthier forest in 10, 20 or 40 years. They recognize that responsible, active forest management is critical for maintaining a healthy balance of economic, social and ecological attributes from their forests to meet the needs of present and future generations. Sappi shares these goals.
"Forestry is an art and a science," says Chris. "The science portion I learned in school is where I learned about the different trees and how they react to different management techniques. The art portion is where I actually get to deploy those techniques on the ground to really impact how the timber stand is going to grow into the future."
The Sappi forest management programs give small landowners the resources they need to manage their lands and ensure that harvests are sustainable, meet best-management practices and provide the highest return on their timber sales.
"The sustainable forestry that we've done throughout the past 40 years has really allowed opportunities for some of our loggers to go back and cut the same piece that they cut with their dad when they were a kid," says Chris. "The forest comes back healthier, stronger and more resilient than what it was when it was harvested. We really want to keep that stand healthy. And the only way to do that is through active management."
The Sappi Maine Forestry Program and the Sappi Lake States Private Forestry Programs assist landowners with developing forest management plans, harvest plans and timber-stand improvement project plans with appropriate silvicultural techniques that ensure prompt regeneration after harvest. Sappi offers many forestry services at no charge to landowners. For example, Sappi will update or develop a Maine tree growth management plan free of charge for anyone who works with that program.
SNA stumpage foresters conduct inspections on all jobs to ensure compliance with laws, policies and best-management practices to conserve soil and water quantity/quality along with other values, such as biodiversity conservation, aesthetics management and cultural resource protection. Sappi procurement foresters ensure that program participants receive a fair price and timely payment for any wood harvested from their woodlot, and that someone keeps accurate track of all wood sent to a mill.
"A lot of people ask us if we plant trees after we harvest. And we tell them, no, because we don't have to," says Jeremy Stultz , Senior Procurement Forester with Sappi in Skowhegan, Maine . "We're very blessed in the Northeast to have this natural regeneration that's always filling in after us. If we manage at the right time on the right acres in the right way, then we can control what kind of trees are going to come back into a certain forest at a certain time.
Landowners trust us to develop a woodlot plan that meets their expectations. They know that Sappi is here for the long term, and appreciate the program's reputation for fairness, honesty and trust.
"Certification is very important to Sappi, and it provides assurances to our customers and the people buying their products that the fiber we use comes from a forest that is thoughtfully managed," says Jeremy. "Sappi is certified under three different global certification systems: the Sustainable Forestry Initiative® (SFI®), the Programme for Endorsement of Forest Certification (PEFC) and the Forest Stewardship Council® (FSC®). These certification systems give us a set of principles to work from and a set of requirements that we have to meet in order to ensure responsibly managed forests.
"Guidelines include measures to protect and conserve water and soil quality/quantity, promote and maintain high-quality wildlife habitat, and ensure the use of adequately trained foresters and loggers. These guidelines encourage investments in research and specific emphasis on management techniques to conserve biodiversity and protect ecologically sensitive values.
"Sappi's commitment to forest certification allows us to pass those assurances on to our customers. They know that the products they're buying from Sappi come from responsibly managed forests and that the fiber is going to be there now and it's going to be there for future generations."
Distribution Settings Markup
Date and Time are ET. We may take up to two hours to approve confirmed content. Content is reviewed for publishing: Monday-Wednesday 8 a.m. -8 p.m. ET , Thursday-Friday 8 a.m. -6 p.m. ET
Layout Advanced Publish on CSRWire Off Skip Accesswire No
* All content is copyrighted by Industry Intelligence, or the original respective author or source. You may not recirculate, redistrubte or publish the analysis and presentation included in the service without Industry Intelligence's prior written consent. Please review our terms of use.