JAKARTA, Indonesia , October 25, 2023 (press release) –
Share on WhatsappShare on FacebookShare on TwitterShare via Email
Greenpeace International today released a review and 10-year report card exposing the broken promises of Asia Pulp and Paper Sinarmas (APP Sinarmas) on deforestation, peatland and social conflict in its Feb 2013 Forest Conservation Policy.
The review found between 46,000 and 75,000 hectares of deforestation in APP Sinarmas supplier concessions or companies connected to APP Sinarmas since February 2013, and continued development of critical peatlands (at least 3500 hectares) including canal building and a failure to meet its peatland restoration commitments. In addition, over 300,000 hectares of the company's total concession area burnt between 2015 and 2019, a quarter of that more than once, and there remains ongoing unresolved social conflicts with intimidating and aggressive responses to local community land disputes by the company.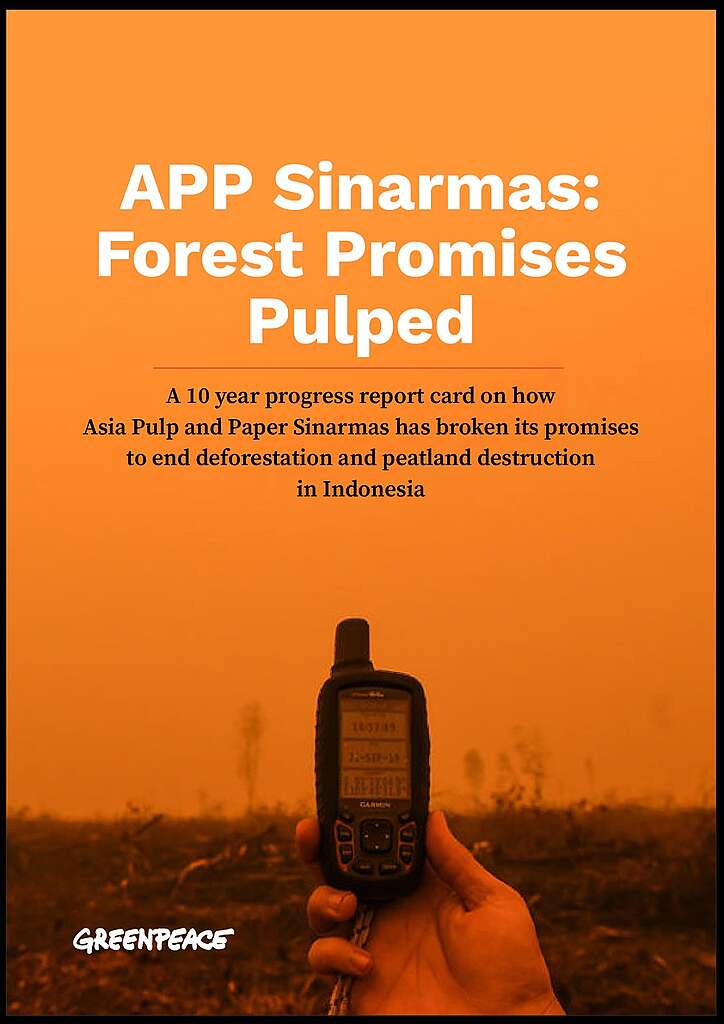 "After our initial cautious optimism that the company had really turned a corner with its destructive ways in 2013, 10 years on we find multiple broken promises by APP Sinarmas. It is still linked to deforestation, has changed the deforestation cut-off date for some suppliers, and has failed to protect and restore the critical deep peatlands it controls, posing a massive climate and human health risk from emissions and haze when these areas burn," said Greenpeace Indonesia Global Forest Lead Kiki Taufik.
"We are heading into a strengthening El Niño weather pattern that we know will turn drained peatland areas into a tinderbox, at high risk of out-of-control fires. There has never been a more urgent situation to rewet and restore peatland areas in Indonesia – as APP Sinarmas peatland experts advised and APP Sinarmas committed via peatland Best Management Practices and 1 million hectares of forest conservation," said Kiki.
Over 10 years ago in February 2013, after many years of campaigning by Greenpeace International and other NGOs, APP Sinarmas released a Forest Conservation Policy (FCP) that promised to halt deforestation and peatland conversion by its suppliers. It was a game-changer for the tropical pulp and paper sector, particularly as APP Sinarmas is one of the world's largest pulp and paper companies and is part of the notorious forest-destroying Indonesian corporate Sinarmas Group controlled by members of the Widjaja family.
Some progress was made with the implementation of the FCP, including the commitment to conservation of over 500,000 hectares of forest, a commitment to the retirement and rehabilitation of 7,000 hectares of plantation on peatland, and some progress with addressing social conflict in its plantations. However, beginning in 2017, just 4 years after the FCP was launched, the grand promise began to unravel, triggering an end to cooperation between Greenpeace International and the company in 2018.
"It's incredibly disappointing that one of Indonesia's largest companies routinely breaks its public promises and cannot be trusted. It means forests and peatland continue to be lost, and local communities and biodiversity suffer. We are in a climate emergency with runaway temperature increases, so companies like APP Sinarmas need to take the lead with actions to reduce GHG emissions," said Kiki.
"For APP Sinarmas's Forest Conservation Policy to be worth the paper it's written on, the company must immediately show evidence that it is enforcing no deforestation with suppliers and restore any areas cleared after Feb 1st 2013. It must also return to that date for its deforestation cut-off, and demonstrate clear progress with substantial peat drainage canal damming, rewetting, rehabilitation and restoration of all deep peat areas."
The full report card can be found here: https://www.greenpeace.org/international/publication/63335/app-sinarmas-forest-promises-pulped/
Contact:
Igor O'Neill, Greenpeace Indonesia, ioneill@greenpeace.org, +61 414 288 424
* All content is copyrighted by Industry Intelligence, or the original respective author or source. You may not recirculate, redistrubte or publish the analysis and presentation included in the service without Industry Intelligence's prior written consent. Please review our terms of use.