SAO PAULO , September 21, 2023 (press release) –
The initiative aims to protect 70,000 hectares of Conservation Units and includes measures such as monitoring, fire control and support for biodiversity
The partnership between Fundação Florestal, linked to the State Department of Environment, Infrastructure and Logistics (Semil), and the company Bracell, specialized in dissolving pulp production, aims to conserve about 70,000 hectares of native forests, distributed in 11 Conservation Units in the state of São Paulo. This commitment was renewed, this Monday (11), through the Adopt a Park program. The goal is to foster the development and implementation of initiatives aimed at protecting biodiversity, including the donation of inputs, services and support to the SP Without Fire Operation [Operação SP Sem Fogo].
According to Fundação Florestal's executive officer, Rodrigo Levkovicz, in addition to supporting the Units' development, the Adopt a Park Program fosters the engagement of society in environmental conservation. "In the first year of our partnership with Bracell, we were already able to see the benefits in the Conservation Units (UCs), especially in the rapid response in controlling and fighting fires. Now, as we expand support fronts, we will also work together in the protection of wildlife and conservation of native forests"
The renewed commitment aims to support the protection of Conservation Units against forest fires, involving the installation of educational signs, long-range camera monitoring, control of invasive species, fauna monitoring and construction of overpasses for wildlife. The number of participating Units has increased, they are: Ecological Stations Águas da Santa Bárbara, Angatuba, Avaré, Barreiro Rico, Caetetus, Itapeva, Paranapanema and Sebastião Aleixo da Silva (Bauru), State Parks of Carlos Botelho e Nascentes do Paranapanema and Refúgio de Vida Silvestre Aimorés (Gleba II – Jardim Botânico).
The partnership bolsters the company's initiative, whose commitment is to protect, conserve or restore a hectare of native forest for every hectare of eucalyptus planted in the state. Over the past few months, the partnership has also benefited the fight against forest fires, supporting preventive actions, including the construction and maintenance of firebreaks, the donation of equipment and firefighting training.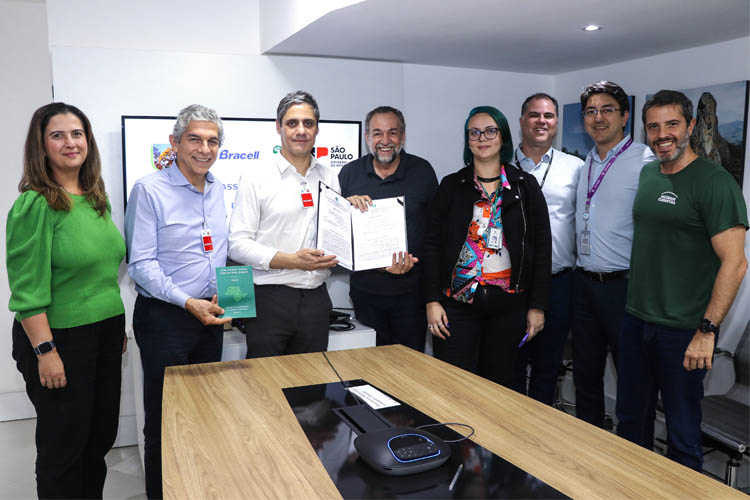 "For Bracell, it is very important to enter partnerships that catalyze our unwavering commitment to sustainability, especially considering the protection of the native vegetation of Brazilian biomes. We are delighted to have already achieved 82% of our 'One-for-One Commitment' goal, and this partnership is another important step towards reaching our objective. We will continue mapping other regions that need support, always in partnership with the relevant authorities," says João Augusti, Environment and Certifications manager at Bracell.
In attendance at the event that established the partnership were the Undersecretary of the Environment, Jônatas Trindade, the Executive Officer of Fundação Florestal, Rodrigo Levkovicz, and Bracell leaders such as the Vice President of Sustainability, Márcio Nappo, the Sustainability Manager, João Augusti, and the Institutional Relations and Social Responsibility Manager, Mouana Sioufi.
To view the document in full, visit: https://www.infraestruturameioambiente.sp.gov.br/fundacaoflorestal/2023/09/termo-de-patrocinio-ff-de-no-01-2023/.
Adopt a Park Program
Adopt a Park is a partnership program created by Fundação Florestal for nature lovers who, aware of the importance of environmental preservation of our planet, want to contribute to the conservation of biodiversity and natural resources in the State of São Paulo. Its main objective is to safeguard the existing natural heritage, protecting rare species of fauna and flora in their natural habitats, many of them threatened with extinction, and resources such as fresh water, guaranteed by forests and so necessary for our survival.
Among the partnership possibilities are: adoption of trails, attractions and/or Conservation Units; construction, maintenance, renovation or adaptation of places such as visitor centers, administrative headquarters, operational and research bases or structures and trail and attraction signage; temporary adoption of an animal species, with the establishment of protection measures; development, implementation and/or maintenance of environmental education programs and projects; socio-environmental interaction; public visitation/use; sustainable tourism; research and management; protection of biodiversity; volunteering; communication and marketing of Fundação Florestal and the UCs, including digital materials, printed materials and souvenirs. There is also the possibility of donating movable goods, benefits, and consumable materials to support UC management; and finally, the provision of services of any nature. The Program provides various benefits to sponsors and donors, who also receive the Adopt a Park label from Fundação Florestal.
For further information about the program please see:
https://www.infraestruturameioambiente.sp.gov.br/fundacaoflorestal/negocios-e-parcerias-para-sustentabilidade/adote-um-parque/.
* All content is copyrighted by Industry Intelligence, or the original respective author or source. You may not recirculate, redistrubte or publish the analysis and presentation included in the service without Industry Intelligence's prior written consent. Please review our terms of use.