September 8, 2023 (press release) –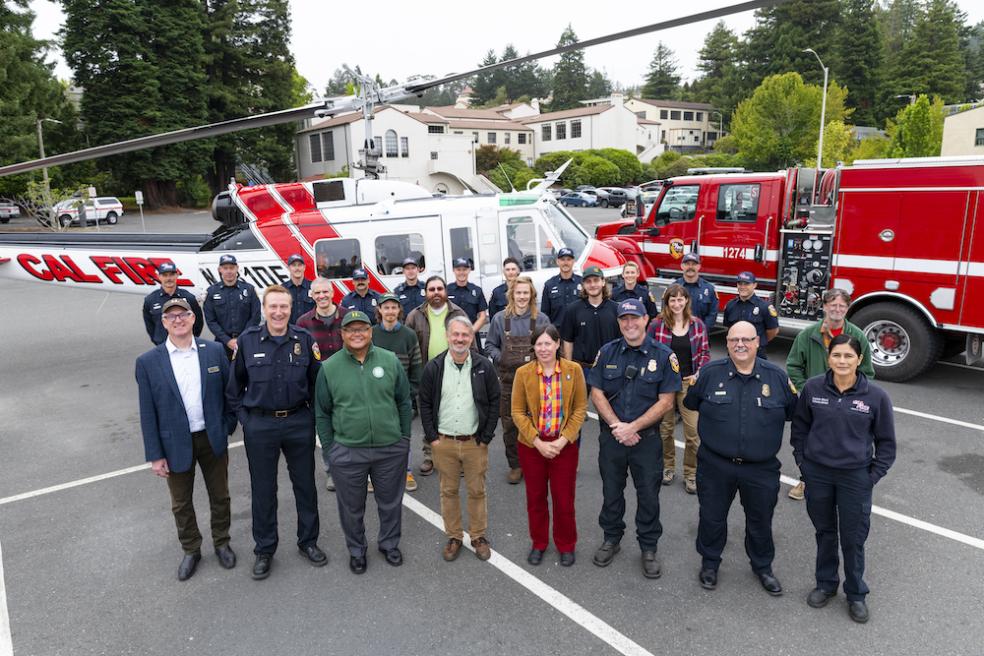 Members of the CAL FIRE Humboldt-Del Norte Unit met with Cal Poly Humboldt professors and students this summer. The visit marks a new partnership and a longstanding collaboration between CAL FIRE and the University.
Cal Poly Humboldt and CAL FIRE are joining forces to share expertise and resources in an effort to improve fire management and response, as well as forest health and land management practices in California and across the West.
The memorandum of understanding between CAL FIRE Humboldt-Del Norte Unit and the University spells out ways in which the two agencies can benefit employees, students, the community, and the state.
"This is an incredible opportunity for CAL FIRE, as well as Cal Poly Humboldt," says Kurt McCray, (Forestry, '93) CAL FIRE Unit Chief for Humboldt, Del Norte, and Western Trinity Counties. "I'm excited about this opportunity to learn from the faculty and the students of Cal Poly Humboldt to hopefully better educate us on perhaps what we could do more efficiently or effectively."
"We want to leverage the resources that are available for Cal Poly Humboldt and at CAL FIRE to be able to better meet all the challenges that are facing California's forests, rangelands and woodlands," says Erin Kelly, chair of the Humboldt Department of Forestry, Fire & Rangeland Management.
"We've worked with CAL FIRE for many years, and a lot of our students go to work for the Department. But this was really formalizing that agreement and making it clear that we want to have more partnerships going into the future. A lot of our students walk right out the door with the ability to go into the field and into a job that they really love."
Cal Poly Humboldt is launching a new Applied Fire Science & Management this fall, the largest in the state and one of the largest in the nation, and one one of only two four-year bachelor's degree fire programs. The campus Wildland Fire Lab is among the most well-equipped fire research facilities of any university in the country. And Cal Poly Humboldt researchers are among the top fire and forestry experts in the nation.
"Humboldt currently has a fire internship course where students learn about the many different roles at CAL FIRE available to students in majors related to forestry and fire, and what they might do in their careers," says Jeff Kane, professor of Forestry, Fire & Rangeland Management.
"Now, we'll be able to expand those opportunities, bringing more CAL FIRE folks into the classroom as guest lecturers to talk about the real problems they face," Kane says. "That way students know that the knowledge and information they're getting here at Cal Poly Humboldt is translatable to what they'll be doing in the profession."
The agreement could also mean more paid internships for students, Kelly says. Students have joined CAL FIRE to monitor controlled burns and get real-world experience in the field, for example. "It'll give students more chances to go work with professionals and then bring those experiences back to the classroom."
The agreement can also expand research opportunities. Trevor Haltermann, a Natural Resources graduate student, is working with a group of other students to determine the efficacy of CAL FIRE's wildfire investigation processes.
"We're working in the Wildland Fire Lab on campus burning grasses in a wind tunnel, and we're seeing the accuracy of how well they point towards the origin of the fire," he says. This could help CAL FIRE improve its practices and prevent and respond to future fires.
"I have personnel that have graduated from Humboldt. They are foresters, they are fire captains, they are fire chiefs, and some of them are even firefighters," McCray says. "In my time at Humboldt, the most important lesson I learned is the power of relationships, collaboration, and cooperation. And all of that has to be founded on respect and professionalism, which I have enjoyed receiving from Cal Poly Humboldt faculty and staff so far."
Watch the video of CAL FIRE's visit to Cal Poly Humboldt. https://www.youtube.com/watch?v=AjD6QKN9fsM
* All content is copyrighted by Industry Intelligence, or the original respective author or source. You may not recirculate, redistrubte or publish the analysis and presentation included in the service without Industry Intelligence's prior written consent. Please review our terms of use.